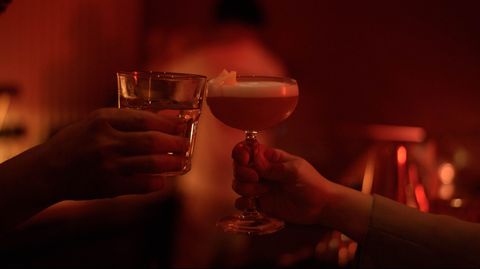 There are always exciting events happening every week in the city. Make sure you're in the know of where's hot, and what to do in Bangkok.
Everybody believes in something. We believe you should order another round of drinks. Coincidentally, there are many events around town this week that will do just the trick. Guest shifts, special menus, even a charity auction—all inbound, and they're worth fighting the rain for. Let's get out and expand that comfort zone, sister.
What to do in Bangkok: September 26 – October 2, 2023
The Pontiac guest shift at Havana Social September 26, 9 pm onwards.
From Hong Kong to Bangkok, please welcome Faith and Nicole from The Pontiac Bar. Ranked No. 33 on Asia's 50 Best Bars list in 2022, they're bringing along the rock and roll vibes they're known for, as well as great cocktails to boot. The Stranger Bar will also be coming in to provide some entertainment you will not forget. Don't forget to tip the dolls, people.
You can find more information at Havana Social.
Fnky Town Bar guest shift at The Japanese Highball Bar 1923 Saladaeng September 26, 7-11 pm.
Fnky Town will soon be opening its doors in Phrom Phong this November, and what would be a better way to tease what they can do than a guest shift? Pae Ketumarn will be taking over the bar at The Japanese Highball Bar 1923 Saladaeng for one night only. Order some of their food while you're at it—it goes amazingly well with cocktails.
You can find more information at The Japanese Highball Bar 1923 Saladaeng.
"BE Health Online Auction" bidding for charity September 27 – October 17
13 Kempinski hotels around the world are joining hands for a massive charity event. Place your bids on your preferred destinations' executive suite-level rooms for two nights inclusive of breakfasts all starting at THB 9,999. Benefits from this campaign will go directly to the Thai Autistic Foundation with an aim to develop well-being and health for children and adults diagnosed with autism in Thailand, as well as essential medical products.
You can find more information at Siam Kempinski Hotel Bangkok.
Aqua Bar guest shift at Yardy BKK September 28, 8 pm-midnight
Yardy describes itself as a "speakeasy bar with tipsy vibe." We don't know what that means either, but Ryan and Snook from Aqua Bar will be helming their stations for one night only. Special menus created just for the day, great hospitality, and more—Thonglor 13.
You can find more information at Yardy BKK.
Siwilai Sound Club presents Endo Nao September 29, 9 pm onwards.
Endo Nao is a rare talent, equipped with sounds of spiritual jazz, psychedelic rock, underground, and more. If you're looking for something a bit alternative to end the work week with, surround yourself with the great Tokyo vibes as you enjoy a cocktail or two. Prince Von Hudson will also be on the ground floor's live room for a jazz session.
You can find more information at Siwilai Sound Club.
Mid-Autumn festival dishes at COCA Restaurant September 29 – October 1.
Many locals may be familiar with the name. After all, COCA has established itself as the first suki restaurant in Bangkok since 1957. In celebration of the mid-autumn festival, their in-house Hong Kong chef has come up with seven special menus to impress the tastebuds of even your strictest Chinese grandma. Crispy crab rolls, fried milk fritters, braised abalone with pork belly—it's a great opportunity to take all your family out for dinner. Available at their Surawongse branch only.
You can find more information at COCA Restaurant.
May Phattarasaya guest shift at Firefly Bar September 29, 8 pm onwards.
It's proven that a glass of Scotch and some live jazz go splendidly together. Please welcome the winner of the Chivas Regal 2023 competition, May Phattarasaya, to Firefly Bar for one evening only. Let May craft you some cocktails and see how the night will go.
You can find more information at Firefly Bar.
Lily Fu's X F45 gym collab session September 29, 6-7 pm.
The "Work Hard, Play Harder" mantra is cranked to an eleven at Lily Fu's for one evening. Step into a high-intensive one-hour workout led by professional trainers and accompanied by the DJ behind the station. Then, enjoy Lily Fu's Asian delights at a discount, with a plethora of healthy dishes you can choose from. You can also stay a while longer and take advantage of the Buy-1-Get-1 deal on drinks to make the most out of your day.
You can find more information at Lily Fu's.
Nana Fest 2023 September 30 – October 1.
Soi Nana, Chinatown is set to come alive even more than ever. NANA Fest 2023 features workshops, tastings, guest shifts, markets, and one massive party — all in celebration of one of the city's most beloved communities. They're also collaborating with Bangkok Gin Fest and Taipei Gin Festival to bring you a lot of events packed in one very special soi.
Full details including activities, guest shifts, and many more here.
You can find more information at Nana Fest.
Ginventure at Westin Grande Sukhumvit September 30, 12-8 pm
Get ready to tantalize your palate with an unforgettable journey as we present more than 30 exceptional gin selections from across the globe. Immerse yourself in the sounds of our live musicians and savour delectable dishes from our thoughtfully crafted food area.
You can find more information at GulpBkk.
Shop the best travel experiences here
This story first appeared here.
[Hero and featured image credit: SIWILAI SOUND CLUB/Facebook]
Related: Spraycation: Best Art Exhibitions To Check Out In Bangkok Right Now
Written By