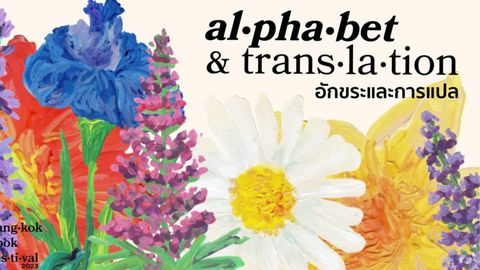 Bibliophiles, it's time to clear your shelves as Bangkok Book Festival 2023 is bringing its huge collections of translated works, workshops, and film screenings to Sathorn's Goethe Institut this September 30 – October 31.
Here's all you need to know
Your personal library – yes, all of the books you've bought but never opened – is about to get even bigger. From September 30 – October 31, Library House is hosting the "Bangkok Book Festival 2023" book fair under the concept of "al.pha.bet & translation," shining a spotlight on the art of translation. The event is already the fourth edition of Bangkok Book Fest following its huge success at its 2021 event.
Seeking to celebrate translators and storytellers, Bangkok Book Festival 2023 brings its wide array of books to the event. It also hosts a variety of workshops, panel discussions, and film screenings to expand the audience's awareness of the translated works.
Here are the schedules for the film screening on this Saturday (September 30):
Goethe! Young Goethe in Love (2010) 1 pm

Blind Willow, Sleeping Woman (2022) 3 pm

Measuring the World (2012) 5 pm
The Bangkok Book Festival will be held at Goethe-Institut Thailand. 18/1 Soi Goethe, Bangkok. MRT Lumpini. For more information, click here.
Shop the best travel experiences here
This story first appeared here.
Related: 5 Secondhand Bookstores In Bangkok
Written By