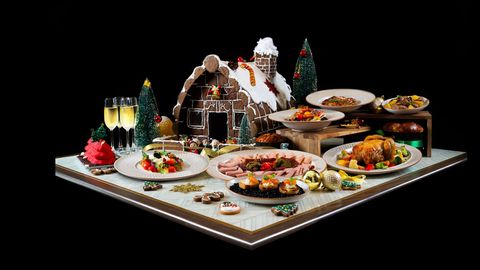 Pullman Lombok Merujani Mandalika Beach Resort is ringing in the festive season in style with a feast fit for the entire family and a memorable New Year's Eve bash.
---
It's almost time to ring in the festive season – and who needs snow, when you can spend Christmas beachside, lapping up the fine life from the comfort of the luxurious Pullman Lombok Merujani Mandalika Beach Resort.
Standing as Accor's first five-star resort on the Indonesian island of Lombok, Pullman is pulling out all the stops to ensure guests indulge in a truly memorable Christmas and New Year. The exclusive program of activities traverses a mouth-watering journey of elevated dining experiences through to family escapes, and heaps of fabulous entertainment. "We are exhilarated to invite and celebrate this very first-time festive season here, at our newly-opened resort. One of our passions is to be specialized in creating inspirational experiences, not only for staying but also for dining, that last a lifetime," said general manager, Vincent Wybier.
The program kick-starts on December 24 with a magical six-course feast. Think tasty winter scallops, agnolotti neri a salmone can pomodorini e basilico, and aged cranberry duck, all capped with agrumes pistache. Yum!
If that's not enough to get you salivating, then look no further than Pullman's extensive Christmas Day brunch. Taking diners on an indulgent culinary journey to all four corners of the globe, the buffet features a selection of flavorful creative creations. Head to China for Peking duck and dim sums, or perhaps you fancy some Thai green curry and pad Thai noodles? Over in Japan, you can sample sushi and sashimi, while a traditional Christmas turkey dinner is on hand to satisfy the Western crowd. And, of course, there is a delightful menu of Indonesian favorites.
After almost three years of covid chaos, we all have something to celebrate – hopefully, a 2023 that veers much closer to the norm of pre-pandemic days! To mark the occasion, Pullman is inviting guests to welcome in 2023 in style with a divine buffet dinner on December 31.
Accompanied by live music and other entertainment, diners can feast on a sensational buffet that takes in entrees, salads, cold cuts, live pasta station, and desserts – all inspired by a creative fusion culinary journey from China to Italy, Japan, Mexico and Indonesia. There's much more than food to tantalize the senses, with fun-filled adventures for the whole family to enjoy throughout the festive season. While you aren't going to find any real snow in Lombok – although you can use your imagination to transform the gleaming white sands into snow – the property is hosting a snowman-making competition. Kids can also get in the festive spirit writing a letter to Santa and decorating the Christmas tree.
The fun continues with piñatas, float fighting, lively cabaret shows, games, door prizes and an enchanting New Year's Eve fireworks show that will light up the sky. Pullman's Christmas dinner set menu costs IDR 750,000 net/guest, the Christmas Day brunch is IDR 590,000 net/guest, and enjoying a memorable new year costs IDR 750,000 net/ guest. For more information and reservations, contact 0811 393 5100 (WhatsApp) or visit www.pullman-lombok-mandalika.com.
---
---
---
Article sponsored by Pullman Lombok Merujani Mandalika Beach Resort.
All Images Credit: Courtesy of Pullman Lombok Merujani Mandalika Beach Resort.
---
Written By