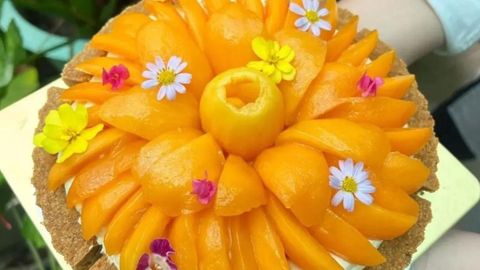 As Bangkok gets ridiculously hot, there is one gift that nature decides to bestow upon us: mayongchid.
The beginning of summer signals the flourishing of mayongchid or Marian plums in Thailand, and many bakeries get creative with special summer desserts to celebrate them. Read on to find some of the most intriguing mayongchid desserts in Bangkok this 2023.
Resembling a mango in colour and texture, the Marian plum is actually known for its just-right balance of sweetness and tartness that makes it the perfect fruit to bake with. Since the season when Marian plums grow lasts for only a couple of months between February and April, we recommend for all the fans try as many variations of mayongchid desserts as possible.
Where to Find the Best Mayongchid Desserts in Bangkok This 2023
Montagne, L'art de la Glace
View this post on Instagram
Crafted by an award-winning pastry chef, the French delicacies at Montagne present a sophisticated compilation of flavours that always have us going back for more. One of their creations, the Mayongchid & Champagne Parfait, is served in a Champagne glass with a host of sumptuous compositions such as Champagne jelly, Marian plum & passionfruit sauce and tuile, cheese mousse, and fresh marian plums. The Mayongchid Rare Cheesecake is just as mouthwatering.
Montagne is located on Charoen Rat Road.
Waan Thai
View this post on Instagram
If you crave a Thai sweet and savoury rendition of the Marian plum, visit Waan Thai for their Summer Festive Mayongchid series. The ultimate refreshment is the Marian Plum in Syrup with Yuzu Granita or mayongchid loy-kaew. For an end-of-the-meal dessert to share, get your hands on the Marian Plum Crumble with Sherbet and Vanilla Sauce. However, sweet is not the only flavour on the menu, because two other seriously savoury menus, River Prawn and Marian Plum, and Miang Mayongchid, are also worth a try.
Waan Thai is located in Soi Thonglor 9.
Discover More Dining Experiences Here
Bakesjourney
View this post on Instagram
Bakesjourney is known for delivering cakes and tarts that use fruit as the main ingredient, whether it's their Strawberry Cheese Pie, Muscat Choc Pie, Mix Fruit Choc Pie, or Yuzu Wild Honey cake. Therefore, we wholeheartedly trust them with the Mayongchid Sticky Rice Pie. The tart Marian plums go very well with the coconut sticky rice, which is enriched by cream cheese.
Bakesjourney is located in Soi Charoen Rat 20.
The Pastry & Co.
View this post on Instagram
This classic Instagram bakery shop always goes all out during this season. Four yummy creations featuring Marian plums are presented by The Pastry & Co. every year, including Mayongchid Cheese Pie, Mayongchid Soft Roll, Mayongchid Choux Cream, and Mayongchid Pudding Crumble. While the choux cream combines crunchy and soft textures together, the pudding crumble has layers of cream and crumbs that are just as enjoyable.
Available for delivery only. Pre-order is required.
Brooklyn Baker
View this post on Instagram
Brooklyn Baker really takes their time to master their one variation of Marian plum dessert, the Mayongchid Cheese Pie. Layers of tart and firm marian plums are placed on top of cream cheese, which is then laid on top of the house's signature biscuit base. The dessert is available in loaf and cake sizes.
Brooklyn Baker is located in Soi Polo, Wireless Road.
Bake Upon a Time
View this post on Instagram
Since fruit pies and cakes are Bake Upon a Time's forte, you may want to stop by for a piece of the Mayongchid Pie and Cake Box. Moreover, for a more refreshing alternative, the Mayongchid Smoothie and Mayongchid Yogurt will definitely light up your day with a blast of sweetness.
Bake Upon a Time has 2 branches: Naradhiwas Soi 10 and Bang Khun Tian.
Molto
View this post on Instagram
Molto turns everything you love about Marian plums into refreshing ice cream. It also turns your favourite Mayongchid dessert into a Ma-yong Cheesecake ice cream. The delicious sweet treat has bits and pieces of crispy crumble and marian plums all mixed into the luscious cream. If you want to preserve the lightness of the fruit, opt for the Ma-yong Chid sorbet for that intensely authentic Marian plum flavour.
Molto has several pop-up stores at different periods of time. Find out more via the webpage.
This story first appeared here.
[Feature image credit: Bake Upon a Time; Hero image credit: Pastry & Co.]
Related: The Best New Restaurants In Bangkok That You Need To Try
Written By