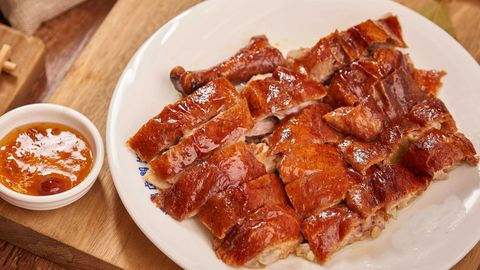 Roast goose is an archetypal Cantonese staple—and for a good reason. We argue that this siu mei (meats roasted on spits over a fire) is the king of the Hong Kong barbecue repertoire. Done correctly, it's a tantalising tango of taste and texture. It boasts light, crisp skin, rich, melty fat and tender, juicy meat. These are all balanced by a sweet and slightly acidic plum sauce. It's no wonder that it's a comfort food for many Hongkongers.
Although initially a favourite amongst greasy spoons, Hong Kong roast goose has also found itself in established eateries across the city. When ordering roost goose, you usually get different portions. Some opt for a quarter, a half, or if you really have the stomach for it, a whole goose. Regardless, it's best paired with rice or rice noodles. In Hong Kong, there are plenty of places to choose from. There's even a heated debate about whether Yat Lok or Kam's is the best. The only way to find out is to try it out for yourself, right?
So, whether you're looking for a casual bite, speedy takeout, or a proper sit-down affair, find your next favourite spot at one of the following acclaimed Hong Kong roast goose joints.
Book your stay at The Jervois in Hong Kong via Agoda.com
Book your stay at The Jervois in Hong Kong via Booking.com
The best roast goose restaurants in Hong Kong
Jump To / Table of Contents Written By