After months of anticipation and preliminary drool, the day has finally come. Shake Shack Thailand is now open. Here's what you can expect, from set-up to menu, prices, and more.
Where some welcome the stylish snaps of fashion week in the spring, Bangkok burger enthusiasts have kept their eyes peeled and their appetites whet for the opening of Shake Shack Thailand this March. Front of the queue since early morning, we sent our in-house burger connoisseur onto the scene for you. Read on for the inside scoop.
Shake Shack Thailand is finally open! Here are all the details
Shake Shack Thailand: The hype
On May 2, 2022, all hell broke loose as Shake Shack announced their plans for expansion into Thailand. The New York City chain would be coming to Thailand for the very first time, with plans for a first outpost in 2023, and 15 branches by 2032.
Hell Breaking Loose Season 2 happened in October 2022, when the first official location for Shake Shack Thailand was unveiled. It was confirmed to be at Central World, covering an area spanning over 500 sqm (!).
This year, we squealed a third time when the official artwork for Shake Shack Thailand was unveiled. Featuring the work of artist Navin Rawanchaikul, the colourful mural featured an array of people and places that represent Thailand: a classic taxi, a tuk-tuk, and even the word 'Wonderfruit.' Whilst it was certainly a beautiful homage to the country, Rawanchaikul has long worked with Shake Shack. In fact, the artist has been part of Shake Shack's branding since 2001, when it started out as a humble hot dog cart. In a way, it felt super full circle.
The location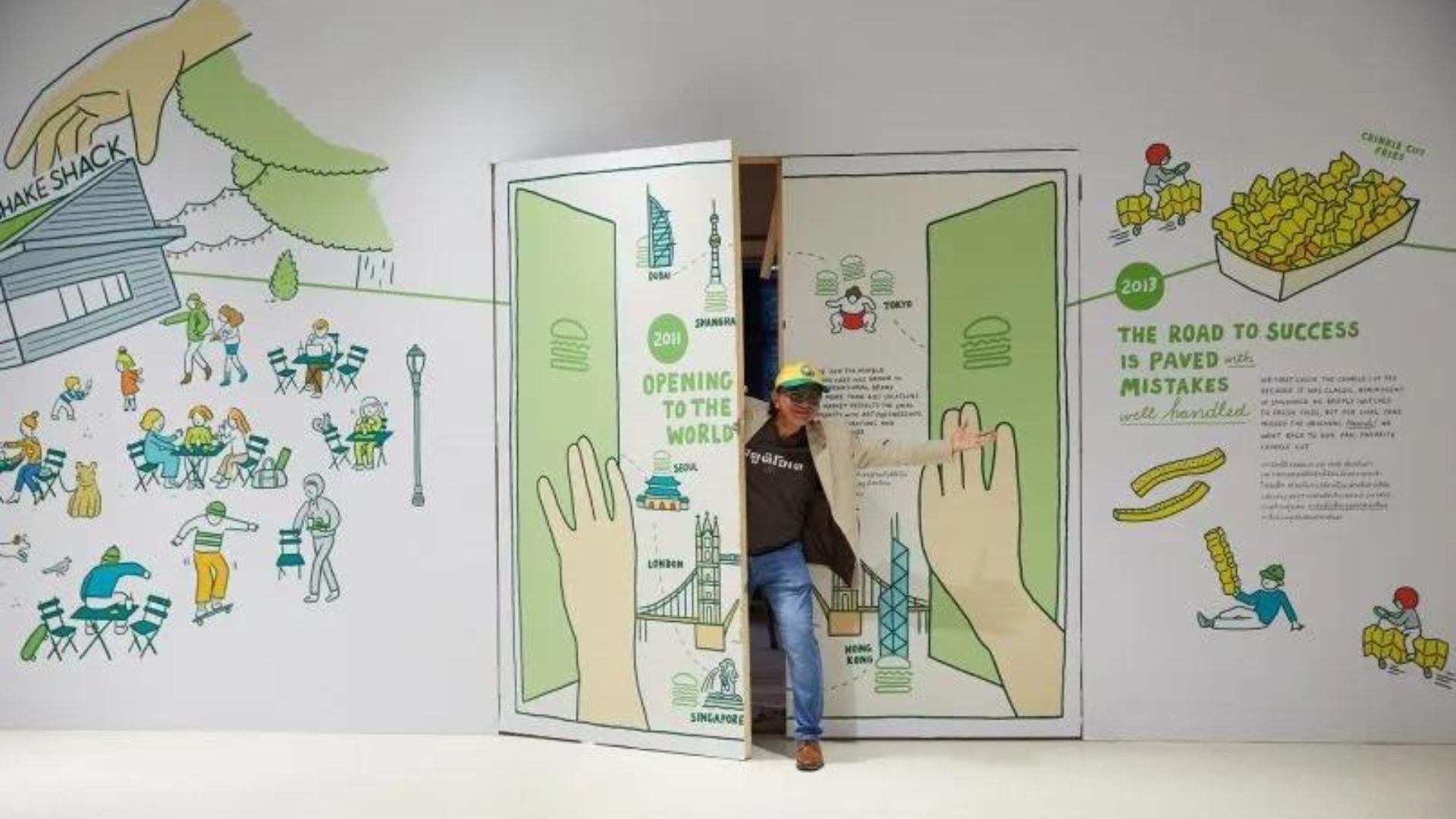 Beyond several impressive Starbucks outlets, a stunning Apple store, and favourites like Haidilao, Sushiro, and Din Tai Fung, Shake Shack joins the repertoire of already exciting culinary offerings at Central World. It is located on the first floor in zone 1.
Inside, the ambience boasts a tinge of the American diner, elevated by bright green artwork on the walls and leafy green fittings. Retro light fixtures fill the space, accompanied by the signature Shake Shack neon light signage.
Discover More Dining Experiences Here
The menu (and the prices)
Shake Shack fans can rest reassured knowing that all the common staples are available here. Hand-spun shakes? Check. Spicy, chicken, and veggie burger options? Check. Crinkle-cut cheese fries? Local exclusive items? Pet-friendly snacks? Check, check, check.
The classic Shack Burger is available as a single or double (THB 230/THB 340), as well as the Smoke Shack (THB 275/THB 385). For vegetarians, there's the Shroom Burger made with fried Portobello, Muenster and Cheddar cheese, lettuce, tomato, and Shack sauce. A fun local addition is the topping of jackfruit (!) wood-smoked bacon for THB 50.
True to its origins, there is also a selection of New York-style hot dogs, though the burgers are garnering most of the attention. These are priced between THB 150-195 apiece.
On the fries side, we see crinkle-cut and cheese fries. Among the hand-spun shakes (THB 190) repertoire, we're graced by vanilla, strawberry, and chocolate. There are also floats available.
A Thailand exclusive also makes an appearance: the Pandan Sticky Rice shake.
To make it clear that this is an elevated burger-and-fries experience, Shake Shack also serves alcohol in its restaurant. There is a Shack White and a Shack Red wine, as well as imported beers, like the ShackMeister Ale.
For furry friends, you can also order a Bag O'Bones for THB 35.
All in all, comprehensive and varied enough to justify several (daily) visits. You can find the full menu below: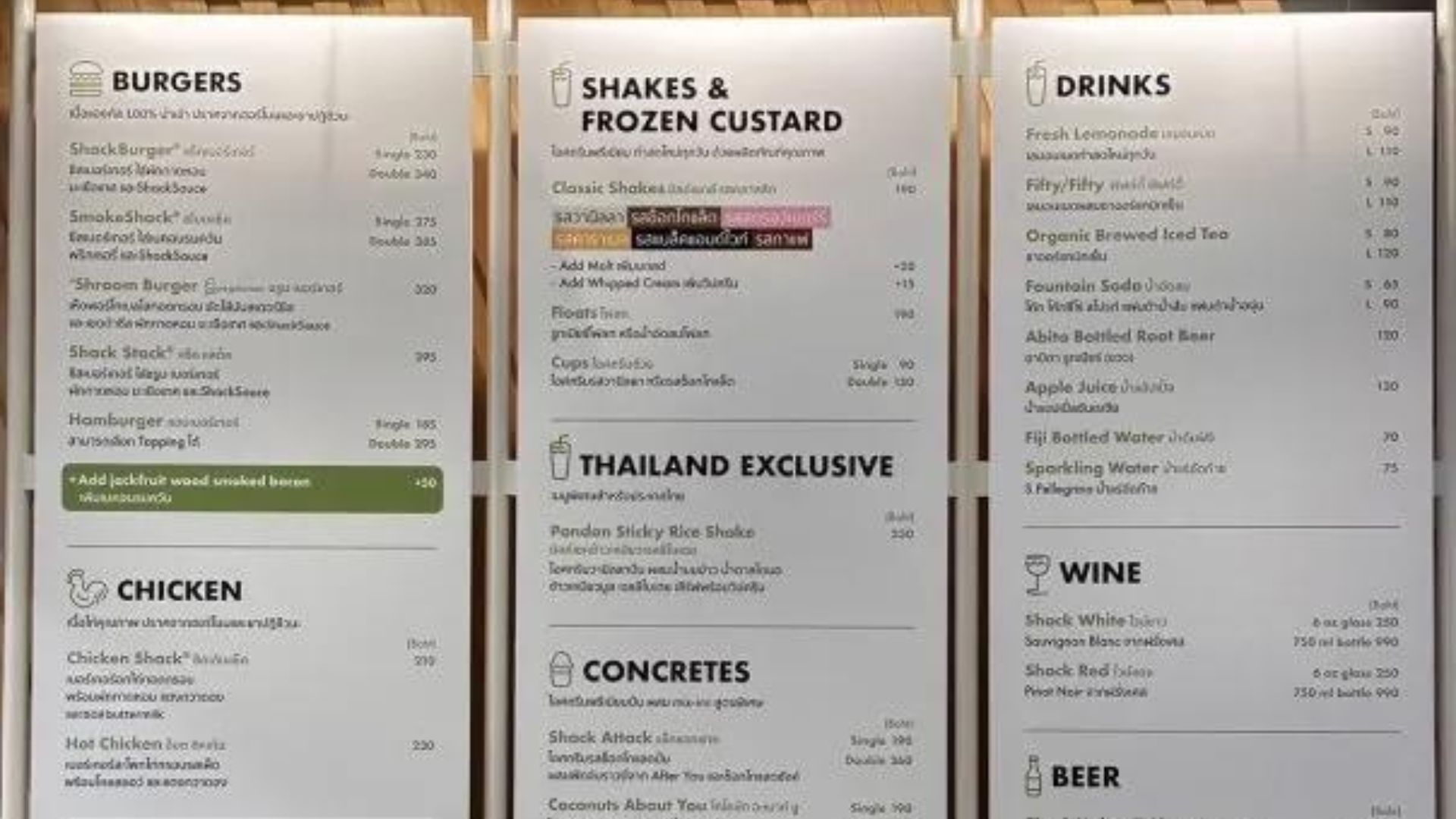 About Shake Shack
Shake Shack was founded in 2001 in New York. Whilst it started out as a simple hot dog cart, it quickly grew to become an American fast-casual restaurant serving up burgers, hot dogs, fries, and infamous milkshakes. To date, Shake Shack operates over 400 locations around the globe.
Until the opening in Thailand, the closest Shake Shack we could find was located in Singapore. Finally, we don't have to make the weekend trip anymore.
Stay tuned as we update this story throughout the day, as our in-house burger connoisseur is shown the ropes on location at Shake Shack Thailand.
Shake Shack Central World, 1st Floor, Zone 1, 4/5 Ratchadamri Rd, Lumphini, Pathum Wan, Bangkok 10330.
This story first appeared here.
Hero and feature image credits: Shake Shack Thailand