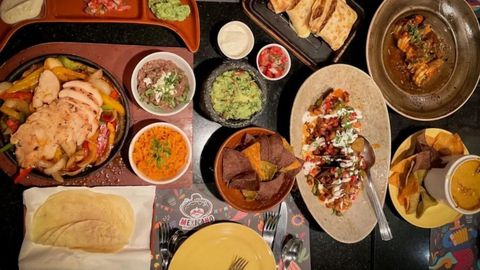 Although there are numerous Mexican restaurants in Bangkok, one that always has a special place in our hearts and minds is Mexicano Restaurante Autentico.
If you love indulging in flavourful Mexican food, Mexicano Restaurante Autentico is the spot. Located inside The Rembrandt Sukhumvit Hotel, Mexicano offers more than just tacos and margaritas. They have various authentic Mexican dishes, captivating live performances, well-crafted refreshments, and even a tequila cart. So, without a doubt, dining here will be a fiesta, whether that's a flavour bomb in your mouth or the spectacular vibes. For those who don't know what to order, check out some of our must-tries.
Must-tries at Mexicano Restaurante Autentico

Guacamole en molcajete
If you love avocado, then you have to order the guacamole. Made fresh tableside, diners can choose whether they prefer their guac sour or spicy. You can also try making it yourself, but, it is better to let the chef do it, as their guacamole recipe is perfect. It is fresh and has just the right salty, sour, and spicy balance. Served with homemade corn tortilla chips, this is the ideal appetiser. Carne asada fajitas
Despite the restaurant having different fajitas, our favourite was the carne asada, which came on a sizzling hot skillet. Talk about a fiery presentation. The steak was cooked to perfection. It was juicy and flavourful. The grilled onions and peppers also added the perfect hint of sweetness. This dish is served with rice, warm tortillas, refried beans, and other condiments like guacamole, sour cream, and salsa. Tacos de Camarones (shrimp)
When eating at a Mexican restaurant, tacos are always a good idea. We advise you to try the shrimp tacos. The shrimpies were super bouncy, and that marinade! We're not sure what's mixed into those shrimps, but there was so much flavour. The zesty juiciness drips down your lips. Yes, this taco may look plain, with just cilantro and onions, but trust me, it is, hands down, Bangkok's best shrimp taco. And I am a shrimp taco connoisseur. BBQ pork ribs
You can never go wrong with BBQ ribs. Here at Mexicano, their slow-cooked ribs practically fall off the bone (which we love). They're served with fries, but the chipotle chilli coleslaw was the best pairing. The slaw was a creamy, crunchy deliciousness. Plus, the portion size of this dish was fantastic. Atun del diablo
Those looking for a healthier menu option should try the seared tuna. Covered in Mexican spices, the tuna had this incredible citrusy, mild, spicy taste. The texture was also pleasant, as it was buttery and smooth. Their avocado mango pico de gallo was super refreshing with so much flavour. The sweetness from the mango, with the avocado's earthy grassy tones, combined with the limes, onions, and tomato, really added that final flourish.
Mexicano Restaurante Autentico is open daily from 12 p.m. to 5 p.m. and 6 p.m. until 11 p.m. For further information or to make a reservation, please call 062-598-0302 or visit their website here. The restaurant also offers many special promotions and events, so make sure to check out their Facebook here.
Shop the best travel experience here
This story first appeared here.
[All images courtesy of Mexicano Restaurante Autentico]
Related: Pamper Your Palate At The 15 Most Expensive Restaurants In The World
Written By