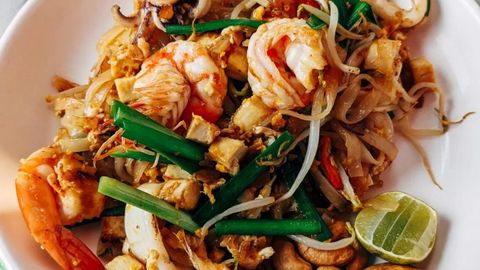 Thai food is amazing, but we understand you'd want to try something new after your eighth bowl of tom yum, pad thai, or som tum. Here are some underrated Thai dishes to order next, and really impress your foodie friends.
With an abundance of resources and a seemingly never-ending supply of ingredients, Thai food is such a vast, vast cuisine. Of course, there are the famous favourites — and there is nothing wrong with ordering them — but many times you may feel more adventurous and want to try something new that still feels authentically Thai. Here, we've got you covered. Scroll on for the most underrated Thai dishes you definitely need to try next.
The most underrated Thai dishes you need to order
Yum Som O (Pomelo Salad) This riff on the papaya salad is sweet, full of textures, and more well-balanced than you may think. With the natural sweetness from the pomelo, it goes amazing with the prawns and the familiar herbs you see in a Thai salad. If you're worried it may be too sweet, the lime and salt will balance that easily. Ask for extra chilli if you can take it.
Tom Khlong There are a lot of soups in Thai cuisine, and Tom Khlong is certainly an underrated Thai dish by many, yet is still prominent enough to be found in many seafood and Thai restaurants. Recipes vary, but what makes Tom Khlong special is the use of dried fish. Herbs are then thrown into the mix, including kaffir leaves, lemongrass, shallot, galangal, and more, which not only enhances the taste but also balances the fishy smell.
Kaeng Tai Pla Take a trip down south and you'll be met with Kaeng Tai Pla. Its name derives from one of the main ingredients being a salty sauce made from fish entrails. Don't let that put you off this very unique dish, as the umami flavour is off the charts. It's usually made with fish, bamboo shoots, eggplants, beans, and any special additions according to that household's recipe. Be warned that it's very likely to be high in the hotness chart.
Yum Khai Dao We haven't tested this hypothesis, but we reckon that you can just do a yum with anything in your pantry. Someone out there roughly chopped their fried egg, added in the ingredients found in your usual yum dish, garnished it with some Chinese celery, and this amazing creation was born. Normally a fried egg would need some fish sauce, but all the yum elements are already elevating its taste. So simple, so underrated.
Kuaitiao Khua Kai (Stir-fried noodles with chicken) Before World War II, Chinese immigrants in Talat Noi were selling a sort of chicken congee without the stock, and it became immensely popular until today. The rice noodle is stir-fried along with other ingredients of choice but normally includes eggs, spring onions, and chicken, as well as a seasoning of oyster sauce. Some substitute the protein for seafood, and many even add in crunchy deep-fried doughsticks. This dish can be easily found along Yaowarat Road and around Hua Lamphong Station.
Kung Chae nampla Beloved by the locals but under-appreciated by foreigners, kung chae nampla is basically raw shrimp soaked in fish sauce, garlic, chilli, and Thai-style seafood sauce. It's prominently found in traditional Thai restaurants and seafood restaurants. While many can be put off by the raw shrimp, the spiciness and sourness really lift the protein to another level. Scrape off the garlic if you're not a fan of it, and enjoy this highly underrated Thai dish.
Shop the best travel experience here
This story first appeared here.
[Hero & Feature Image Credit: Markus Winkler/Unsplash]
Related: The Definitive Pad Thai Recipe From the Chef of Asia's Best Restaurant
Written By