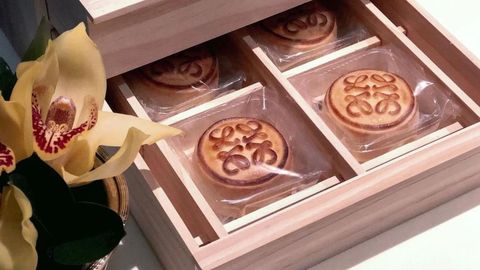 Step into a world where culinary excellence meets skilled craftsmanship. Here are some of the most luxurious mooncakes we've seen in recent years.
As the Mid-Autumn Festival approaches, numerous hotels and restaurants around Bangkok are offering their renditions of the sumptuous mooncakes. These mooncakes are more than treats, for their special ingredients can make them come at a staggering price. From our neighbouring countries to a greater, global scale, we explore some of the most luxurious mooncakes in recent years.
Some of the most luxurious mooncakes the world has ever seen
Golden Moments
Singapore's durian confectionary shop Golden Moments made a big headline in 2020 with the USD 655 (THB 23,057) box of mooncakes. The delicacies were covered in gold, with five layers of 24K gold foil and branded 99.9 24K Pure Gold Bar designed by SK Jewellery. The 24K Truffle Mao Shan Wang Snowskin was a truffle durian mooncake that brought together the two bold ingredients.
Royal Caviar Club Hong Kong's Royal Caviar Club showed the world the first caviar mooncake in 2020 and we went crazy for it. The snow skin mooncakes were filled with 10 grams of Royal Cristal Caviar, Australian winter black truffle, and truffled potato. These chunks of sweet, salty, and crunchy treats were sold in a box of four for USD 230 (THB 8,096). Royal Caviar Club also came up with another caviar mooncake this 2023, with four distinct flavours, through a collaboration with Master Pâtissier Gael Majchrzak: French dark chocolate with black truffle, Hokkaido cheesecake, Italian strawberry, and Madagascar vanilla.
Leong Yin Pastry Malaysian bakery shop, Leong Yin Pastry, broke the country's record in 2017 with the most expensive commercial mooncake sold at USD 926 (THB 32,597). The Zhen Yue mooncake weighed 1.2 kg and measured 17.5 cm and 4 cm thick. Crafted by Dr. Leong Kok Fai, the mooncake was made with 16 premium ingredients like ginseng, bird's nest, cordyceps, and 24K gold flakes.
Loewe
Outside of Asia, Loewe took a minimalistic approach with mooncakes in a wooden box. In 2019, Loewe's extravagant mooncakes featured the brand's logo and came with a mooncake moulding block — just in case you wanted to make your own Loewe mooncake at some point.
Louis Vuitton
Louis Vuitton went all in with its Chocolate Cloud Monogram mooncakes in 2019. The tall vertical box opened up into a blue hot-air balloon and a drawer compartment. Resembling the iconic LV trunk, the mooncake box contains four beautifully wrapped chocolate hybrid mooncakes.
Shop the best travel experience here
This story first appeared here.
(Hero and featured image credit: @krisfiona/Instagram)
Related: Here's How Much The World's Most Expensive Ice Creams Cost
Written By