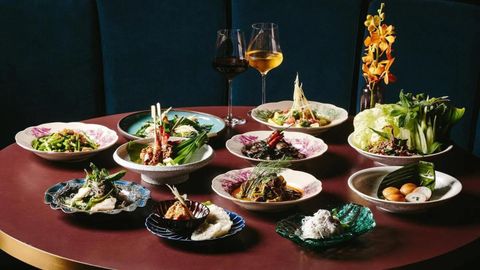 As we indulge in the exceptional Thai food here in Thailand, you may be surprised to find that there are Thai restaurants outside of Thailand that are certainly worth visiting, too.
The magic of Thai cuisine is that it isn't limited by borders – it's a global sensation. The exquisite mix of flavours and vibrant dishes has won hearts worldwide, proving that its popularity isn't just amongst Thais, but cherished by people of all backgrounds. As we explore some of the most established Thai restaurants outside of Thailand, we'll see how this universal love for Thai food brings everyone together for a truly delightful experience.
5 Most Famous Thai Restaurants Around the World
Kiin Kiin, Denmark
Chef Henrik Yde-Andersen was charmed by Thai food on his first visit to Thailand years ago, and he hasn't been able to get it out of his head since. The Danish chef flew back home with a lot of knowledge and ideas taught to him by local teachers and opened Kiin Kiin in Copenhagen. In his own restaurant, he offers Thai dishes that are not limited by the traditional Thai ways of cooking, bringing out innovative flavours and presentations in the most classic menus like tom yum and tom kha. If you want to get a taste of Chef Henrik's cooking in Bangkok, you can also visit Sra Bua by Kiin Kiin at the Siam Kempinski Hotel Bangkok.
Aaharn, Hong Kong
[gallery size="large" ids="35833,35835″]
From the same mastermind behind the one-Michelin-star Nahm and Aksorn in Bangkok, Aaharn is another prized brainchild of David Thompson. The restaurant opened in Hong Kong in 2019, offering rare, authentic Thai dishes cooked from native Thai ingredients. Some kub kaow to go with rice include ancient massaman chicken curry, stuffed squid and pork soup, and turmeric crab curry with betel leaves, to name a few.
L'Orchidée, France
[gallery size="large" ids="35837,35839″]
Although prepared by a Thai chef, don't expect the food at L'Orchidée to be conventional. Chef Chatchai Klanklong sharpened his French cooking techniques in Europe's most famous restaurants and combined them with intense Thai flavours at L'Orchidée in Altkirch. The result is an avant-garde match that is not available in just any Thai kitchen.
Kin Dee, Germany
[gallery size="large" ids="35841,35843″]
Kin Dee or 'eat well' was founded by a Thai, self-trained chef, Dalad Kambhu. This highly-rated Thai restaurant in Berlin serves Thai dishes that might not look as traditional as those you find in Thailand, for chef Dalad wants to incorporate local European ingredients and fuse them with Asian flavours. It's the place that comforts Berliners and introduces something new to Thais, in dishes such as apple som tam or mackerel kaeng som.
Kin Khao, US
[gallery size="large" ids="35845,35847″]
A lot of Thais know Chef Pim as David Thompson's protege at Nahm, though her story begins long before that and far away from Thailand. With the intention to work as a cognitive scientist in San Francisco, Chef Pim Techamuanvivit faced an impressive turn of events when she picked up a chef's knife and opened a Thai restaurant instead. Kin Khao was the talented chef's one-Michelin-starred restaurant in San Francisco and her first job ever in the restaurant industry. Needless to say, it has won her countless international accolades until today.
Shop the best travel experiences here
(Hero and feature image credit: Aaharn)
This story first appeared here
Related: Finest Thai Restaurants To Try When You Are Visiting Hong Kong
Written By