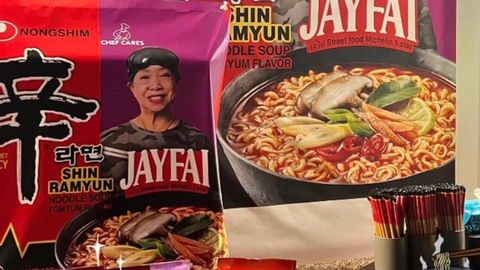 Bangkok's street food queen Jay Fai is whipping up a new ramyoen flavour for South Korea's instant noodle Shin Ramyun. Here's what we know so far.
Jay Fai is partnering with Shin Ramyun for their new Tom Yum flavor Following her rise to culinary stardom–with her first Michelin star–in 2017, Supinya Junsuta, a.k.a. Jay Fai, has enjoyed enduring popularity without any sign of waning. Since then, Jay Fai has received numerous accolades and has collaborated on a series of projects with several big names–think Netflix's Street Food (2019) and 7-Eleven's drunken fusilli with chicken rice box.
Among her latest collaborations is Shin Ramyun, the best-selling instant noodle brand in South Korea.
To those who think they would make their new flavour based on her iconic crab omelette, we're sorry to disappoint. The new flavour, as we've known so far, will be the Thai Tom Yum flavour.
A closer look at the package reveals they're doing a 'stir-fried' flavour as well, which is a good sign, considering Jay Fai's stir-fried dishes are, in our opinion, far better than her crab omelette.
Currently, not much is known about its release dates, so stay tuned for more updates here.
Shop the best travel experience here
This story first appeared here.
Related: How To Make The Cry Baby Noodles From Netflix's 'Hunger' At Home
Written By