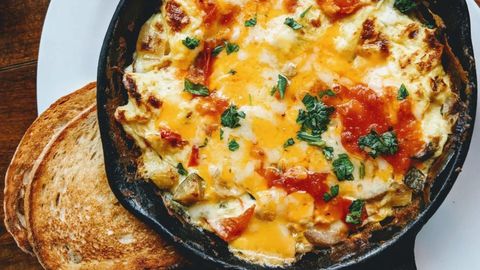 It's been almost 15 days since the New Year started, and if statistics are to be believed, most people have already dropped their new year resolutions to 'cook more' and 'eat healthy' by now. But we would like to believe that a little nudge can bring you back on track to your health goals when it comes to food.
While most of us manage to eat healthy(ish) meals, it is snacks that we fail at, and end up resorting to chips, cookies, or anything 'fast' and fried. These easy egg snack recipes promise to change that.
Benefits of eggs
Well, what if we told you that you can make snacks at home and with a pantry staple – the good old nutritious egg? And before you frown at that and mutter 'That's so much effort' under your breath, let us assure you that these egg snack recipes require no longer than 10 minutes of your time. Egg snacks are great as a healthy alternative to fried or carb-heavy foods; one egg contains only 75 calories and serves 7g of high-quality protein along with iron, vitamin, minerals and carotenoids. Easy egg snack recipes to try out
Microwave egg muffins
Bid adieu to long prep times with this egg snack recipe that requires only leftover veggies and a muffin tray. Mix 2-3 eggs with some veggies and mushrooms and season it with salt and pepper. Add some whole wheat flour to it and create a runny batter. Lastly, add 2-3 tbsp of oil to the batter and pour it into parchment paper-lined cavities of a muffin tray. Bake it at 200 degrees Celsius for 5-7 minutes, et voila! You have hot, savoury muffins that are great to be enjoyed as a snack.
Egg salad sandwich Some things are called 'classics' for a reason. And an egg salad sandwich is one such classic that should never go out of our culinary vocabulary. This egg snack comes together in minutes and is packed with a balance of carbs and protein. Just boil one (or three) eggs and once done, chop them and transfer them to a bowl. To this add cream cheese, chilli flakes, oregano, and some freshly crushed black pepper. Mix it all well and start assembling the sandwich by placing a piece of lettuce leaf on the bread, followed by the egg salad, and some thinly sliced onion. You can have the salad cold or toast it ever so slightly with some butter on a pan.
Egg chaat
A dish made in culinary heaven, egg chaat is an egg snack recipe that brings the best of taste and health in a serving. To prepare egg chaat, cut the boiled eggs in half while you heat oil in a pan. To the oil, add red chilli, turmeric, and cumin powder along with chopped green chillies. Mix this well and add the boiled eggs to the pan. Stir to make sure the eggs are well-coated with the spices. Then, prepare the chaat by placing the eggs on a plate and top each half with mint and coriander chutney, chopped onions, tomato, grated cheese, sev, and pomegranate seeds. Garnish with some coriander leaves and you have an egg snack that both your naani and trainer will approve of.
Egg paniyaram
Have some dosa or idli batter lying around? We have an egg snack recipe that can be put to use for egg paniyaram, a filling and wholesome egg snack. In a heated kadai, add some oil, followed by mustard seeds and asafoetida. After it splutters, add chopped onions, curry leaves and green chillies and sauté. While the onions cook beat 3 eggs in a bowl and add it to the dosa batter followed by the onion mix. Add some turmeric, salt, and black peppercorns to the batter and whisk until everything is combined. Then, heat the paniyaram pan, add some oil to the cavities and pour the batter. Cook it for 3 minutes on each side and flip till they are crisp and golden. Serve this egg snack hot with some coconut chutney and filter coffee.
Veggie "pizza" omelette
Here's an excuse to have a pizza any time of the day! With this egg snack recipe, your pizza will be veggie-loaded, high in protein, and entirely carb-free. Get some bell peppers and one onion, chop it finely and sauté it in some oil on a non-stick skillet. When this is done, set it aside, and with a little more oil in the skillet, add a mixture of 2 eggs and some milk on medium heat. When the bottom of the omelette starts to set, add some mozzarella (or vegan cheese, if you will), and the veggie mixture along with a sprinkling of salt and pepper. This no-bake, lightening fast, carb-free omelette is not just an addictive egg snack but also an amazing breakfast option, even for picky eaters.
Pesto egg in a hole with bacon
Who doesn't love pesto, right? So why limit this much-loved sauce to just pasta and pizzas? This egg snack recipe brings together the goodness of egg, the crispy savouriness of bacon, and the refreshing pesto for an egg-in-a-hole you will be forced to add to your list of favourite egg snacks. After cutting a hole in the centre of a slice of bread with a cookie cutter, set it aside and cook the bacon on medium heat until done. Set this aside and to a skillet, add some oil and the slice of bread, crack open the egg in the hole and cook it until it is set. Spread grocery-bought or homemade pesto on the bread and the egg, sprinkle bits of the cooked bacon followed by some salt and pepper and serve eggs.
This story first appeared here.
Hero & Feature Image: Courtesy Joseph Gonzalez/Unsplash
Related: 6 Banana Bread Recipes That Will Make The Most Of Your Favourite Fruit
Written By