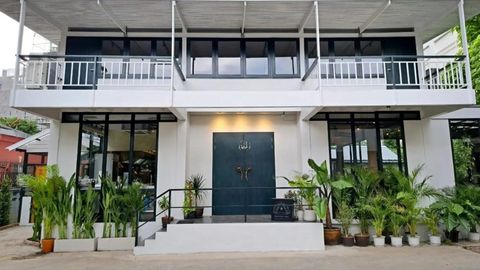 Greetings, Earthlings. Allow us to introduce the best plant-based restaurant in Bangkok right now. Yes, we said it. The short-lived but beloved eatery and lifestyle space known as Earthling Cafe has found a new Eden on a lush street in the Thong Lor neighborhood that was once home to the similarly eco- and community-minded bo.Lan. The new Earth House Bangkok has taken its menu upscale, offering nutritious and sumptuous dishes that are wholly plant-based, well-considered and appealing for brunch or an almost-fine-dining dinner. The homey, cozy, garden-draped venue is our new favorite #workfromhome location — especially when you need some organic woman-made wine to end the day. The original Earthling Cafe, which served up jam-packed drag shows to go along with its umami-packed mushroom burgers, opened its doors in the Ekkamai neighborhood in March 2022 and closed in May 2023. Since then, herbivores around Bangkok had been waiting for the farm-to-table cafe and restaurant to return.
Now they've done so with a beautiful, verdant vengeance. Samantha Häberli, the founding chef and nutritionist who ran a locavore-vegan fine-diner on a far-flung island hotel (Soneva Kiri Koh Kood) and helped develop the plant-based menus now found in all Soneva resorts, has basically hand-built a stunning new garden restaurant in the heart of Bangkok called Earth House. The two-story restaurant soft opened on August 13, 2023, and for us it was love at first bite.
Here's what the Earth House has in store for you
While the beautiful Midcentury villa new home is still in the development stage (yoga and art classes coming soon), the new, sophisticated menu is full of highlights that will have even the most ardent carnivores coming back for more. These include smoked beetroot with mesquite, caramelized baby tomatoes, homemade feta cheese; gnocchi a la Norma with a powerful chili kick; and mushroom tortellini drizzled with white wine, cream and olive oil sauce.
More brunch items, such as smoothie bowls, toasts and burgers, are served until late in the afternoon at 4 p.m. You can also accompany your meal with fresh juices and excellent coffee.
When evening falls, swap these out for some alcoholic drinks. Decently priced bottles of appealing wines — all by female winemakers — and spirits are available on the menu to be paired with your plant-based delicacies, to be enjoyed indoors or in the lush gardens. Of all the plant-based restaurants in Bangkok, Earth House has the most holistic vision, community vibe, and dare we say the best personality? Even the bathrooms are beautiful here.
And hey, ladies, check out their social media: there are special promotions for female customers every Wednesday.
Earth House is located in Sukhumvit 53, in the Thong Lor neighborhood of Bangkok, and is open from Wednesday to Sunday 10 am-10 pm. For more information and reservations, visit the website.
Shop the best travel experience here
This story first appeared here.
[Hero and featured image credit: Earth House]
Related: Where To Find The Best Vegan Afternoon Tea In Bangkok
Written By