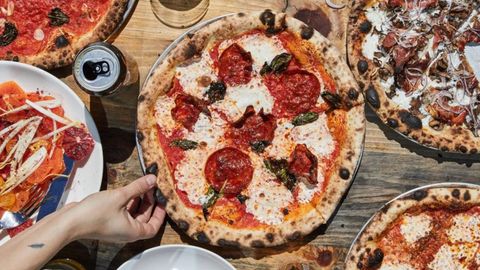 From the staunchly classic to neo-Neapolitan style, these restaurants serve the best pizza in Singapore.
As one of Italy's most famous exports, pizza has been passionately adopted by the rest of the world. It is sold everywhere from corner stores to Michelin-starred restaurants. International corporations have turned it into billion-dollar businesses. It has even been recognised by UNESCO as an intangible cultural heritage.
Pizza is also a source of a lot of emotional wrangling. Purists like the Associazione Verace Pizza Napoletana, a non-profit organisation dedicated to preserving the original Neapolitan-style pizza, argue that it can only be made with flour, water, salt, and yeast. It has to have a round shape and a diameter not exceeding 35m, with a raised edge called cornicione. The pizza should then be cooked for 60 to 90 seconds in a wood-fired oven at temperatures between 430 and 480 degrees Celsius.
Other rules border on pedantic. The pizzaiolo (pizza maker) should only use four ingredients, preferably from the Campania region. Tomatoes should be hand-crushed. Mozzarella, sliced. Fior di latte, in strips. The extra virgin olive oil was poured in a spiral motion. And pineapple is sacrilegious. But chefs have been refining the recipe in recent years, which is now more commonly known as neo-Neapolitan pizza. While the pizzas look similar, they utilise different types of flours, toppings, cooking temperatures, and ovens. A sourdough starter is often used, and the dough is shaped into smaller circles. A neo-Neapolitan pizza can also be crunchy, unlike the softer, chewier classic.
While Italian restaurants in Singapore tend to stick to tradition, others have made neo-Neapolitan pizza their signature, including Gusta, Chooby, Wild Child Pizzette, and Buca Buca. Then there are pizzerias such as Lucali BYGB, Sonny's Pizza, and Roberta's inspired by Pizza's more recent hometown, New York. Find out more below.
Book your stay at Marina Bay Sands via Booking.com
Book your stay at Marina Bay Sands via Agoda.com
Where to find the best pizza in Singapore:
Jump To / Table of Contents Written By