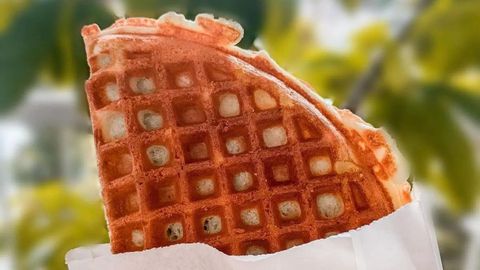 Crispy on the outside and bursting with flavour from the immensely fragrant batter on the inside, the old-school snack that is the pandan waffles is one of the best go-tos to have at any time of the day in Singapore.
The young and old will agree that pandan waffles make great stomach stuffers when the munchies hit. Often prepared upon order on-site at a bakery, you can often see a queue of hungry customers waiting for their turn to collect it in front of the waffle machine. It helps that the baked confectionary is affordably priced too.
The plain option is enticing enough without any spreads, as the waffle batter gets its flavour from coconut milk and pandan. Sounds straightforward enough, but these old-school waffles can vary in taste. The baking process and the batter's quality determine its taste and texture. Left too long, it'll be dry and crumbly; a wrong batter consistency or inadequate baking duration will make it tough and chewy. Some like a crispy exterior, while others like it soft and doughy. Whichever way your preferences swing, we're not judging. Pandan waffles are one of many classic staple items in a bakery. Although the plain option is a reliable choice, the flavoured spreads can complement the delicious snack too, with popular options ranging from Nutella and Peanut Butter to Blueberry Jam, Lotus Biscoff, and even durian custard. Some bakeries in Singapore take it a step further by sandwiching these pandan waffles with savoury ingredients like ham and cheese.
Many cafes and dessert-focused shops also pair old-school pandan waffles with ice cream, which is unsurprisingly a delicious combination. The frozen scoop melts and its viscous remains get soaked up by the waffle, what's not to love?
8 best traditional pandan waffles you should go to in Singapore if you are visiting:
Jump To / Table of Contents Written By