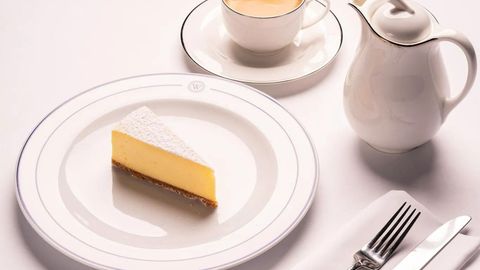 f you find yourself in a celebratory mood, why not check out one of these three dining spots, each of which offers a distinctly unique ambience?
Must try dishes at this fine dining spots –
The limited-time Café Wolseley pop-up at the Anantara Siam is positively perfect
Run, don't walk, to Café Wolseley, a limited-time pop-up dining experience at the Anantara Siam Bangkok Hotel
The Wolseley Hospitality Group – owners and operators of such iconic London restaurants as The Wolseley on Piccadilly, and The Delaunay in Aldwych – have launched a pop-up dining experience in Thailand, which you'll find at the Anantara Siam Bangkok Hotel (taking over the Madison steakhouse space in the Parichart Court dining area). This limited-time restaurant, appropriately named Café Wolseley, deftly combines British heritage with European grandeur, serving up Wolseley classics and contemporary additions.
For the next three months – at least – local gourmands can look forward to a bevvy of quintessential European classics, as Head Chef David Stevens' menu touches down in such locales as France, England, Germany, Hungary, and more. Definite can't-miss highlights include the yummy prawn and avocado cocktail, the healthy heritage beetroot salad, the done-just-right roast Anjou chicken with morels, and the ultra-decadent, twice-cooked 'Soufflé Suisse' with mushroom and parmesan cream sauce. It's also worth noting the hard-to-find-in-Bangkok specialities spotted on the menu, including goulash and spätzle, as well as all the incredible desserts available, such as classic apple strudel encased in filo pastry with Calvados cream and an absolutely heavenly baked vanilla cheesecake.
For more information and reservations, visit Café Wolseley.
Don't miss the diverse and delectable 'Shades' set menu dinner at Kavee restaurant
The artfully plated, 15-course culinary journey at Kavee makes stops in many of Thailand's diverse provinces
Savio's light-filled interior features a spectacular centrepiece partition that reflects Thailand's weaving craft heritage
A world of gastronomy awaits at Savio, the stylish and spacious ground-floor restaurant at the recently opened Chatrium Grand Bangkok hotel, where Executive Chef Darius Seitfudem welcomes diners to indulge in a mix of Thai classics, modern pan-Asian cuisine, and world-class Western fare. His talented team includes Chef Pravin Baban Gayke, an expert in the art of Indian cuisine who oversees a selection of dishes cooked in a traditional tandoor oven, as well as a daily thali menu. Also on the team is Chef Natthawut Siha, a Thai national who delights diners with his highly authentic Hong Kong recipes, and handcrafted dim sum.
And since no meal is complete without a delicious dessert, Chef Thunyaporn Sripadung – a highly skilled Thai pastry chef – is in charge of all the sweet treats. Of course, what's equally notable at Savio is the restaurant's gorgeous light-filled, interior design, which boasts floor-to-ceiling windows and a spectacular centrepiece partition that brilliantly reflects Thailand's weaving craft heritage. Designed by artist Korakot Aromdee using intricately interwoven pieces of bamboo, the effect is like ribbons of fabric floating in the air.
For more information and reservations, visit Savio restaurant.
Discover More Dining Experiences In Bangkok
This story first appeared here.
(Hero image: Heavenly baked vanilla cheesecake at Café Wolseley)
Related: The Best New Restaurants In Bangkok Right Now
Written By