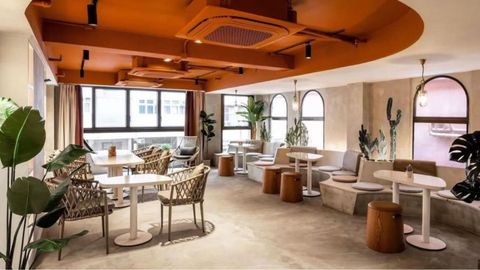 Hongkongers are cafe people. We're constantly looking out for the best cafes in town. We love catching up with mates on a weekend morning over eggs, cakes and crusty artisanal sourdough. But cafés aren't just for weekends. Hong Kong is powered by caffeine, and many depend on a reliable go-to barista for a double shot.
However, knowing which is worth your time in a sea of new openings can take a lot of work. So, we've done the ground research and found the best cafes to check out every month if you're jonesing for a fun new vibe. So, whether it's a quick caffeinated catch-up, an indulgent hangover fix, or a workday coffee stop, these are the best new cafes in Hong Kong worth trying.
Best new cafes to try in Hong Kong – November
Soft Thunder Following its successful first store in Kennedy Town in 2021, Soft Thunder is opening a brand new bakery and cafe in Wan Chai. The 2,000-square-foot flagship store is serving the same creations that first captivated pastry lovers. Expect a range of flaky viennoiseries and cinnamon rolls as well as signatures from Grand Palmier and Unicorn Puffs. All of these are made using solid French baking techniques and are fresh from the oven. As part of the opening, Soft Thunder is offering the newly launched Crème Caramel Danish in addition to a number of popular pistachio items. Another highlight is the improved recipe for the Custard Tart and of course, coffee! The cafe is partnering with local coffee roaster Roastwork for its coffee selection.
Address: Shop B, 31 Queen's Road East, Wan Chai, Hong Kong
Social media: instagram.com/soft.thunder.bakery
Mercury Recalls Fans of Lost Stars Live House are already excited but for those who aren't aware, the popular restaurant and live music venue are opening a new cafe in Causeway Bay. The aim is to continue to share food and music and the name Mercury Recalls, which is inspired by a song that the team liked a lot. What's new about the cafe? The main draw is vinyl—with food. In the cafe, the team shares vinyl records that guests can listen to. Of course, the familiar brunch, coffee, and special cocktails are still available. Don't miss the Smoked Salmon Egg Benedict and Chicken Breast Linguine on top of the juicy Beef and Bacon burger. For the drinks, take your pick from the wide range of mocktails, tea, and coffee. If you're looking for something light, we also recommend the afternoon tea set!
Address: Shop A&C, G/F, Fairview Mansion 51 Paterson Street, Causeway Bay, Hong Kong
Social media: instagram.com/mercury.recalls
Rootdown Cafe by day, drinking spot by night—that's probably the best way to describe Rootdown, Sai Ying Pun's newest cafe. By day, the food menu focuses on light food that's great to power you through the morning or a much-needed quick bite before heading elsewhere. The highlight is the cheesy (and we really mean cheesy) grilled sandwich and egg sandwich. When it comes to the drinks, the iced matcha latte is a must or a simple flat white. While not particularly spacious, it gives off a homely vibe. The wooden panels outside definitely add up to the feeling of mystery but the cafe embraces its wooden aesthetic. The cafe's name refers to the song 'Rootdown' by Beastie Boys and the love for music can be seen in the hi-fi and vinyl machine inside.
Address: Shop 16-19, G/F, Two Artlane, 1 Chung Ching Street, Sai Ying Pun, Hong Kong
Social media: instagram.com/rootdown.hk
Tamora Wait, a three-storey cafe in Hong Kong? Yes, you read that right. Tamora is a three-storey Korean-style cafe and coffee shop in Tai Po. Its name Tamora is taken from the words "Ta" meaning 'island' and "Mora" meaning 'to gather' in Jeju dialect, an island in South Korea. Just like the island that inspired the space, (the owners are Koreans who love the island), Tamora almost feels like a healing space. Although Jeju is just a three-hour flight away from Hong Kong, this cafe is the next best thing to escape to! When here, you can't miss the Jeju Yuzu Ade and the Jeju Matcha Croffle. Take in the different views on each floor, whether it's the sunset at the rooftop or the beauty of Tai Po from the first and second floors.
Address: G/F-2/F, 46B Tai Mei Tuk Tsuen, Tai Po, Hong Kong
Social media: instagram.com/tamora_tmt_official
2 Soon Cafe This Spanish cafe is considered by many as a "hidden gem", partly thanks to its location in Prince Edward. The cafe is striking though, with its pink and wooden interiors as well as the arched door. It also boasts two floors, serving as a cafe and bar with a shisha lounge. In the evening, the cafe serves full Spanish dishes so it's best to enjoy dinner if you're feeling moreish. The cafe is also well-loved for its coffee, brunch, and dessert options during the day.
Address: G/F, 324 Sai Yeung Choi Street North, Prince Edward, Hong Kong
Phone: +852 6591 6201
Ideology After three years, Idealogy's first flagship store is now open and it happens to be at the new Airside mall as well! It's not easy to miss Idealogy since it's nestled around the corner of the main entrance but despite that, it's a relatively quiet spot. Being a coffee roaster for years, you can expect great coffee from Ideology with hints of fruity and nuttiness to it.
Address: Shop G017, G/F, Airside, 2 Concorde Road, Kai Tak, Kowloon City, Hong Kong
Phone: +852 9188 9011
Best new cafes to try in Hong Kong – October
AIRSIDE Cafe This new cafe by Cafe Deco Group takes the best spot in Kai Tak's new mall, AIRSIDE. As such, diners can expect natural light—or evening lights—streaming through the glass roof. For the menu, it has a creative yet affordable modern European cuisine. Highlights include the cold and raw seafood platter and Wagyu tartare. They also have innovative drinks available, ranging from coffee to mocktails, and more.
Address: Shop 322, AIRSIDE 2, Concorde Road, Kai Tak, Hong Kong
Social media: facebook.com/AirsideHK
Overlap Coffee Another month, another pet-friendly cafe. This camping-style cafe in Yuen Long boasts indoor and outdoor seating. The interior is sprayed in cement grey with added minimalistic touches. Thanks to the large glass windows, diners can observe the outside surroundings. Plus, bathe in natural light! From the menu, the hot items include the full breakfast set and Egg Pasta with Mentaiko Cream.
Address: Shop 2, G/F, Wai Fat Building, 1-5 Fung Cheung Road, Yuen Long, Hong Kong
Social media: instagram.com/overlapcoffee
Bacha Coffee Legendary, 113-year-old Moroccan brand, Bacha Coffee is now in Hong Kong! The coffee shop features an exceptional collection of more than 200 types of coffee available hot or iced. The Hong Kong outpost also has an assortment of eight varieties of croissants with sweet and savoury fillings. Other pastries to enjoy include kouglof, brioche, and pound cakes. The interior is adorned with details reminiscent of the brand's birthplace in Marrakech, all the way back in 1910. Be in awe at the inlaid black and white checkered tiles, intricately carved wood, and antique mirrors with a touch of Arabic sophistication.
Address: Shop 1063, Level 1, IFC Mall, 8 Finance Street, Central, Hong Kong
Phone: +852 2301 1910
Classy le Carré If you couldn't guess by its name, Classy le Carré is a new French-style cafe along the Kennedy Town promenade. It's located at a classic Chinese tenement building, complete with the signature verandah. This makes the atmosphere so much classier! When it comes to the menu, the Tagliatelle Carbonara, Avocado and Mentaika Prawn Salsa Croffle, and Belgium Waffle are a must! You also can't go wrong with the French breakfast set and matcha latte.
Address: G/F Tung Fat Building, No. 1B-1C New Praya, Kennedy Town, Hong Kong
Phone: +852 6045 8229
Kpoi Coffee & Eatery Kpoi Coffee & Eatery is the latest cafe to open in Tai Po, away from the hustle and bustle of the city. In addition to being pet-friendly, it offers a quiet respite to those looking for some downtime. The menu is typical Western food you'd find in other cafes but those who have been there swear by the high quality. Favourites include the carbonara, honey waffle bagel, and chicken wings with stuffed lychee.
Address: No. 7, G/F, Mei Fung Garden, Tai Po, Hong Kong
Social media: instagram.com/kopi_hk
Best new cafes to try in Hong Kong – September
PONTY CAFé PONTY CAFé is back after a spectacular refresh! PONTY CAFé is led by Asia's 50 Best Bartender 2023 winner, Beckaly Franks and Ezra Star from Mostly Harmless with general manager Doyel Dawson. The American-style bistro and all-day cafe offers a menu of mouth-watering dishes with elements of traditional Southern cuisine. Think famous buttermilk biscuits, juicy pickles, spicy hot sauces, and deep-fried delights. Of course, all that is complemented with crafted coffee blends, as well as natural wines and amazing cocktails. Be sure to try the beef burger served with American cheese or just go for the weekend brunch menu, filled with Southern food staples.
Address: 15 Old Bailey Street, Central, Hong Kong
Social media: instagram.com/pontycafehk
Nana's Green Tea Experience matcha magic at Nana's Green Tea House as it makes its debut in Hong Kong after sweeping across Japan. It boasts 76 outlets across the globe and now Hong Kong is one of them. Nana's Green Tea takes pride in its vitamin and antioxidant-rich matcha green tea powder, which is added to the drinks, sweets, and food they serve. The headlining matcha-christened 'Japanese espresso' is the star here with the matcha sourced from the historic Kyoto tea studio, Yamanasa Kyomaen. The desserts include luscious soft-service creations, handmade matcha pudding, and house-special parfaits. Of course, those in need of a hearty meal can also get donburi, udon, and other Japanese comfort food.
Address: B128, Airside, 2 Concorde Road, Kai Tak, Hong Kong
Social media: instagram.com/nanasgreentea_official.eng
Wanaka From the same team behind Vegan Cafe Years, comes Wanaka. Located in the historic Blue House in Wan Chai, Wanaka serves plant-based, whole foods, and organic dishes all while supporting local farmers! This is great news for those who have dietary restrictions, whether you're vegan, lactose intolerant, or on a keto diet. Dig into healthy (yet amazing) dishes like the Smoked Spicy Avocado and Pomelo Sushi, made using local organic orka from the Yisheng Farm in Kam Tin. It's a bestseller!
Address: 8 King Sing Street, Blue House, Wan Chai, Hong Kong
Social media: instagram.com/wanaka.hk
Lento Kowloon City's newest coffee shop, Lento, takes over the former location of Sofi Coffee. Opening with a completely new look, the design takes a minimalistic approach. Warm aesthetics take centre stage with an overall welcoming atmosphere. Make sure to try the roasted chicken, best paired with the hochija latte. Meanwhile, the slow-cooked chicken breast has hints of spices that also go well with cold drinks.
Address: G/F, 428 Prince Edward Road, Kowloon City, Hong Kong
Social media: instagram.com/lento_hk
By the O With the opening of The Wai, it seems a slew of cafes and coffee shops followed suit. Another new opening in the neighbourhood is a new branch of By the O. Spanning two floors, the cafe offers a generous portion when it comes to food. The design is part-rustic with an abundance of wood-style furnishings. You can't go wrong with the all-day breakfast while the tiramisu croffle is great if you have a penchant for sweets. The eggs benedict might feel messy to eat but it's delicious so just savour the finger-licking goodness.
Address: Shop 3, G/F, Rich Court, 31 Chik Fu Street, Tai Wai, Hong Kong
Social media: instagram.com/bytheostudio
Best new cafes to try in Hong Kong – August
NOC Coffee The Wai NOC Coffee continues to expand its footprint in Hong Kong by opening its latest branch at The Wai. The new outpost spans over 3,000 square feet and embodies NOC's signature minimalist aesthetics. It also boasts an open-view design, complete with a 22-metre-wide floor-to-ceiling window. This gives guests plenty of sunlight and a panoramic view of the landscape. Indulge in a refreshing summer treat with the store-exclusive Iced Pandan Cocoffee. It's made with coconut water, NOC's classic nutty House Blend No.18 espresso, and pandan extract. The drink goes well with the pastry collection of hot items like egg tart and fig Danish.
Address: Unit 430, 4/F, The Wai, 18 Che Kung Miu Road, Tai Wai, Hong Kong
Phone: +852 2686 1380
Makuma Makuma is the sister branch of the cult Japanese-style cafe, Ukiyo. As such, you can expect a similar Japanese home-style design, with Makuma leaning more towards a rustic wooden interior. The cafe is also a new addition to pet owners' growing list of pet-friendly cafe options! Those who have been there swear by the delicious roll cakes and souffle pancakes. They have a great selection of coffee for those who need a caffeine boost.
Address: Shop G03, G/F, D2 Place, 9 Cheung Yee Street, Cheung Sha Wan, Hong Kong
Social media: instagram.com/makuma_cafe
Altitude Are you looking for a pit stop after a long day exploring Central? Check out Altitude, a new coffee shop just a stone's throw from Tai Kwun. The cafe has a range of artisanal coffee, whether you prefer a creamy latte, strong espresso, or a comforting cappuccino. Since the cafe is still at its soft opening, there may be times when dishes are not available, so be sure to inquire beforehand. The cafe also welcomes your furry friends. What's more, the space transforms into a "bar" at night, offering cocktails and shisha.
Address: 4/F, Cheung Hing Commercial Building, 37-43 Cochrane Street, Central, Hong Kong
Social media: instagram.com/altitude.hk
Ah Jeng's Coffee Club This cafe is the newest addition to Sai Ying Pun's growing list of artisanal cafes. Helmed by a local artist, you can feel the creative vibe here. Cute details fill this orange-hued cafe. Coffee lovers will have a good time here with the many interesting cold and hot brew choices.
Address: Shop B, G/F, Tung Cheung Building, 1 Second Street, Sai Ying Pun, Hong Kong
Email: ahjengcoffeeclub@gmail.com
The Old Bookstore The Old Bookstore is from the same team behind No Money So Lonely in Mong Kok and So Rich So Lonely in Causeway Bay. Tapping into the same fun concept, the new cafe has a vintage and retro design reminiscent of cafes found in Southeast Asia. Diners can appreciate the intricate details and Instagrammable dishes. The Thai milk pudding is the star here, so much so that it's always sold out! Fortunately, you can still try other pudding flavours or desserts that are also on the menu.
Address: Shop 1, G/F, Tower 535, 535 Jaffe Road, Causeway Bay, Hong Kong
Phone: +852 5922 1882
Badger's Cafe Badger's Cafe isn't easy to miss—its floor-to-ceiling windows are enough of a greeting. The industrial-style vintage cafe sparks nostalgia with old-school seating and rustic wallpaper. The menu is primarily Western, with pasta, pizza, and all-day breakfast options. We recommend taking a seat by the windows so you can admire the view outside.
Address: Shop B, Baker Residences, No. 8, Baker Court, Hung Hom, Hong Kong
Phone: +852 4654 8822
Best new cafes to try in Hong Kong – July
Cafe Joo Cafe Joo welcomes diners to its bright and minimalist surroundings, redolent of the modern Korean cafe aesthetic. Western cuisine-trained chef Ken Lau is behind the Korean menu. He taps into his background in Western culinary arts to approach Korean cuisine, reinterpreting traditional Korean snacks into dishes with contemporary flair. Dig into Chef Ken's take on the beloved Korean fried chicken, which uses yellow-haired chicken and Italian cooking techniques to achieve next-level juiciness. You'll also appreciate Chef Ken's deep-frying expertise in the kimbap. We also recommend trying the mouthwatering range of desserts and signature drinks like the Nutella and Banana Baked Croffle with Milk Ice Cream and Mango Parfait.
Address: Shop 165, Level 1, Phase 1, New Town Plaza, 18 Sha Tin Centre Street, Sha Tin, Hong Kong
Phone: +852 2882 8323
OKLM Cafe Decked in white, OKLM Cafe is the newest cafe to open in Tsim Sha Tsui. Its location, close to K11 Art Mall, leaves no excuse not to visit. The corner cafe's large windows near the entrance give a great street view. We recommend coming during non-peak hours to secure a seat. The food menu is mostly Western and includes ravioli, spaghetti, burger, and risotto. An "energizer" section is also available in the morning, like the granola bowl, toast, and eggs benedict. When it comes to drinks, take your pick from lattes, teas, pour pour-overs.
Address: Shop 1, G/F, 1-3 Minden Avenue, Tsim Sha Tsui, Hong Kong
Phone: +852 3705 9622
Alchemy Origin Espresso Alchemy returns to Quarry Bay—its origin—with its new cafe, Alchemy Origin. It boasts a new comfortable space with a chic design inspired by the African Rammed Earth Construction method. This environmentally sustainable method uses natural materials like laterite, clay, and aggregates. With this, the cafe pays homage to the origin of its coffee. Drop by to get your coffee fix or try their healthy food menu.
Address: Shop A, G/F, Two Taikoo Place, Quarry Bay, Hong Kong
Social media: instagram.com/alchemyorigin
The Vibe Room This new cafe in Causeway Bay boasts warm tones, bright lights, and a cosy dining environment. The interior has a European court-style design, filled with a white and dark brown combination and round arches. The menu includes a range of staple cafe classes like pasta and toast, but you can also find light dishes such as salad.
Address: Shop A, G/F, Midtown Soundwill Plaza II, 1-29 Tang Lung Street, Causeway Bay, Hong Kong
Phone: +852 3564 8146
Ohayo by Ocio This cafe's name is taken from the Japanese word for 'hello' and is the perfect place to start your day. The latest offering from Ocio Kitchen includes a mix of Western and Japanese dishes like burgers, pasta, and udon. The Japanese-style cafe also has seats that offer a scenic view—so be sure to grab them! While the main dishes are extremely fulfilling, the real draw here is the dessert that includes heavenly offerings such as Fluffy Tiramisu, Signature Honeydew Melon Snow Mountain, and Souffle Pancake.
Address: Shop OT G19, G/F, Ocean Terminal, Harbour City, Tsim Sha Tsui, Hong Kong
Phone: +852 2880 0395
Best new cafes to try in Hong Kong – June
XIA XIA is a new teahouse at the Hong Kong Palace Museum, connected to the gift shop via a Chinese-style arch. It is designed by two renowned creatives: architect and art collector William Lam and artist Stanley "another mountain man" Wong. Its aesthetics draws inspiration from the Forbidden City. As such, you can expect a menu that pays homage to palace food and drinks alongside traditional folk dishes. Be sure to try the Sweet Pea Cake, Empress Dowager Cixi's favourite dessert and specialities like the Chongqing Noodles and Shanxi Meat Buns.
Address: G/F, Hong Kong Palace Museum, 8 Museum Drive, West Kowloon, Hong Kong
Phone: +852 2730 3038
G'day Café At the helm of G'day Café is Toronto-Hong Kong native, Chef Yen Chan. Thanks to her time in Australia, she brings a slice of the laid-back vibe to Hong Kong. G'day Café serves up a range of classic Aussie dishes with creative twists to woo Hong Kong locals. Start your day early with classic Aussie brekkies such as the flavour-packed The G'sanga or G'Day Yoghurt Bowl, available until 6 pm daily! Other noteworthy options on the menu include a grilled-to-perfection Lamb Rack and our favourite Classic Seafood Platter. Of course, the cafe also has coffee and sweets. Expert baristas craft a range of Aussie staples like Osmanthus Latte and Lemon Espresso Tonic. Be sure to try the Burnt Basque Cheesecake! Did we mention that you should totally bring your pup along because the cafe also has a pet menu?
Address: Shop A, G/F, Nam Cheong Building, 48-52 Hill Road, Sai Ying Pun, Hong Kong
Phone: +852 5436 5358
Uncle Ben Coffee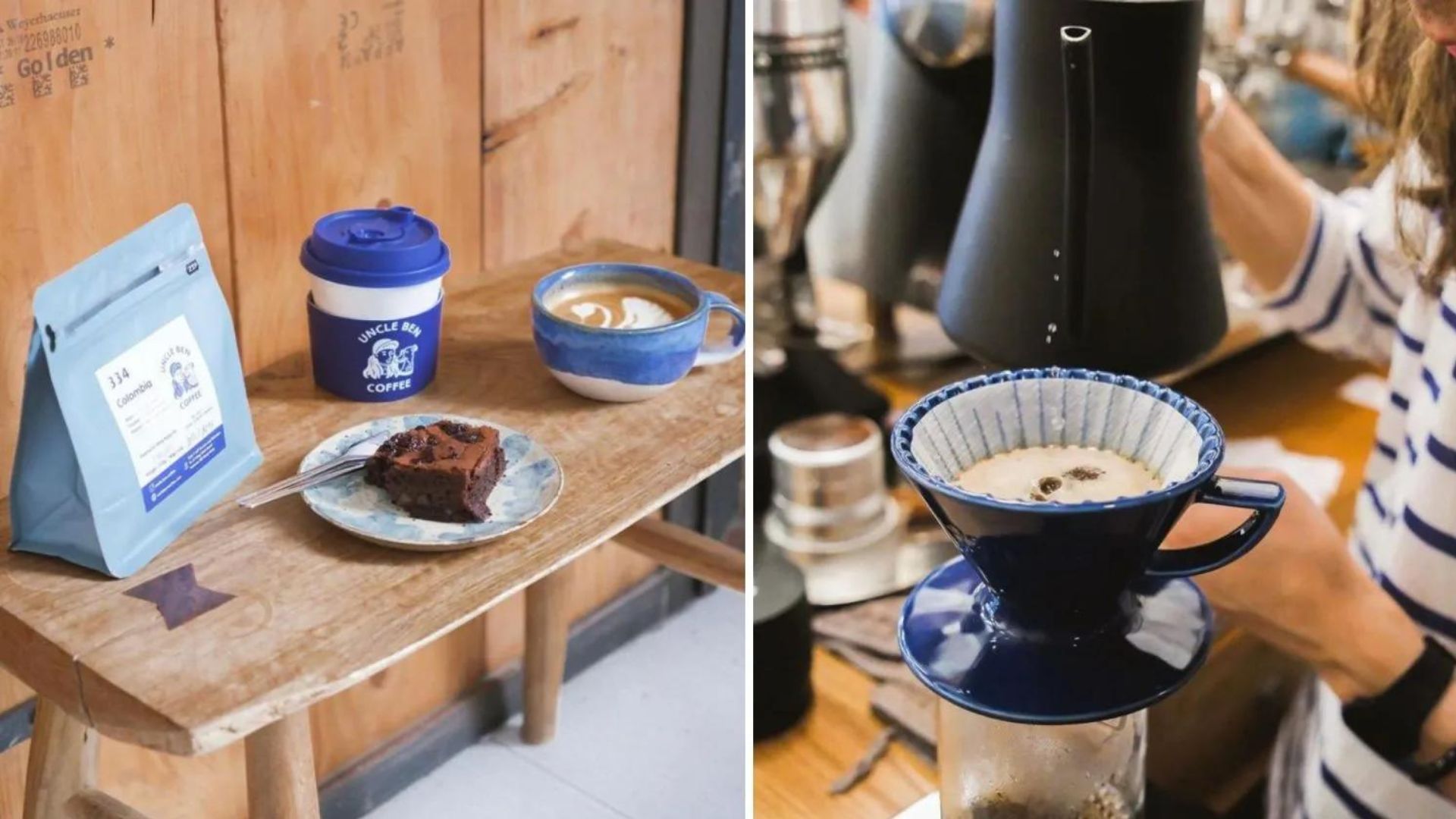 Uncle Ben Coffee recently relocated from its spot in Causeway Bay to Fortress Hill and immediately became a hotspot. The new shop has a range of good coffee and roll cakes. Refresh yourself with iced drinks while coffeeholic can go for the Bean 325 which resembles a mango milkshake but in a flat white. The Berry Brownies boasts hints of orange peel for an extra kick while the roll cake uses Japanese raw cream. The warm tones are so inviting that the place is packed even on a weekday. Be sure that your furry friends tag along to this pet-friendly cafe!
Address: Shop 7, G/F, Fu Lee Loy Mansion, 9-27 King Wah Road, Fortress Hill, Hong Kong
Social media: instagram.com/uncle.ben.coffee
Hibi Cafe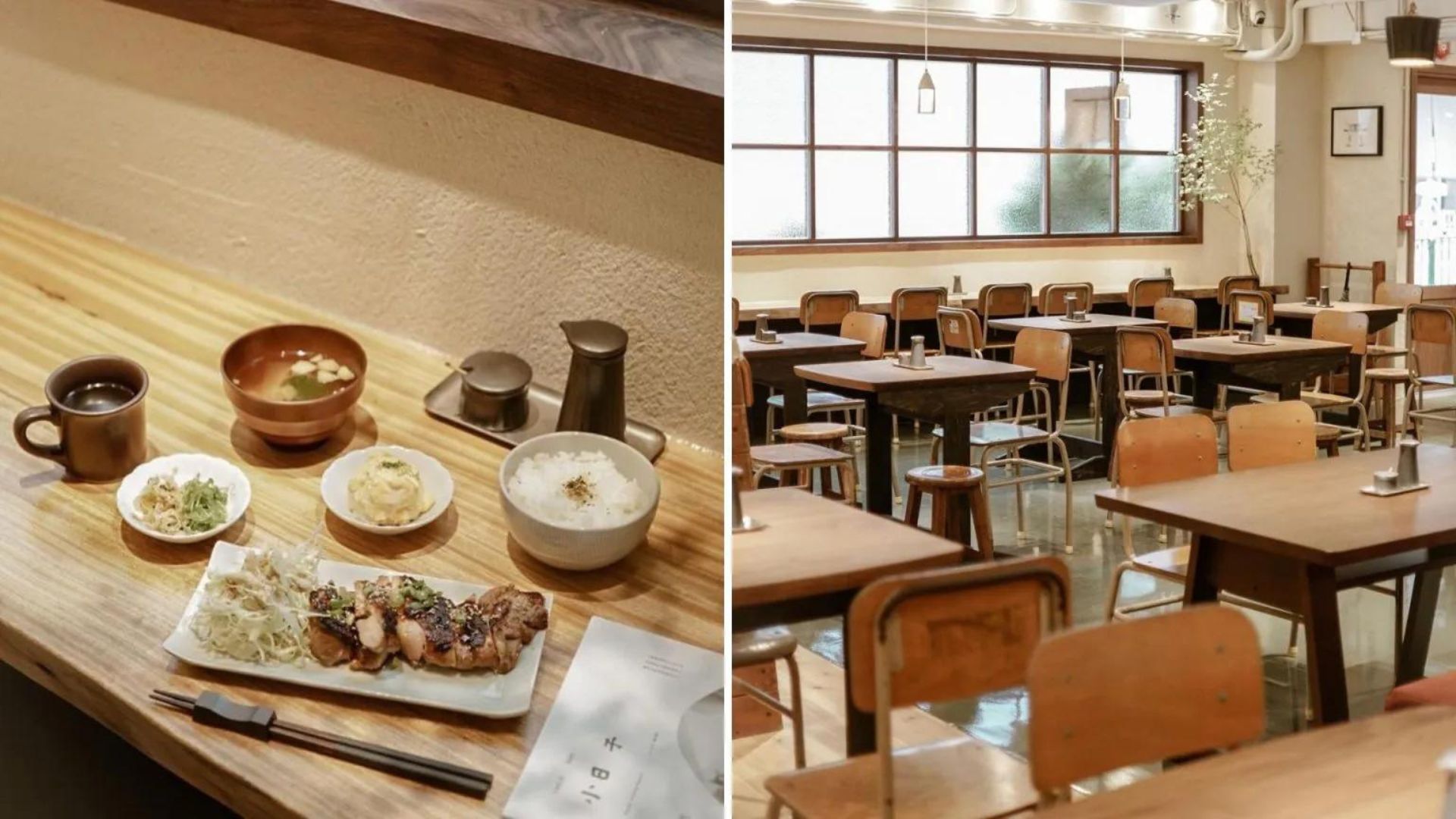 Japanese-style cafe Hibi Cafe is taking its visitors a trip down memory lane. This is thanks to the trinkets of items that echo memories of school, some of which were recycled from an abandoned Japanese school like the benches and school-style chairs. The menu is filled with Japanese comfort food like okonomiyaki and udon. But if you're coming hungry, you can order dishes such as the Wagyu Burger Steak or the Hokkaido Pork Meat.
Address: G/F, Lucky Factory, 63-65 Hung To Road, Kwun Tong, Hong Kong
Phone: +852 2865 3233
Lab Zero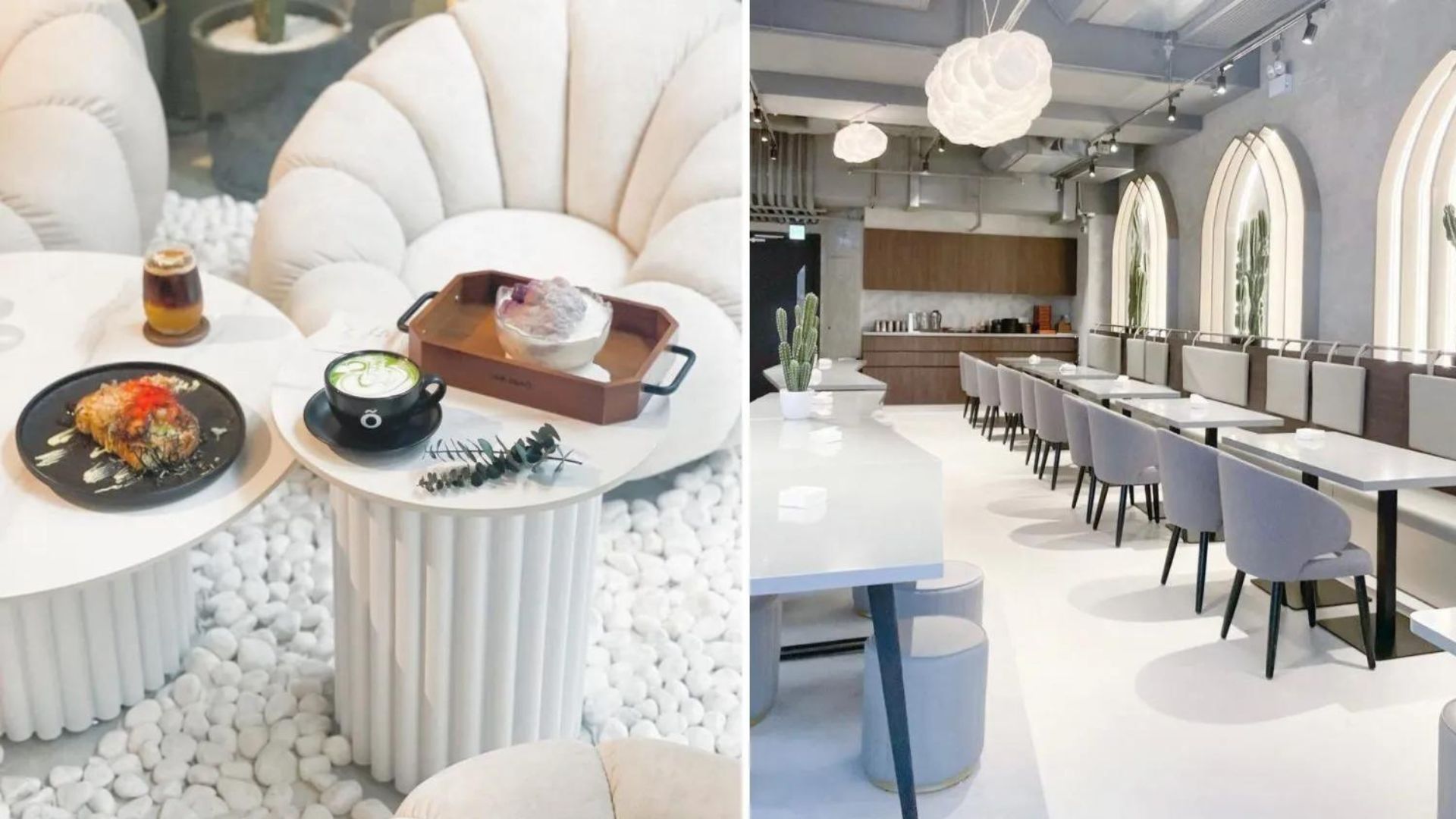 Lab Zero is the perfect cafe to visit this summer! Refresh yourself with the Japanese-style shaved ice (or kakigori) with ice cubs directly imported from Japan. Choose from various flavours like black sesame or strawberry cheesecake. If you don't have a sweet tooth, you can always get savoury dishes which range from burgers to spaghetti, and even an all-day breakfast. There are about 30 dishes in total to choose from and are a flavourful mix of Western, Japanese, and local influences. Some highlights include the Garlic Mentaiko Shrimp Spaghetti and the Okonomiyaki Sourdough. The plating, presentation, and aesthetics are so Instagrammable that you'll likely be spending hours here—and we don't blame you.
Address: Shop B, G/F, 68 Kimberley Road, Tsim Sha Tsui, Hong Kong
Phone: +852 9069 2309
Nodi Coffee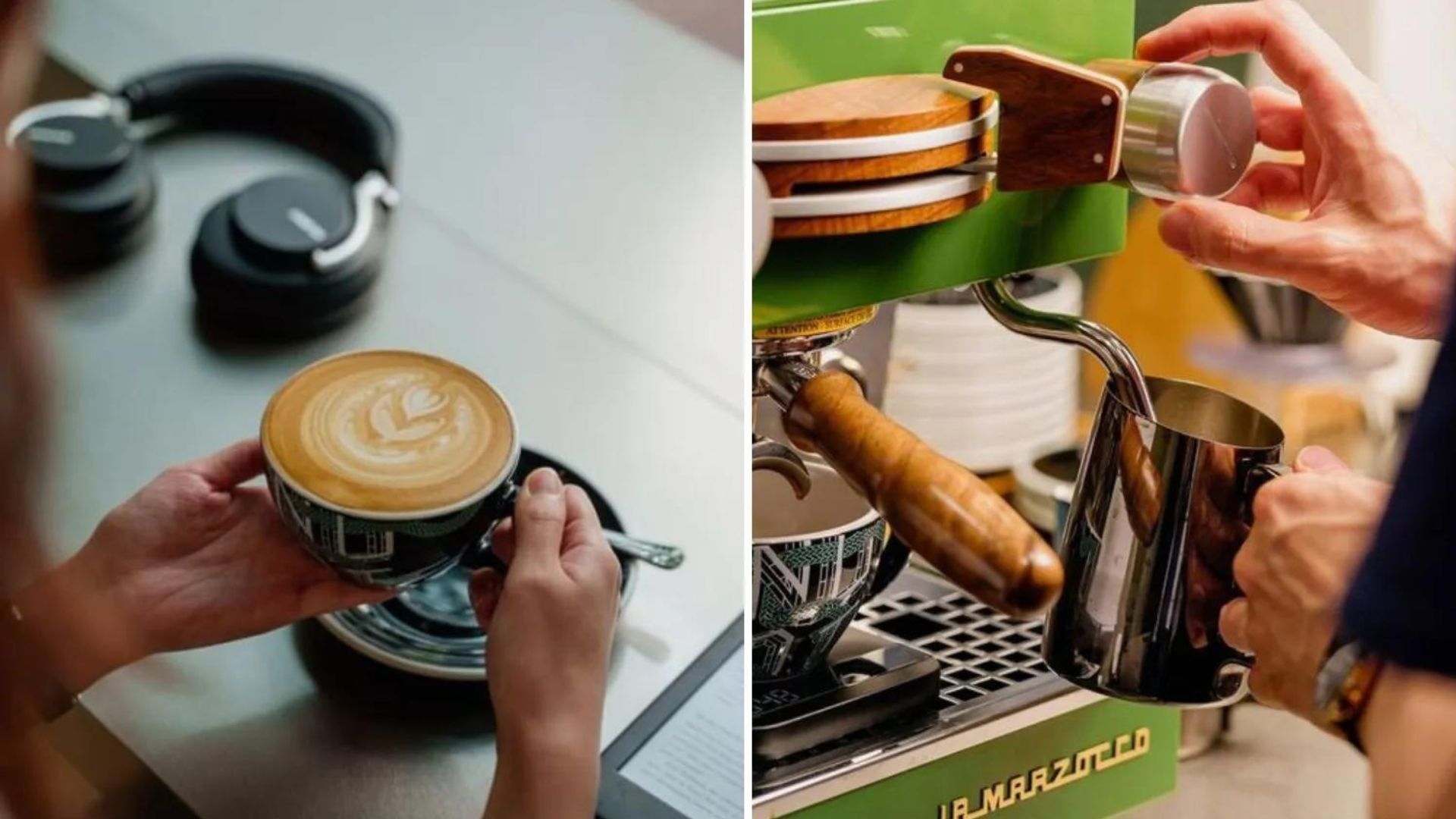 Nodi Coffee is expanding its footprint and recently opened its seventh store in Kennedy Town! Know what's even better? All coffee items are served using single-origin beans. The coffee shop takes pride in making conscious efforts to enhance sustainability—cup by cup. All the coffee cups are made of FSC-certified paper and even the plant-based lid is made from bioplastic. Try the fresh coffee beans from Colombia called Lord Voldemort (the producer is a fan of Harry Potter) or have the honey Ethiopian SEO for hints of ginger and lime.
Address: Shop 7, The Hudson, 11 David Street, Kennedy Town
Social media: instagram.com/nodicoffee
Best new cafes to try in Hong Kong – May
Creo by Brentwood (Happy Valley) Homegrown coffee shop brand Creo by Brentwood is opening its third location in Happy Valley! All the branches are fuelled by the love of excellent quality coffee and the artistry behind brewing the perfect cup. But the Happy Valley outpost also focuses on craftsmanship, community, and connection. As with the two previous locations, the interior pays homage to one of the five traditional Chinese elements and this time, it's fire.
Expect a rich tan and orange colour palette representing warmth brought about by friendship. The Happy Valley venue showcases coffee supplier, Bikecoffeeman which is known amongst Peng Chau locals. It will be contributing to Creo's rotating house blends and seasonal specials. Exclusive offerings that you can't miss include Magic, a double ristretto topped with flat white style milk, and Cafe1+1, a double delight of signature espresso and milk coffee.
Address: 6 Sing Woo Road, Happy Valley, Hong Kong
Phone: +852 5403 1123
Plantation Tea Bar Enough about coffee because there's a new space for tea lovers in town with the opening of Plantation Tea Bar! Nana Chan of the iconic cafe, teak, which sadly (and surprisingly) closed down last year, is the founder. The new venture invites tea experts, novices, and connoisseurs alike to discover the rich and varied world of tea.
The highlight is the 12-seat stone counter, where a monthly changing tea-tasting menu takes drinkers on a four-course journey. The inaugural set tasting menu, 'Coming Home' focuses on three Taiwanese oolongs, which is an ode to Chan's Taiwanese roots. Tea drinkers can also try a trio of cold-brew shots in different flavours. In addition to the tea and light snacks (read: savoury seaweed crackers), the contemporary aesthetics inspired by the concept of wabi-sabi is also worthy of admiration.
Address: 18 Po Tuck Street, Sai Ying Pun, Hong Kong
Phone: +852 5596 6254
Bunphant Coffee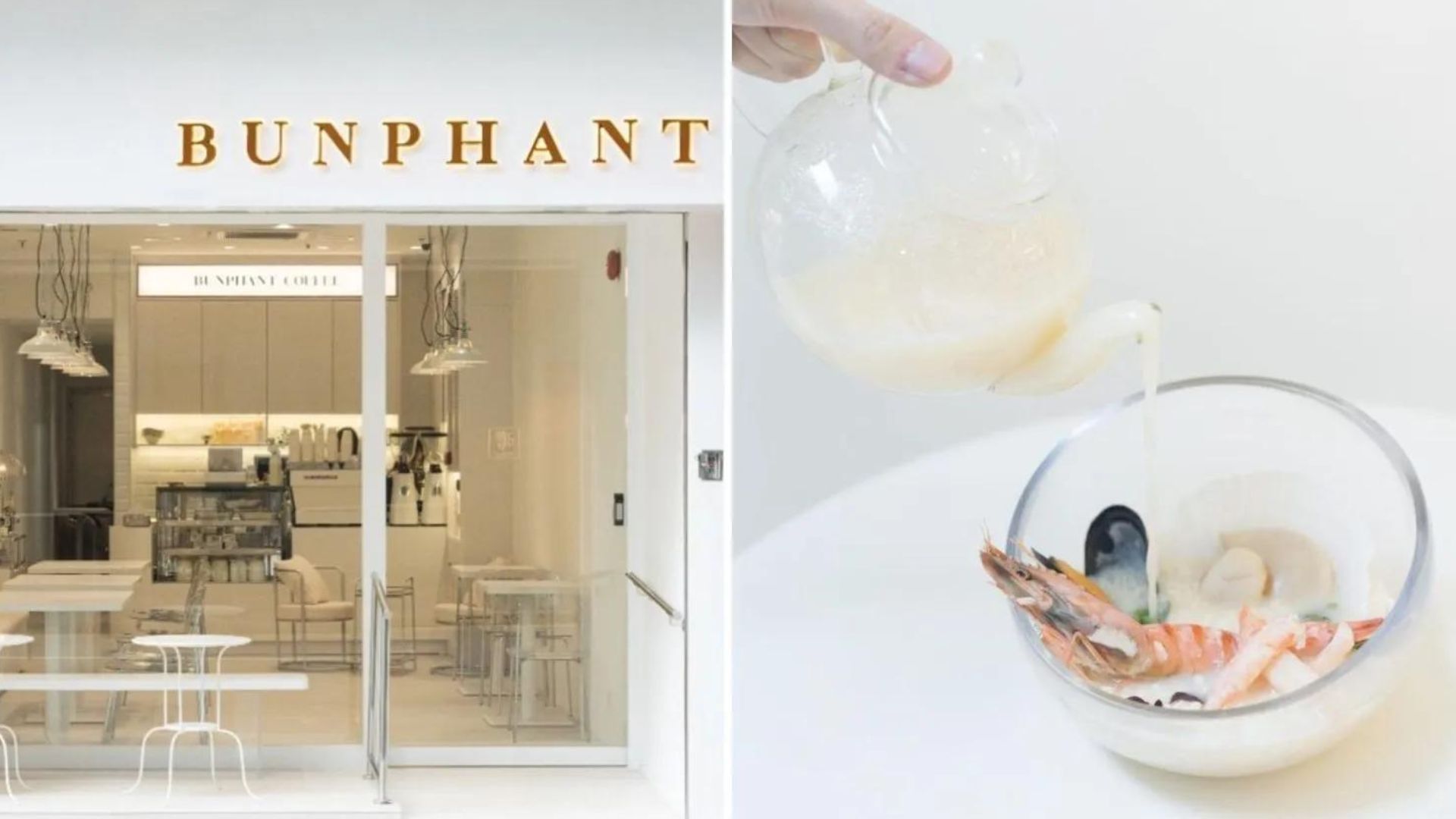 Pet owners, rejoice! There's another new pet-friendly cafe for you and your furry friends to visit this month. Bunphant Cafe in Fortress Hill is a Korean-style cafe, serving absolutely photogenic (and scrumptious) food. Try the Cheese Toast for something savoury or the Chocolate Madeliene for something sweet. Ever tried Peanut Butter Coffee? Now is your chance to sample it! The yoghurt bowl with nuts and fruits is also an alternative for those looking for a healthier option.
Address: Shop 7, G/F, Victor Court, 18 Wang On Road, North Point, Hong Kong
Phone: +852 6500 8173
Book your stay at Four seasons in Hong Kong via Booking.com
Taste and Tales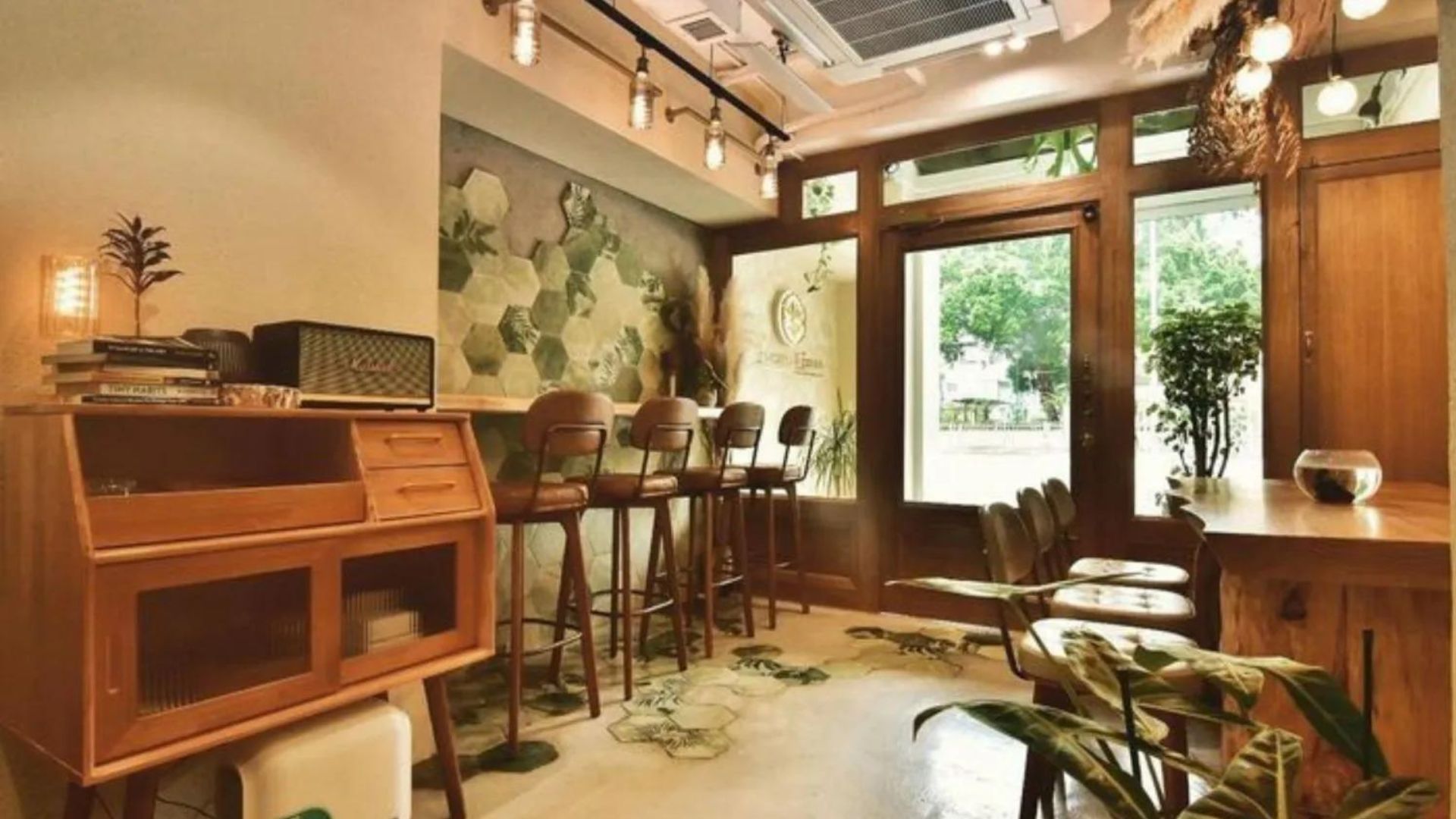 The pet-friendly cafes just keep coming, don't they? Taste and Tales is another new addition which opens in Prince Edward. There's plenty to try here, but the Lotus Cheesecake is all the rage, as well as the Caramel Basque Cake. Pair that up with the masala chai tea or latte. The space isn't that large, but pets are welcome in the semi-outdoor area. The design is a combination of natural and artistic elements, such as potted plants, mosaics, and matching scented candles. It's not surprising as the owner used to run a crystal shop, which can also be seen at the counter. The second floor opens for exhibitions, so stay tuned!
Address: G/F, 113 Lai Chi Kok Road, Prince Edward, Hong Kong
Phone: +852 3563 9002
Kefi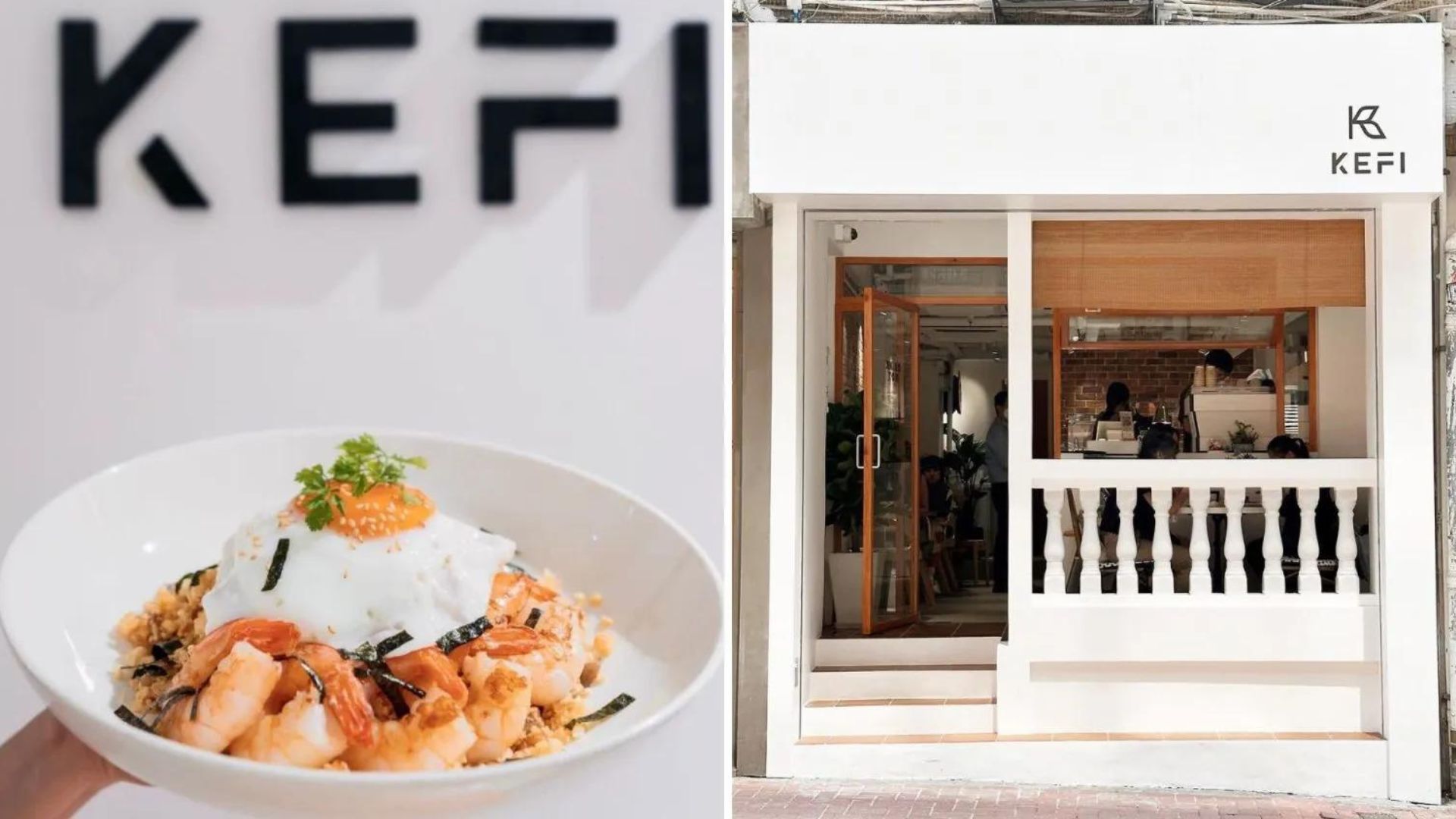 A cafe that serves low-carb, low-calorie, and high-protein food? That's Kefi, a new cafe that champions sustainable clean eating. Previously located in Kennedy Town, the cafe reopened in Sheung Wan recently. It has a cute little balcony, which seats two people and is a pet-friendly space. Among the healthy dishes available, we recommend the Salmon Sourdough and the Roasted Mushroom Egg Sandwich. The Matcha Waffle is also great if you don't mind something sweet.
Address: Shop A, G/F, No. 6, Bonham Strand, Sheung Wan, Hong Kong
Phone: +852 231 2180
Coffee Obsession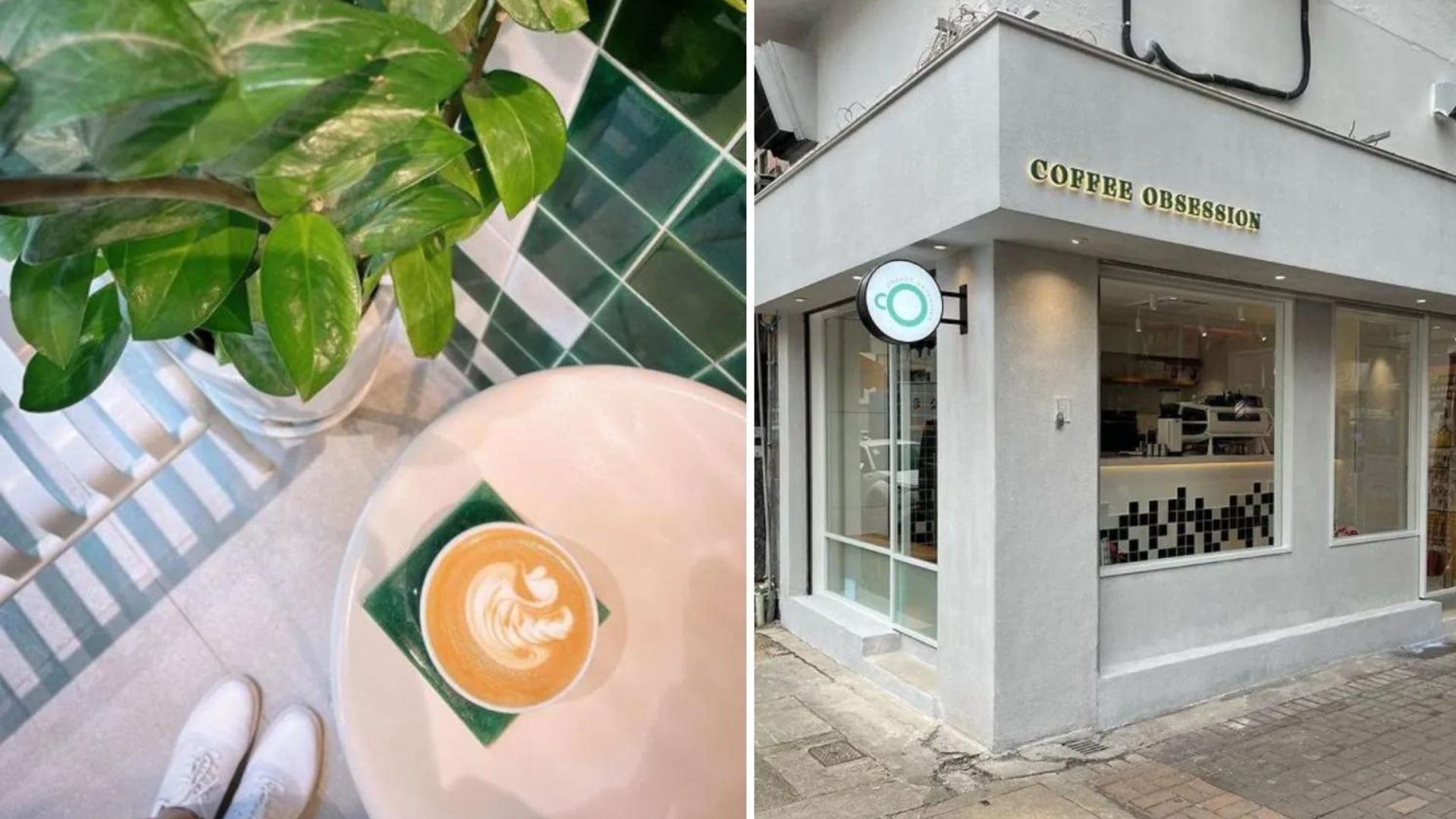 Hong Kong Islanders are definitely spoiled for choice when it comes to cafes and coffee shops. Good news for those in New Territories, specifically, Tai Po locals because Coffee Obsession just opened. Compared to other cafes, the space is definitely quite small but still worth a visit. This is all thanks to the adorable coffee bottle as well as the welcoming owners. With a name like Coffee Obsession, you can expect to find a great selection of coffee here.
Address: Shop A4, G/F, Kam Fuk Building, 24 Kwong Fuk Square, Tai Po, Hong Kong
Phone: +852 6770 9458
Best new cafes to try in Hong Kong – April
Le Gouter Le Gouter is a new cafe located in Kennedy Town and is already gaining fans for its canelé, which has a caramelised crust. The French-style coffee shop has a selection of pastries and desserts for cafe hoppers to enjoy. Other than the canelé, lemon tart is also a crowd favourite. This new pet-friendly cafe in Hong Kong is a must-visit!
Address: 98 Catchick Street, Kennedy Town, Hong Kong
Instagram: legouterhk
Heart in Place Heart in Place closed its store in Causeway Bay and reopened in Sai Ying Ping, where the owner grew up. The intimate space is already drawing crowds of art aficionados with its artistic aesthetics, little trinkets, and inspirational quotes. The newly opened cafe is perfect for days when you are looking for some quiet downtime. Just grab a cook and be sure to get a matcha croffle and a cup of coffee.
Address: 21 Western Street, Sai Ying Pun, Hong Kong
Instagram: heartinplace
Niksen Koffie Niken Koffie is a new pet-friendly cafe in Whampoa, boasting an expansive space, which is rare in Hong Kong. Take your pick from the outdoor or indoor seating and relax with your furry friends. The cafe has plenty on offer including pasta and pastries. We highly recommend the Mentaiko Scallop Spaghetti and the Strawberry Napoleon Matcha Parfait. Oh, they also have a pet-friendly menu!
Address: Shop G8E, G/F, Whampoa World (Site 4), Whampoa, Hung Hom, Hong Kong
Phone: +852 2297 2037
Stay Every new cafe these days is pet-friendly, and Stay is no exception. For those living in Kowloon and Hong Kong Island, Stay in Ma Oh Shan is the place to chill after a long day at work. Some residents say it might even be the best cafe in the district! The new cafe took over Hana but brings in the same cosy ambience. The star here is the all-day breakfast, which is best paired with an iced americano, and crème brûlée.
Address: Shop 29-30, G/F, Phase 2, MOS Town, Ma On Shan, Hong Kong
Instagram: staymaonshan
Book your stay at Cordis in Hong Kong via Booking.com
Sol Mate Club Sol Mate Club is managed by the Solar System Council, whose home base is all the way in Ma Wan. The recently opened cafe in Cheung Sha Wan makes it more accessible to cafe hoppers and coffeeholic. Since it's located near a basketball court, you can find basketball-themed decorations and memorabilia, which aim to connect the community. The cafe serves light food but the taco and nacho here are all the rage.
Address: Shop C1, G/F, Block C, Mei Ning Street, No. 55 Po On Road, Cheung Sha Wan, Hong Kong
Instagram: solmateclub
Catio Cafe Good news for feline fans, Catio Cafe is your next favourite hangout spot. The cafe offers cat lovers a place to chill, enjoy a meal, and spend some relaxing time with friends and family. Treat yourself to a hearty meal, ranging from pasta, pizza, sandwiches, snacks, and desserts. Of course, don't forget to befriend and play with your furry friends at the cafe.
Address: Room 1502, United Success Commercial Centre, 506-508 Jaffe Road, Causeway Bay, Hong Kong
Phone: +852 6413 4929
Best new cafes to try in Hong Kong – March
Root Cafe This artistic new cafe from Mirror member Jer, draws inspiration from the environment, specifically from wood. In the middle is a five-and-a-half-metre-tall local eucalyptus tree bench, where you can have your daily cuppa. Elsewhere, you'll spot many other wooden decorations, one of which is made from 800 pieces of bark, nailed by hand.
Address: Shop 4, G/F, Block 1, Parkside at the Henley, 7 Muk Tai Street, Kowloon City, Hong Kong
Phone: +852 6255 3428
Triangle Coffee Triangle Coffee is conveniently located in the bustling Grandville Road area. If you love coffee, the pour-over and espresso here are worth trying. There are also single-order chocolates and sweet snacks like the Matcha Basque Cheesecake, cinnamon rolls, and more. The new cafe takes over a former coffee shop, retaining the minimalistic black-and-white interior.
Address: A2, G/F, Grandville House, 41CD, Granville Road, Tsim Sha Tsui, Hong Kong
Instagram: triangle_coffee_shop
The Site Cafe More cafe choices for those with pets! The Site Cafe is a pet-friendly cafe in Prince Edward, serving Western-style light meals and coffee. Those looking for a hearty meal can go for the French Fries with Black Truffle Sauce or the Blue Mussels with White Sauce. For the drinks, we recommend having the latte to keep you energised for the day.
Address: Shop A, 161A Sai Yeung Choi North Street, Prince Edward, Hong Kong
Phone: +852 9328 7634
Sensu Sensu opens a new branch in Causeway Bay! The cafe is inspired by the concept of wabi-sabi, which is to seek beauty in imperfection. It is known for its afternoon tea which comes in a forest-themed set, complete with 14 savoury treats and desserts. But you can still pick your own dishes from the a la carte menu, which is a mix of Western and Japanese snacks. With fruit tea, coffee, juice, and even wine you will be spoiled for choice here.
Address: Shop B224A, B2/F, Times Square, 1 Matheson Street, Causeway Bay, Hong Kong
Phone: +852 2166 1189
Best new cafes to try in Hong Kong – February
APT Elements Minimalistic cafe and coffee shop, APT opens its second branch in Elements. APT, which stands for 'A Personal Tailor', is all about crafting your coffee based on your preference. The Kowloon outpost offers a range of flexible options that allows tailor-made coffee. Whether you're a fan of house blends or picky about the level of milk foam, they're ready to curate it to your taste. The freshly baked bread delivered straight from their in-house bakery goes perfectly well with the coffee.
Address: Shop 2003, Fire Zone, Elements, 1 Austin Road West, Tsim Sha Tsui, Hong Kong
Instagram: apt. coffee
Book your stay at Grand Hyatt in Hong Kong via Booking.com
The Hut Take a trip all the way to Sai Kung and visit its newest cafe, The Hut. Taking over a former CBD coffee shop, The Hut serves fluffy Soufflé Pancakes with flavours ranging from tiramisu, mango, and strawberry. When it comes to beverages, you can't miss the smoothies, available in Oreo, banana, avocado, and berries flavours.
Address: Shop 11, G/F, Ko Fu Building, 58–72 Fuk Man Road, Sai Kung, Hong Kong
Phone: 9315 2335
Haahim Haahim is the newest addition to Hong Kong's growing list of pet-friendly cafes. Relocating from Sham Shui Po to Cheung Sha Wan, the cafe is now divided between bench seating and regular dining. Whether you are looking for mains or a quick bite, the menu features it all. The Bagel, Keto dishes, and Chicken Kaarage with Pancake are among the bestsellers.
Address: G/F, 149–151 Pratas Street, Cheung Sha Wan, Hong Kong
Phone: 2386 8837
Coffee Hwajeon This new Korean-style cafe hopes to provide its diners with a homely and relaxing space to take a break. True to its vision, expect Korean snacks and beverages and Korean-style seating options. The main highlight is the Flower Cake, made out of glutinous rice flour and edible petals of various seasonal flowers. Those with a sweet tooth will also love their cake and coffee selection, especially the Jeju Matcha Cheesecake. If you have space for more, don't forget to try the Gimbap or Tteokbokki Ramen.
Address: Shop 1028B, 1/F, Water Zone, Elements, 1 Austin Road West, Tsim Sha Tsui, Hong Kong
Phone: 2519 9303
The Matcha Tokyo The popular Japanese coffee chain The Matcha Tokyo has another new store in Hong Kong. Located in the bustling streets of Central, the latest branch spoils caffeine and matcha lovers with its offerings. As its name suggests, you can't miss its high-quality matcha options like the 100 per cent organic matcha from Tokyo or Kyoto, or the matcha lattes. Coffeeholics also have a lot to choose from, but we recommend cafe mocha.
Address: Shop 3, UG/F, H Queen's, 80 Queen's Road Central, Central, Hong Kong
Phone: 2366 1819
Best new cafes to try in Hong Kong – January
Coze Coze is the coffee bar of your dreams – everything is intended to soothe, the space is cosy, the hot meals are great, and the warm desserts are to die for! Partnered with a perfect espresso, it's a guaranteed cure for those workday blues.
Address: Shop B, Po Lung House, 28-30 Li Po Lung Path, Kennedy Town, Hong Kong
Phone: Not available
Goodin' Out Go here for cakes, bread, coffee and tea – Korean-style. The menu features authentic baked offerings and small bites like Avocado Prawn Toast and Fresh Grapefruit Toast with Honey. We can't think of a better way to carb-load. Plus, the minimalist decor is perfect for those aesthetic Instagram pictures.
Address: G/F, 25 Ka Shin Street, Tai Kok Tsui, Hong Kong
Phone: 9136 6851
t.w.i.g. From the minimalistic décor to the massive windows, t.w.i.g. is perfect if you're looking for a leisurely break. There're many exclusive blends on offer, but Salted Lotus Latte is our favourite. The waffle sandwiches, Caprese and Western Pulled Pork perfectly complement the blends. Also, indulge in the delicate goodness of their Strawberry Shortcake and Genmaicha Basque Cheesecake. Just brilliant.
Address: Shop A2, G/F, 4 Swatow Street, Wan Chai, Hong Kong
Phone: Not available
Clean Coffee in Tsim Sha Tsui In a rush to get to the office but need your cuppa of Joe? Clean Coffee's second outlet in Tsim Sha Tsui makes Barista-grade drinks happen within ten seconds. You can get hot and cold beverages on tap from the automated set-up. Clean Coffee's Oat Milk Latte has quite some fans in Hong Kong, so make sure you take advantage of that!
Address: Shop 12, B/F, Heath, 36-44 Nathan Road, Tsim Sha Tsui, Hong Kong
Book your stay at Harbour Grand in Hong Kong via Booking.com
Highlight by Fineprint Fineprint's new coffee venture 'Highlight by Fineprint' is all about fresh blends, ciabatta pockets and doughnuts. However, if you need more than coffee, expect more potent drinks like the Espresso Martini Slushy and Orion Beer. This cute cafe sits right next to the Hong Kong Observation Wheel, offering a great view along with your drink.
Address: Booth 1, Hong Kong Observation Wheel, 33 Man Kwong Street, Central, Hong Kong
Phone: 5597 5663
These cafes are well worth bookmarking.
Shop the best travel experiences here
This story first appeared here.
(Hero and featured image credit: 2soon_cafe/Instagram)
Related: Where To Find The Best Korean Food In Hong Kong
Frequently Asked Questions (FAQs)
Which are the best cafes in Hong Kong?
NOC Coffee Co, Fineprint, Blue Bottle Coffee, and Knockbox Coffee Company are some of the best cafes in Hong Kong.
Which are the most romantic cafes in Hong Kong?
Cafe 103 599, Cafe 100 by The Ritz-Carlton, Holt's Cafe 91, BRICK LANE and I's Land Cafe 83 are the most romantic cafes in Hong Kong.
Which are the cutest cafes in Hong Kong?
Hazel & Hershey Coffee Roasters, Knockbox Coffee Company, Cupping Room Coffee Roasters and
Common Ground are the most gorgeous cafe in Hong Kong.
Written By