Ochaya and Coco we love you, but we need to break up with you cause these bubble tea bars in Bangkok have taken over.
Not because the flavours aren't great and the convenience of getting a bubble tea on the BTS station isn't a god-send, but because there's a trend rising (and soaring) in Bangkok wherein we like to have our bubble tea and 'gram it, sit around with it, and rave about it too. It's called a Bubble Tea Bar — and we're calling out the very best in the city.
Whilst we can admit that our house- and market- favourites can be a boba above any across town, bubble tea bars have risen as cool-cat epicentres wherein bubble tea connoisseurs get together to discuss the consistency of pearl, milkiness of milk, and aesthetic of cup. Between the classics and the not-so-classics, it does end up coming up to individual taste, but there are a few that have managed to allow our panel of judges to reach a consensus.
After all, we mustn't overcomplicate the art. A bit of cheese froth like at Heekcaa is cute, Kamu Tea is always a beloved one, and the idea of ice cream toppings like at Fuku Matcha is one we'll happily engage. However, we're also looking a bit at ambience and overall vibe; think the rustic deer logo at The Alley, or perhaps the stylish takeaway bottles from Brown Cafe. Menu perks are also considered, like whether organic ingredients are used, whether coffee or matcha is available, and whether the bubbles are made fresh and dance around to a melody in your mouth. The leading parameter is the milk tea, of course. The mother of all things bubble tea.
Calling these our official unofficial Bangkok Bubble Tea awards. Please be seated and grab a cup of these.
Fifth Place: ATM Tea Bar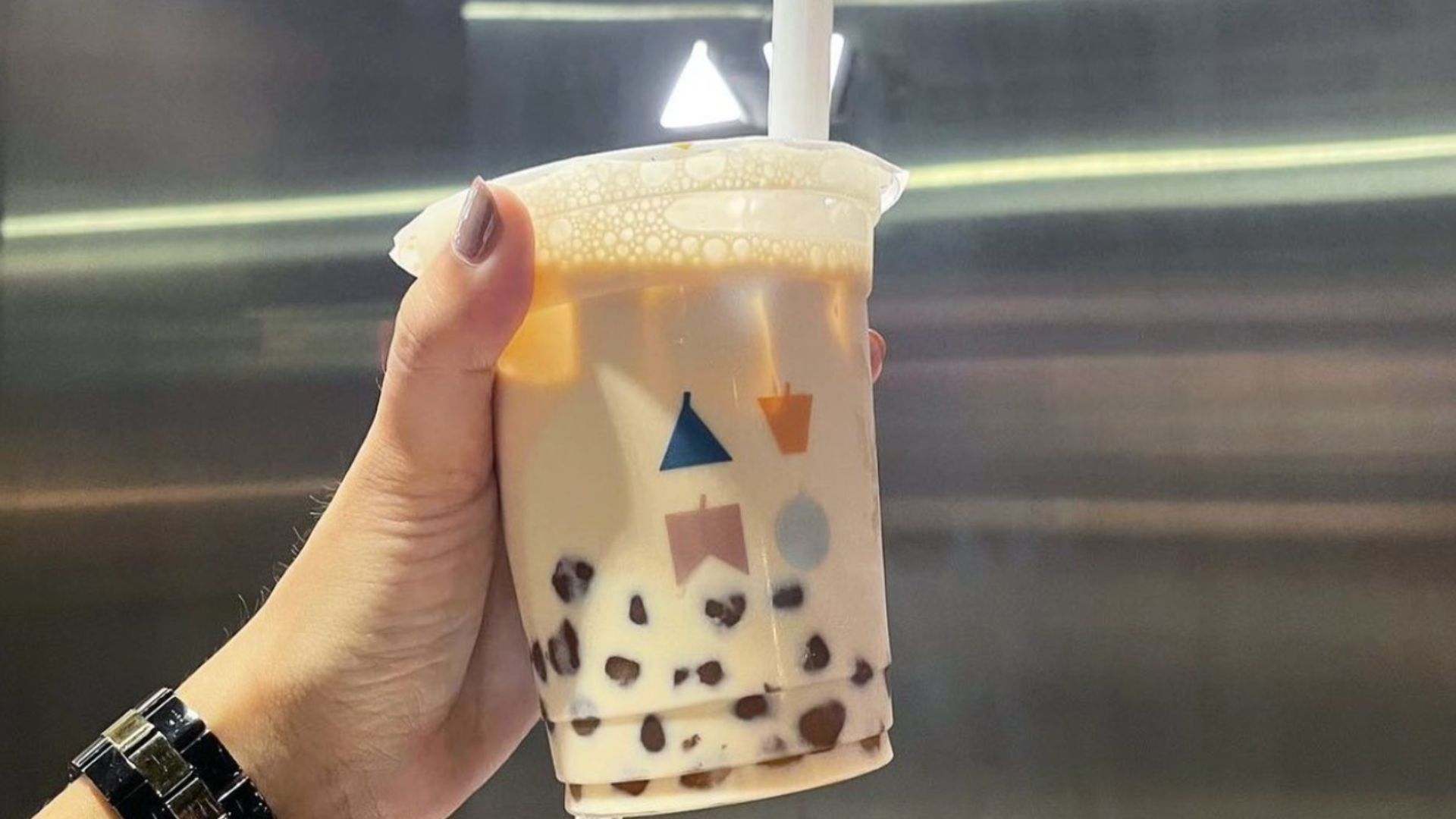 Beginning our countdown with a colourful and extremely 'grammable one, ATM Tea Bar makes the cut in large part because it totally gets the craze. The store is named after the ATM-like ordering machine at their outlets, wherein a Bangkokian buzzing for a quick tea fix can pre-order and get their hands on it in no time. After all, the buzz kill for a bubble tea is often the queue (we're looking at you, Koi Thé).
In terms of flavours, we like that the options are vibrantly plenty, suited particularly to those who like to get a little experimental with things. Interesting choices include the 'Kumamoto Dream' made using Japanese purple potato, fresh Hokkaido milk, and brown sugar bubbles, as well as the punny ', Love You So Matcha' made with fresh milk and matcha ground before your eyes. You can ask for it 'dirty' too, meaning that it'll come with charcoal milk. Trendy!
ATM Tea Bar is a great spot for people who thrive for eye-catching cups in snazzy ombre hues, paired with a breezy dreamy vibe. Also, as gleaming fans of neon light lettering, we also really dig the cursive 'I can't unlove you, my sweetea' sign.
Address: ATM Tea Bar, 432/9 Siam Square Soi 9, Pathum Wan, Bangkok
Phone: +66 89 287 7775
Fourth Place: Cha Bar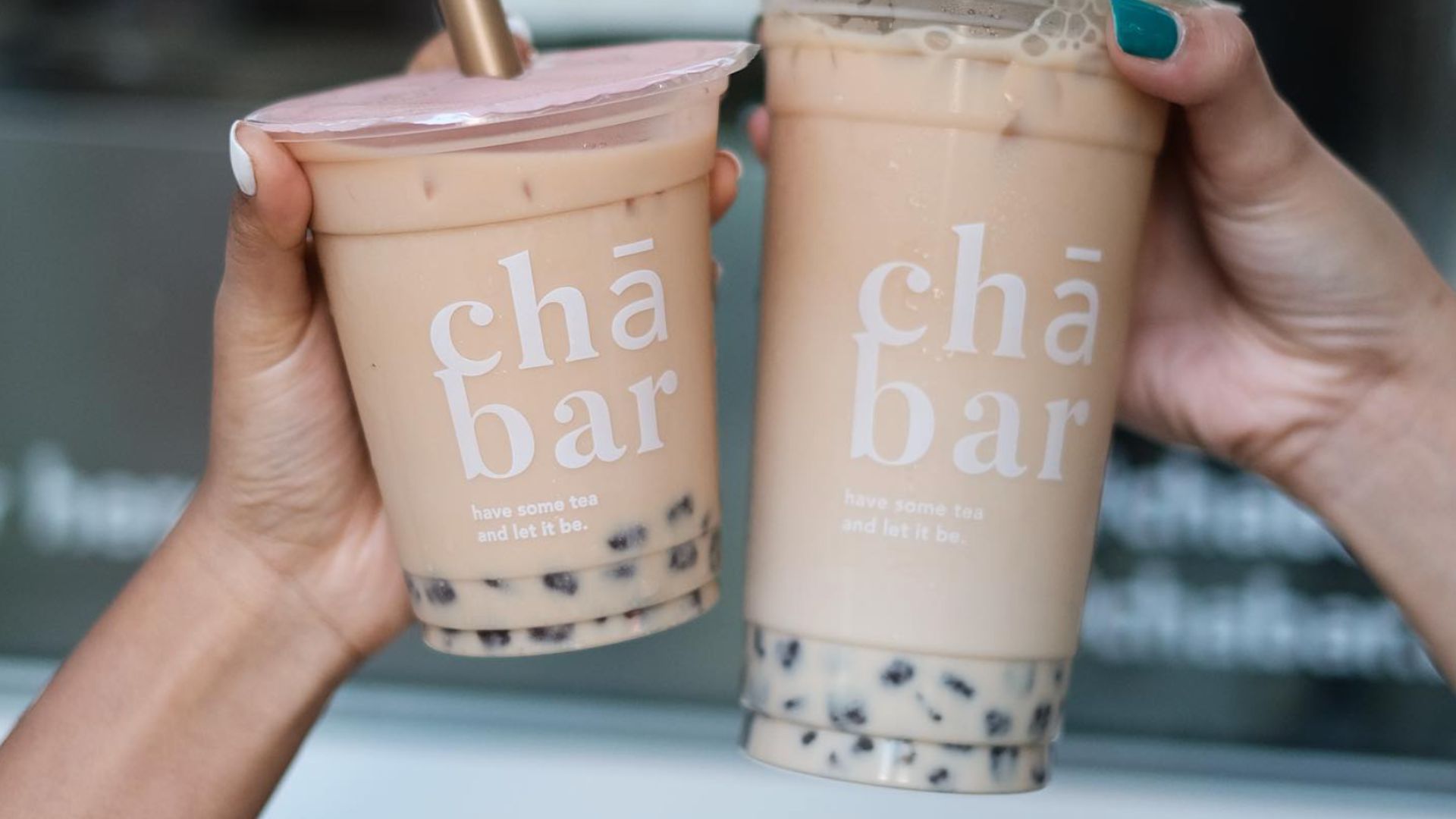 Cha Bar is a relatively new one to the game but is already proving a wildly popular contender – in the most hushed insider of ways. The Silom spot prides itself on using organic, quality ingredients, which means you won't find a single sprinkle of refined sugar on the premises. Instead, they're using organic coconut sugar, fresh milk, and Northern Thai cacao beans for flavouring, alongside a host of local teas. Cha Bar also makes its own homemade raspberry boba, which is fair because is there anything trendier than raspberry at the moment?
Opt for the classics here: the presentation is as clean-cut cool as its execution and is as satisfying to taste as the cleverly-noted (low)calorie count on the menu. The Classic CHA with Riceberry Boba is a definite hit, with snazzy alternatives like Orange Chocolate Milk or Coffee Tea Tonic. There's also an interesting list of add-ons like Butterfly Pea or Aloe Vera Pearls for when you feel adventurous. All options guarantee: minimalist aesthetic hipster points galore, with a wholesome source and soul.
Also, as a great side note that must not go unnoticed, the cups here read "have some tea and let it be", which is a philosophy we'll always happily sign off too.
Address: Cha Bar, Silom 64 Building, Suryawong Rd., Bang Rak, Bangkok
Phone: +66 63 196 4749
Second Runner-Up: Seoulcial Club 2017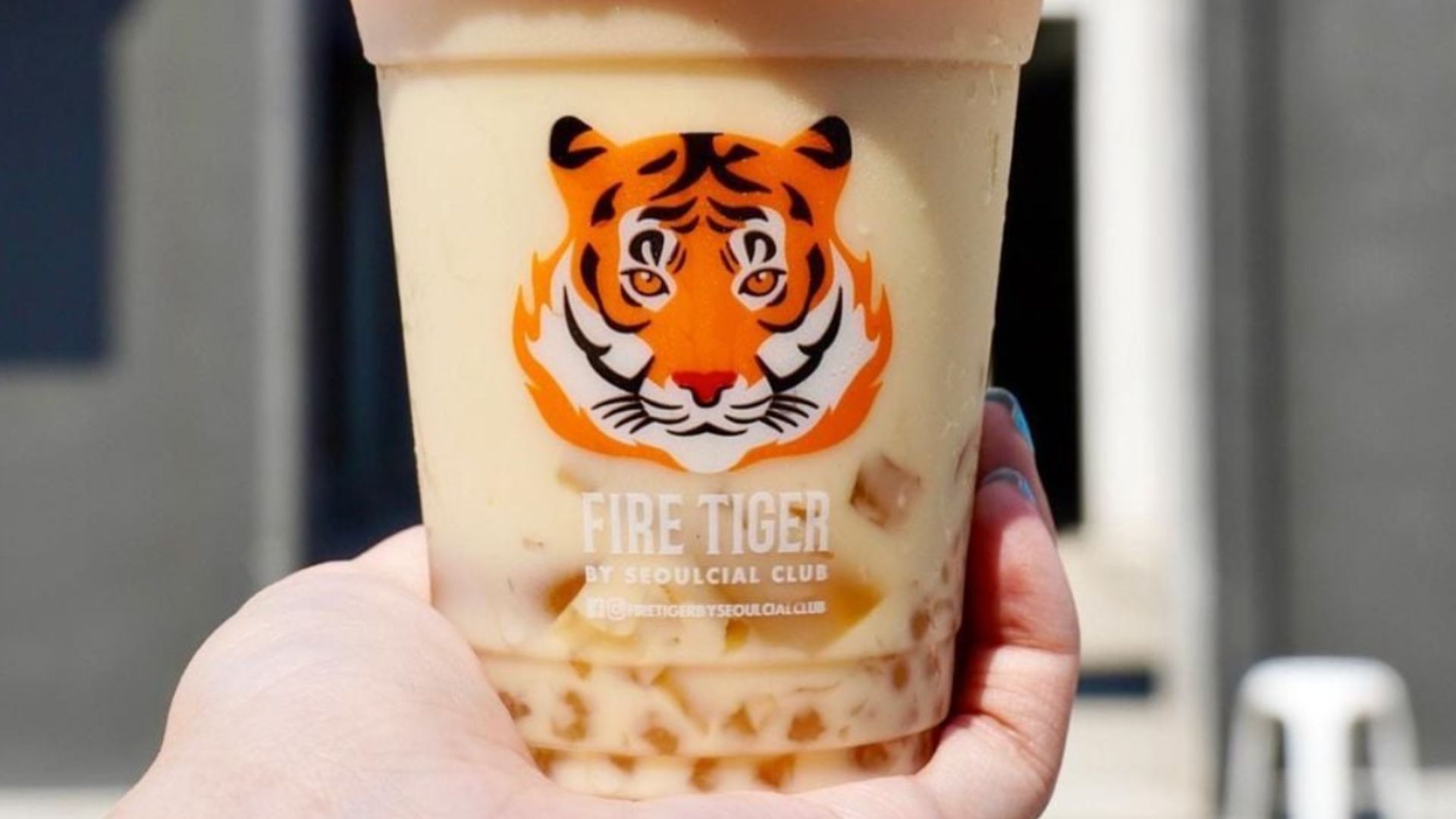 Here's one that climbs the bubble tea breakdown ladder for two reasons that set it apart from the rest: serious influencer endorsement and a really stylish interior. Delivering in ambience isn't normally a strong suit for a genuinely good bubble tea bar, but something about the millennial pink interiors and tasteful design accents at Seoulcial Club 2017 gives it a want-to-visit-again flair. Think, Anti Social Social Club vibes, but make it bubble tea. Perhaps, hence, the name too.
It doesn't help that their cups are adorned with a roaring tiger and that it hails from Korea – the king of all things swoon-and-screech-worthy in Bangkok – yet luckily the bubble tea here manages to deliver in taste, too. Packing a creamy punch that is evident from the mere swirl of liquids inside the cup, the Black Sugar Tiger Milk here is a must-try, as well as the aptly-named Marble Coffee. While it's not really the kind of place for those who prefer a light tea, it's definitely the kind of place for those who are a bit hardcore with their bubble tea order. Not for the faint-hearted; which we kind of love.
Address: Seoulcial Club 2017, Siam Square Soi 3, Pathum Wan, Bangkok
Phone: +66 909 363 636
First Runner-Up: BRIX Dessert Bar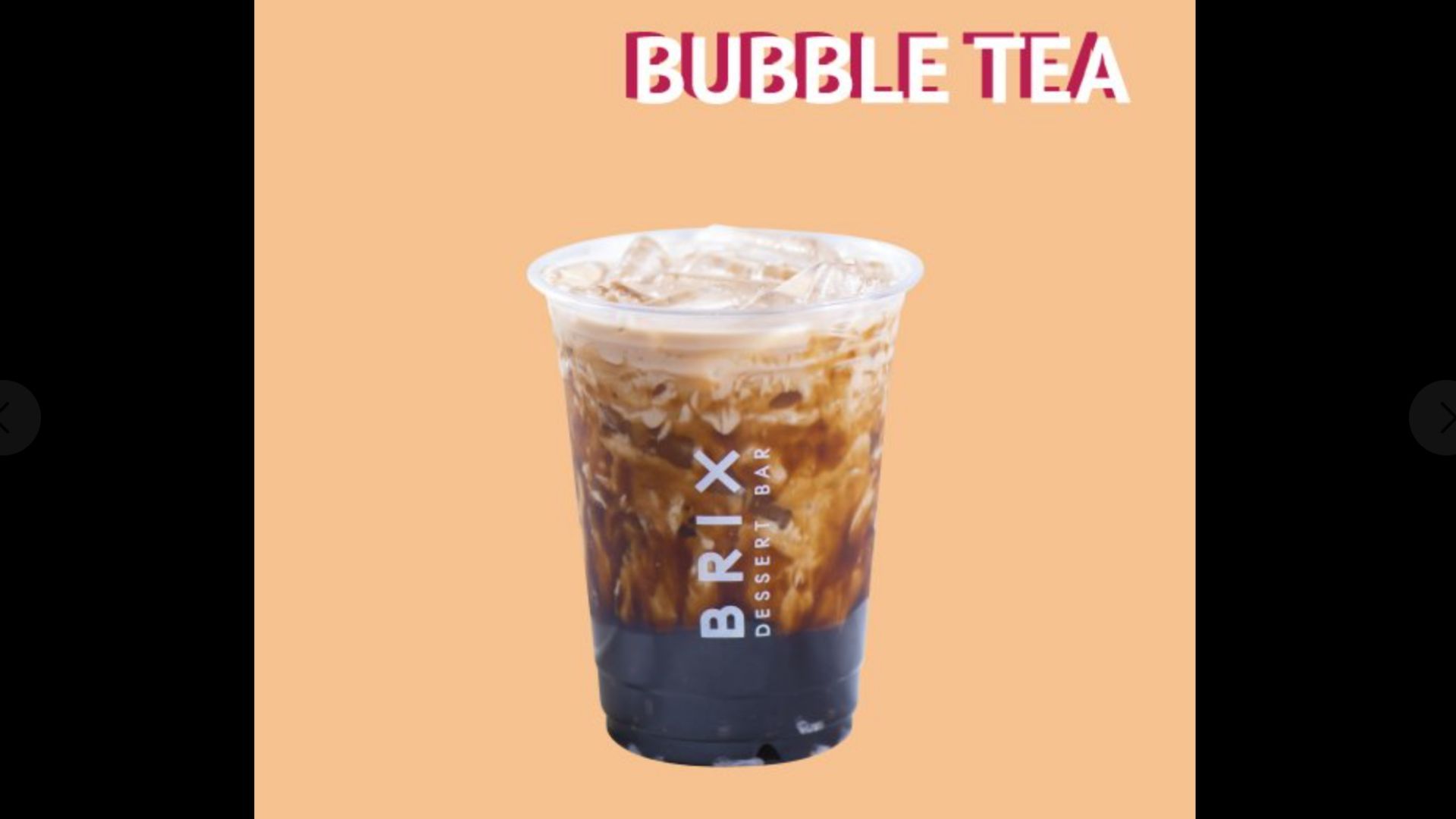 When a cafe's tagline reads 'miracles are real', you know you're in for a magical ride from the get-go. And indeed, BRIX Dessert Bar is the kind of spot that will leave diets at the door as you embark on a sweet culinary journey of fluffy Nutella pancakes, yuzu croissants, and more. Interestingly, their bubble tea is a wildly popular one in Bangkok, even though it never set out to be their primary focus.
Discover More Dining Experiences Here
Yet that's exactly why it's a winner and our honorary first runner up. BRIX Dessert Bar does bubble tea really, really well, without much fuss and with a heap of great flavour. Taking the 'tea' portion as seriously as the 'bubble' portion of the beverage, the sweet spot was even awarded the Twinings Best Tea Experience prize in 2017. However, tea isn't the only great component of the drink. Between rum and Kahlua, you can get alcohol in your bubble tea here, thereby easily catapulting BRIX to the top of our list. After all, a rum black sugar milk tea with a side of matcha pancakes? Two words: Next Level.
Address: BRIX Dessert Bar, Siam Paragon, G/F, Pathum Wan
Phone: +66 2129 4836
Winner: Koi Thé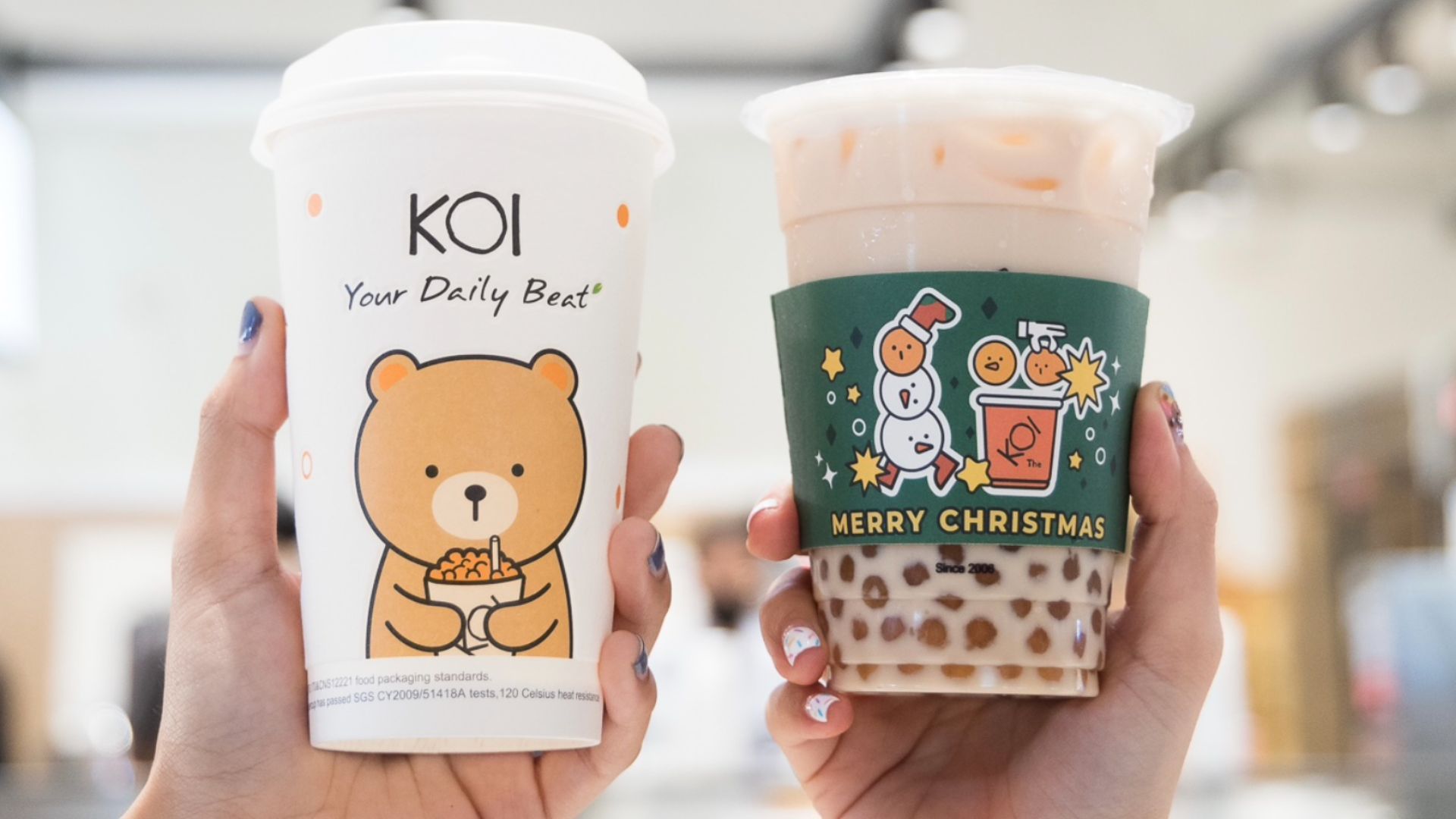 Here's one that caused the most controversy within our panel of judges, yet feels comfortably commonplace at the top of our list. Ask any Bangkokian where you can get the best bubble tea in the city, and Koi Thé will slip off their tongues before they can even process the thought. It's a no-brainer.
Granted, the branch is mainstream for being a branch and does not have the artisanal flair of many of the more independent options, but something about Koi Thé is just really reliable and really sits right. They win our gold medal because their bubbles are almost quite literally golden in colour, and they execute the art of a classic, no-fuss bubble tea very well. Fads have come and gone, but Koi Thé feels to be forever. Whether you sip the classic Golden Bubble Milk Tea or the surprisingly good Black Tea Macchiato, here's a bubble bar that is innately Bangkokian, not for Thai flavour or anything on that parallel, but for how it makes us feel and for what it represents: the heart and origins (and the only worthy long-queue-wait) of our love affair with bubble tea. You can't fault an urban original masterpiece after all.
Address: Koi Thé, Siam Square One 3/F, 991 Rama 1 Rd., Pathum Wan, Bangkok
Phone: +66 63 202 5060
Hero and feature image credits: Orimi Protograph on Unsplash and Cha Bar/Facebook
This article first appeared in Lifestyle Asia Bangkok.
Related: 12 Work-Friendly Cafes For Working, Studying Or Daydreaming