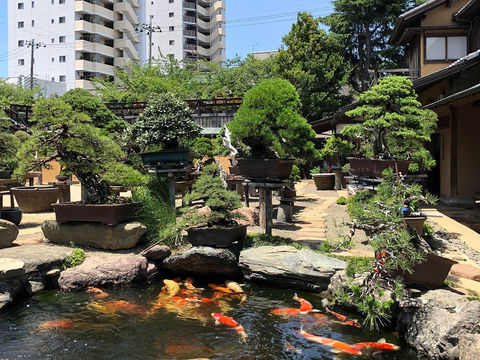 A TRIP TO TAKE IN busy Tokyo, and the more rural region of Niigata – is a journey that shows two very different faces of Japan.
Little publicized outside of the country, Niigata is an oasis of rural culture, boasting vibrant, green terraced rice paddies in summer, and snow layered mountains in winter. A complete contrast to the bustling, and ever-changing Tokyo cityscape.
And it's a quick trip, taking approximately 70 minutes – on the direct Shinkansen (aka bullet train) service – to go between Tokyo station and Niigata's Echigo-Yuzawa station. Or alternatively, approximately a two-and-a-half-hour drive.
Here are some highlights of Tokyo and Niigata. Tokyo Japan's capital truly has something for everyone, whether it's bright lights and shopping, or an opportunity to enjoy ancient arts.
Bonsai tree cultivation is a hallmark of traditional Japanese culture, and there's nowhere better to see it than at the Shunkaen Bonsai Museum. Over 1000 bonsai line a garden, complete with a carp filled pond, next to a traditional Japanese house. Idyllic? Absolutely.
The Shunkaen Bonsai Museum is a place of peace, and rich with culture. It ensures this revered, and quintessentially Japanese time-honored tradition, can be shared with the world.
The museum also offers classes (for a fee, and available in English and Chinese) where you can experience the hands-on charm of bonsai. Classes can be booked three days in advance, and you only need to bring your sense of curiosity as all tools are provided. About 1 hour by bus and train from the Shunkaen Bonsai Museum you can experience the Shibuya district, one of the most dynamic parts of Tokyo. There's nothing quite like taking in the sights and sounds of the "Shibuya Scramble Crossing" – the world's busiest pedestrian crossing – an iconic Shibuya landmark that brings the electric vibes of Tokyo into one place.
After dark, the Scramble Crossing – comes alive, awash with neon lights from bright bustling shop fronts and modern buildings.
Shibuya is also in the midst of a major evolution, as one of Japan's largest redevelopment projects set to transform the area through to 2027. Since Shibuya Hikarie opened its doors in 2012, a string of projects have followed: Shibuya Stream, Shibuya Bridge, Shibuya Fukuras, and including Shibuya Scramble Square, one of the tallest buildings in Shibuya, opened in 2019.
As complexes keep sprouting up across the local skyline, Shibuya will further evolve into an international city where business, food, art, fashion, and various other attractions gather.
Niigata
While Niigata's not-so-far from Tokyo, in both distance and ease of travel, it feels far from removed from the capital's frantic pace.
With an abundance of mountains, forests and farmlands, Niigata's history is firmly tied to nature. The mountainous Matsudai area of Tokamachi City not only receives some of world's highest snowfall totals in the world, it harbors a thriving traditional snow country culture. On the lower slopes of the mountains, terraced rice fields ((known as "segaeda") have been cultivated for hundreds of years. Local farmers have created new terraces by planting trees, after mudslides, to change the flow of the river. Ensuring a unique relationship with their environment, to co-exist with nature, this practice is called "satoyama".
A great place to see the traditional culture of the snow country, as well as local art, is the Matsudai Nohbutai field museum. From Echigo-Yuzawa station it's approximately a 40-minute train ride, and a 5-minute walk – and well worth the trip.
The museum building itself is a unique piece of architecture, offering both interior and exterior spaces to host events, workshops, and local culinary delicacies. While you're spoiled for choices of natural wonders in the area, it's impossible to ignore Kiyotsu Gorge – around a 25-minute bus ride, and a 30-minute stroll from the Matsudai Nohbutai field museum.
Kiyotsu Gorge is both heralded as a natural monument, and a National Park. It has steep rocky walls, and over eons the river has carved a deep V-shape through the mountains.
There's a unique carved tunnel, easily accessible by a footpath, with a panorama station at the end, where the natural scenery is mirrored back on a reflecting pool in a beautiful art space. Making it one of the most unique viewing spots anywhere in the world to combine art and nature.
To experience the uniqueness of Japan, both vibrant Tokyo, and the rural splendor of Niigata Prefecture, complement each other perfectly.
---
For more information about Tokyo and Niigata tourist destinations, please visit HOKURIKU×TOKYO official website www.hokurikuandtokyo.org
Written By