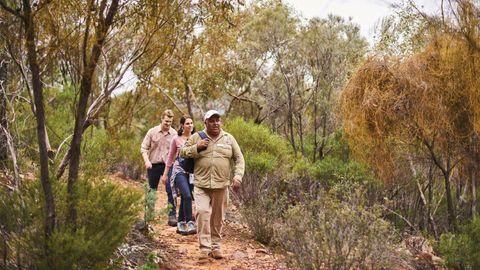 The best way to travel responsibly in Australia is with aboriginal-owned and -operated tour guides who have 500-million-years' worth of history, legends and learnings to share. "WHEREVER YOU CAN LOOK AROUND, 360 degrees on this hill, is my backyard," my indigenous tour guide Vinny says in his raspy voice as the coppery sun gilds the sky over Adnyamathanha Country, in South Australia. Adnyamathanha, the aboriginal name for this Mars-like landscape roughly translates to 'people of the rock,' and fittingly so. Almost every inch of the horizon is tumbling mountain ranges.
I stand at the lookout, wind whipping my hair into my face as we observe the Ikara-Flinders Ranges National Park at sunset. Far off in the distance, I can't yet make out the cupped-like shape of the mighty attraction we've come here for. But through the interpretation of the Yura people, the traditional owners of this land, Wilpena Pound magically comes to life. "There is scientific proof that this is the oldest land formation on earth," says Vinny, a travel guide at the aboriginal-owned and -operated Wilpena Pound Resort in Flinders Ranges, South Australia, which offers bush glamping at Ikara Safari Camp on the edge of the Pound. As well as being a traditional Yura owner, Vinny is the son of the first Aboriginal head ranger in this national park.
In stats, Wilpena Pound, Ikara as it is locally known, sounds pretty impressive. The natural amphitheater has a geological history that dates back 630 million years, it once reached higher than the Swiss Alps and Himalayas combined, and it is eight times the size of Uluru and 300 meters taller. Regardless, it is a privilege to be able to understand the formation through the eyes of the Yura, without all the superlatives.
"That's the head of the female serpent," Vinny says while pointing to St Mary's, the tallest peak in Wilpena Pound. "If she's asleep, the last place you want to be is on her nose. If she wakes up, I'm running to Broken Hill," he says, emphasizing why the traditional owners ask us not to climb her. In a nutshell, the Yura people believe the Aboriginal Dreaming story that two giant Akurra – or rainbow serpents (one male, one female) – formed the gorges, valleys and ranges of this landscape when they followed Yurlu the kingfisher into Ikara for a ceremony and started circling the people inside before feasting on them. Afterwards, the giant Akurra laid down to rest, forming Wilpena Pound. The profound knowledge, affinity and respect Australia's indigenous have for nature has been something that most Australians, including myself, have long disregarded. When I was a kid, there was, shamefully, no education around indigenous culture in schools. I learned Japanese in kindergarten, yet I couldn't tell you much about whose 'country' I was on.

Indigenous tourism is booming in Australia, but there has been a growing movement to raise indigenous voices and change the course of the stolen narrative of this country. As a writer, I now, too, feel a responsibility in how I share and write about the land where I was born. One of the ways travelers can educate themselves and at the same time provide a better economic future for Australia's First Nations people is through tourism.

"Others try to tell our stories but they don't have the deep knowledge of place," says Jason Eades, a Koori man and CEO of Welcome to Country, welcometocountry.com, a not-for-profit online marketplace for indigenous-owned tourism experiences. "Look for tours, experiences and immersions that are owned and run by Aboriginal people," he says. "It's not about showing someone a pretty landscape and throwing a boomerang. 'Indigenous-owned' means that you are hearing first-hand the knowledge of Aboriginal and Torres Strait Islander people while also providing an income to individuals, families and communities."

[gallery ids="8258,8259,8260"]

The sun hasn't yet pierced the sky when I wander out of my glamping tent the next morning and arrive at the airstrip in darkness. From the vintage 4-seater American Cessna, the Dreaming story of the Akurra serpents comes to life as the layers of her sediment; orange, red and grey rock catch the first ray of light. Soaring high above the ranges, I get chills observing the snaking gorges, valleys and peaks of Wilpena Pound, and finally begin to visualize the story woven into her ancient grooves.

Later that day, I'm cruising down Brachina Gorge on a 4WD tour with Wilpena Pound Resort's resident archaeologist, Mick Mckenzie. Rock nerds go crazy for this 20-kilometer stretch of earth known as the Corridor Through Time, because geology exposed along here are between 500 and 650 million years old and feature some of the earliest forms of life.

Some of the rocks are caramel and creamy, others are deep cherry and intricately layered. "That's why I like to eat before I get to this area, because it looks like a black forest cake," jokes Mick. He shows us a fossil hidden under a rock ledge; an ancient rippled rock that proves there was once a reef here older than the Great Barrier Reef; and 'the dead finished tree,' explaining: "When there's a drought, this tree will be the only one standing. It means the land surrounding is dead, so that's why this is a dead finished tree." When I ask Mick why tourism is so important to the Yura community, he's matter of fact: "What better way to have a traditional owner do a tour for you guys and have the truth in it? There's a difference between reading and knowing." Before I head back to the comfort of my luxe tent and that night's dinner of emu, camel and kangaroo sausages, he poses a question that will linger with me long after I've left.
"What do you see when you look at this landscape?
"Do you look at it culturally first or geologically?
"I look at it culturally, because that's what we believe," says Mick.
"Everyone else is on a race to find the oldest. We just sit back and look at the stars and go, What are they?"
5 More Awe-Inducing Indigenous Australian Travel Adventures
TASMANIA
Wukalina Walk
[gallery ids="8262,8263"]

This four-day Aboriginal-guided walk takes in the larapuna and wukalina areas of Tasmania, otherwise known as the Bay of Fires, and will deepen your understanding of palawa (Tasmanian Aboriginal) culture. Feast on traditional dinners of mutton, bird, seafood and damper and fall asleep in unique timber dome accommodation.

wukalinawalk.com.au; tours from A$2,495 per person
CANBERRA
Dhawura Aboriginal Cultural Tour
Join a local Ngunawal guide in Canberra on this two-hour tour to learn about the significant local Aboriginal sites in Australia's capital. Visit Mount Majura to discover the indigenous significance of Canberra's highest peak, find hidden rock art, identify historical artefacts and learn about bush food.
thunderstone.net.au/copy-of-services; tours from A$45 per person
NEW SOUTH WALES
Yuin Retreat Immerse yourself in the world's oldest living culture at this two-night indigenous glamping experience on the idyllic South Coast of NSW. Participate in traditional wellness sessions, walk to various Yuin sites and experience traditional sound healing, didgeridoo and cooking demonstrations.
welcometocountry.com/products/yuin-retreat; tours from A$880 per person
Art Workshop with Kate Constantine Award-winning contemporary Aboriginal dot artist Kate Constantine invites you into her private home in the Northern Rivers region of NSW for a three-course lunch and art workshop. Kate's home overlooks the hinterland in Mullumbimby and she uses a traditional yarning circle to explain the significance of color in her style of art.
welcometocountry.com/products/aboriginal-artist-kate-constantine-lunch-and-workshop; tours from A$700 per person
Sand Dune Adventures Cruise up sand dunes as high as 30 meters on this Aboriginal-owned and -guided quad-biking experience to the Worimi Sand Dunes at Stockton Beach. Located about three hours north of Sydney, you'll ATV from the bush to the beach and learn about the indigenous history of this sweeping landscape along the way.
welcometocountry.com/collections/sand-dune-adventures; tours from A$110 per person
---
Hero Image Credit: Courtesy of South Australia Tourism.
Written By