How Park Hyatt Bangkok Has Remade Itself Into the City's Sleekest Dining and Drinking Hub
This undulating shimmer tower is a zen-like haven in a bustling metropolis. Fab new dining and drinking plus one of the best pools in the city at Park Hyatt Bangkok.
---
With its dizzying skyscrappers, snaking sois, and cacophony of life, Bangkok is a big bold city bursting with vibrant activity. Having so much to offer in terms of dining, nightlife, shopping, and all kinds of cultural and sub-cultural experiences, it's not necessarily a destination associated with tranquility. This is what makes Park Hyatt Bangkok a perfect choice in this bustling metropolis.
Right in the beating heart of the city's shopping center, in Central Embassy, is an exclusive peaceful escape characterized by minimalist, contemporary design and gracious hospitality. Arriving on a hectic Friday afternoon, coming straight from Suvarnabhumi through congested highways, a beautiful pure white marble Buddha surrounded by their signature deep purple orchid arrangements welcomes me at the lobby. It was a good omen of wonderful things to come.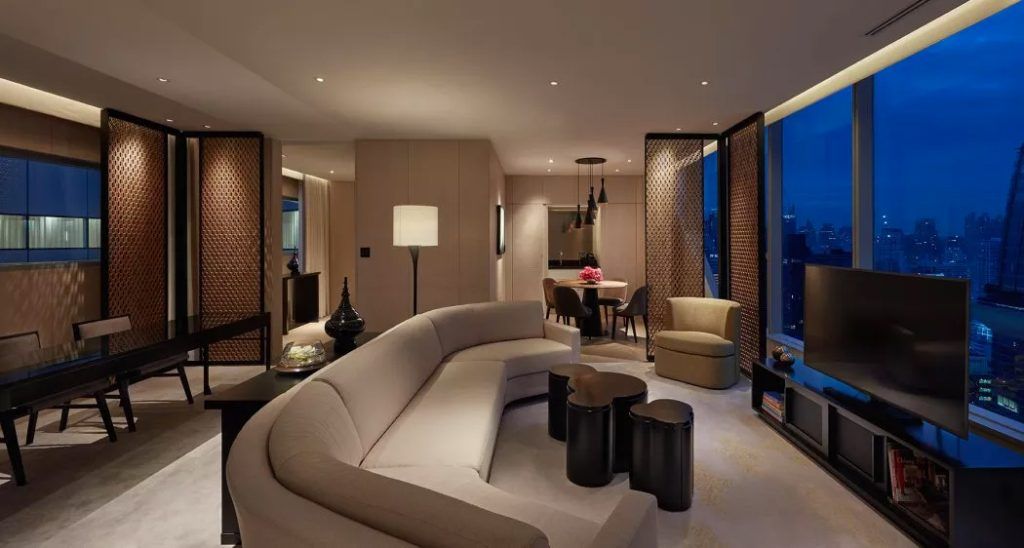 I stayed in the Diplomat Suite, a very spacious one-bedroom suite with a proper lounge area, generous closets, a full bar, and a separate bedroom with a delightfully fluffy king-sized bed. Decorated in light wood paneling, and simple earthy but airy textures, the interiors are what I can best describe as Zen. The main focal point of the room was the floor to ceiling glass windows that offered gorgeous panoramic views of the impressive Bangkok skyline.
However, the highlight for me was the gorgeous luxurious bathroom. Clad completely in marble with an enormous rain shower and a free-standing tub, it was a haven all on its own. I could have spent all day here just reading a book while marinating in a fragrant bubble bath. I loved the subtle detail of the carved lotus flower on the marble wall just above the bathtub—a discreet touch that gives a sense of place.
I was in town to celebrate a friend's 40th birthday, which meant a decadent weekend of dining and late-night shenanigans. Something I'm no longer used, thanks to two kids and two years of covid—but who doesn't love a good party? To gear up for the festivities, I popped open the bottle of chilled champagne that was generously waiting for me upon arrival, plopped a strawberry in my flute, and took a sip, contemplating about indulging in that bubble bath and having a full Pretty Woman moment… I embraced a bit of quiet time before the mayhem.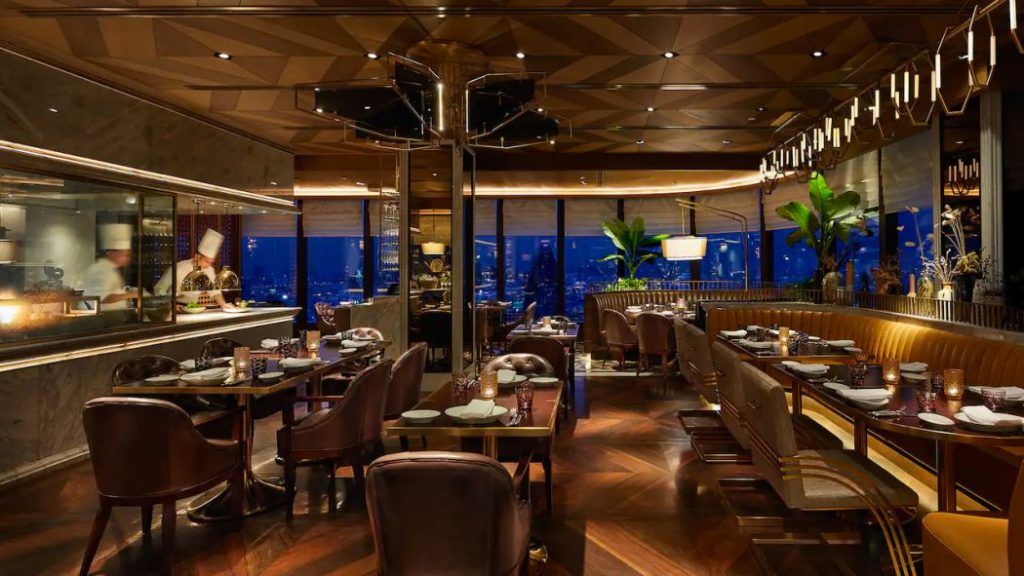 Later that evening, after getting dolled up in their divine bathroom, I went up to their Penthouse Bar & Grill for some pre-game drinks and nibbles. Contrary to the pure and clean lines of the main hotel area, this multi-purpose F&B space is very glamorous. Metallic elements, lots of mirrored surfaces and sheen, darker tones and geometric, almost Art Deco elements, this is definitely a place built for a glitzy night out.
I was met by the lovely Sabine, the head bartender at Penthouse and the beverage manager of the hotel. The cocktail menu is inspired by bold personalities with unique twists to classic confections. She proposed a Negroni crafted with Sophia Loren in mind. It had hints of sandalwood, pink peppercorn, and a touch of truffle oil. Now, I know that there's a whole debate of how much truffle oil is used inappropriately and in too much abundance in high end places—however, I will say this: When used sparingly and creatively, it can lend an earthy depth to the creation. Sabine's concoction was surprisingly refreshing and very easy to drink. The truffle did not overpower the sunny bitter orange flavor that Negronis are known for, in fact combined with the sandalwood and spicy, floral pink peppercorn notes, it resulted a balanced aroma not unlike a beautiful bottle of luxury perfume.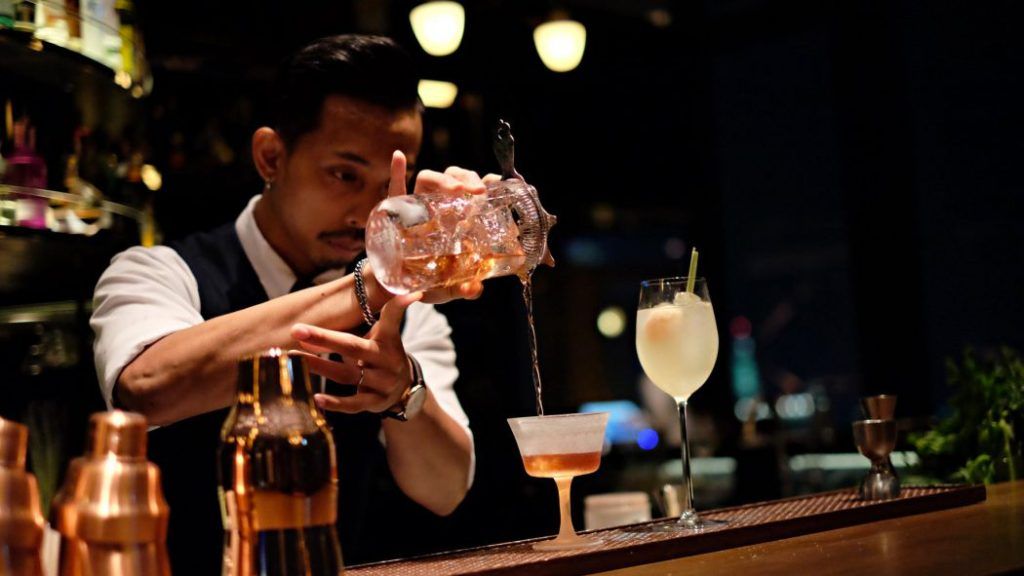 After a few delectable nibbles—I particularly loved the crab salad brioche—I headed out into the night. Sparing you all the juicy details on the rest of my evening, rest assured Bangkok's after dark scene delivered a stellar performance. I had an excellent time before stumbling home way past bedtime.
The next morning, I woke up very proudly with just a minor hangover, and I was thoroughly looking forward to the amazing breakfast spread. One of the things I have always loved about Park Hyatt properties is their thoughtful and well-curated breakfast. It always incorporates local cuisine and has the option of being both a buffet and a la carte, all inclusive.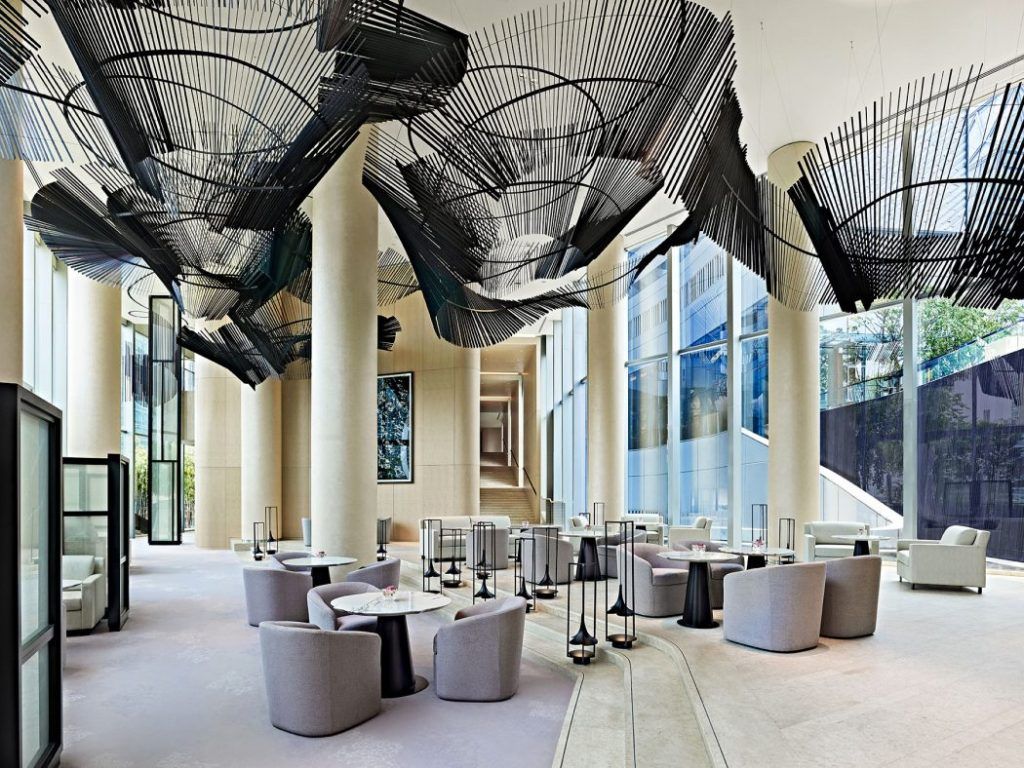 I'm always ravenous and indecisive when I wake up, so having multiple options is such a treat. It's so nice to be able to coast the buffet and pick on fresh fruit and freshly baked pastries, then be able to order an indulgent French toast or eggs benedict that's prepared upon request. Set in the elegant Living Room with expansive ceilings and again, those gorgeous purple orchids, it was for me, a real luxury to have such a slow and delicious start to my day.
Since this was not my first time in Bangkok, I was really looking forward to a day of solid R&R. I took my book by the pool, lazed on a sunbed, dozing in and out of sleep. The 40-meter infinity pool drops down offering a stunning view of the city. Cabanas are terraced and the lush greenery below makes you think you're in a different place entirely. A quick casual lunch of som tam and pad krapow gai washed down with an NZ sauv blanc was the perfect way to round off the experience. I have to say, this moment was probably one of my favorites from my entire stay, indulging in the elusive dolce farniente despite being in a concrete jungle.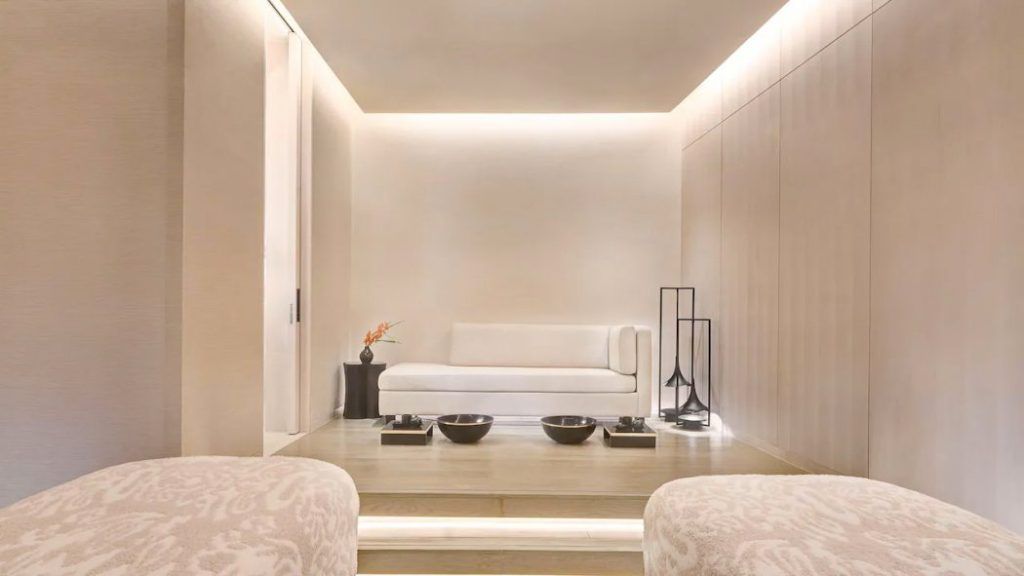 This peaceful mood continued on Sunday morning, where I succumbed to the expert hands of the massage therapists at the Panpuri Spa. From the welcome to the actual treatment, the experience was transformative. Using a combination of techniques, the therapist kneaded out all my anxieties and stress, leaving me in a blissful state of utter relaxation.
Although I was departing that afternoon, I couldn't leave without trying the Embassy Room – Catalan Cuisine – the latest to open of Park Hyatt's F&B outlets. Helmed by chef Ferran Tadeo, who has made his way cooking through different Michelin-starred establishments, his cuisine is a pared back, purist interpretation of Catalan food. Inspired by dishes of his childhood, the fine dining experience, although elevated in technique and ingredients, remains hearty and pleasingly approachable. It's honest and delicious. Really, all one can ask for.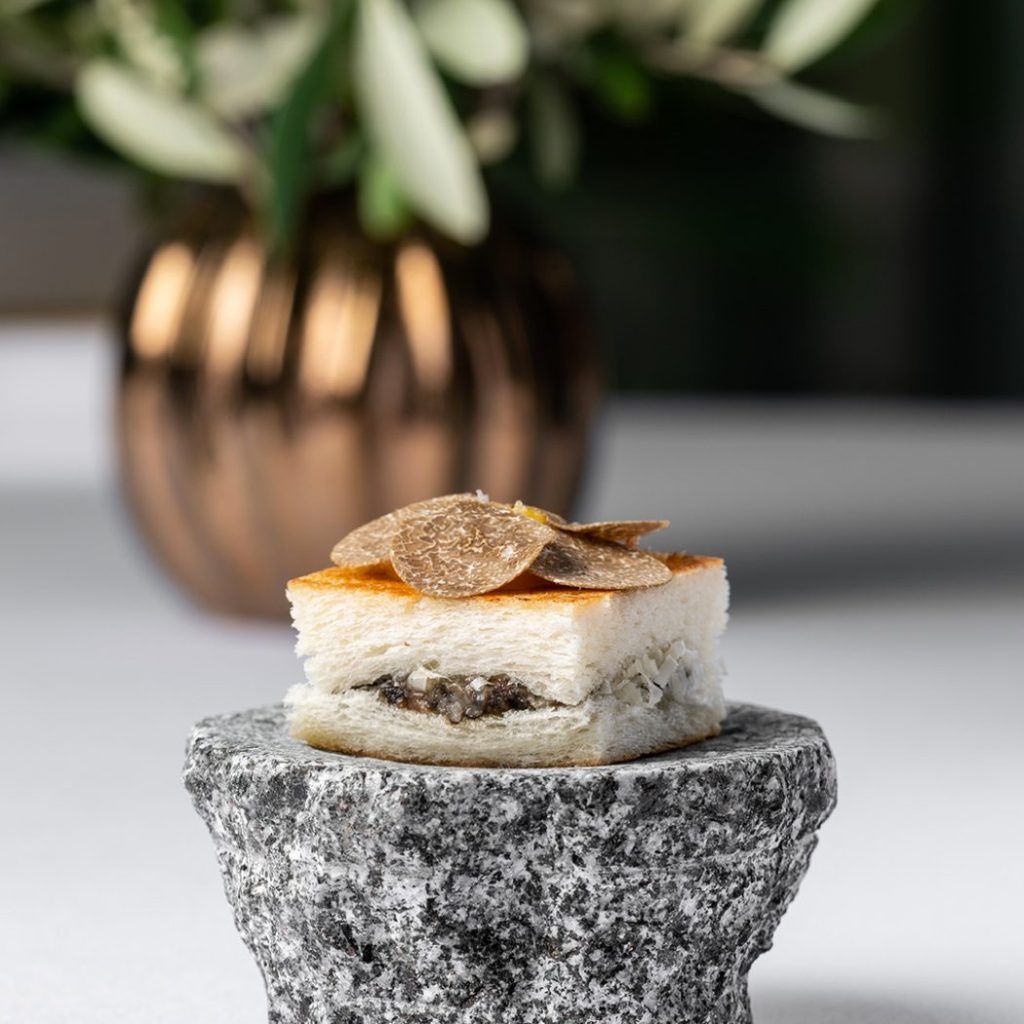 Among his star dishes were the Chutoro Escabeche which paired the silken texture of raw fatty tuna with the classic tart sauce, an earthy Paris Mushroom Tart with Truffle and one of his signatures – a Lobster Wellington. This was unique and outstanding. Flakey, buttery pastry encasing a succulent lobster tail. I particularly liked how he took the crab claw and turned it into a refreshing side salad with pomelo and grapefruit.
However, I think what truly stood out and was truly representative of his style of cooking was the Arroz Bomba with Hokkaido Scallops and Asparagus. A clever take on the paella, the rice was cooked two ways. The first layer was with the rich seafood gravy broth and was almost risotto like in texture and second, beneath it, was a perfectly executed soccarat, the coveted charred bits at the bottom of the paella pan. The dish spoke to my Spanish roots and felt to me like a stellar gourmet version of a Sunday lunch staple. The in-house sommelier was excellent as well and suggested a Hondarrabi Zuri, a crisp and flinty unique white varietal from the Basque region.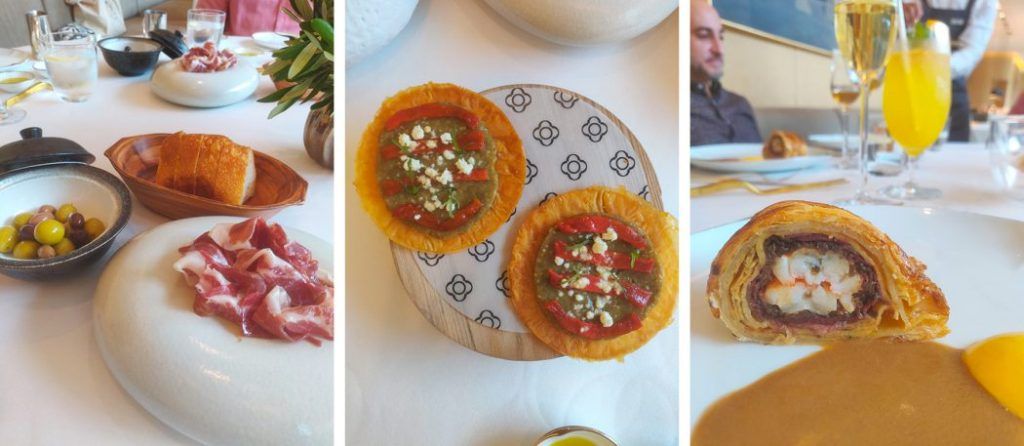 I could not think of a better way to end my stay at the Park Hyatt Bangkok. The dining experience reflected the overall style of their hospitality: pure, simple, elegant, and thoughtful. Well rested, belly warmed, and cheeks flushed, I was in a heightened state of peaceful pleasure. And come to think of it, is there any other way to be?
www.hyatt.com/en-US/hotel/thailand/park-hyatt-bangkok/bkkph
---
All images credit: Courtesy of Park Hyatt Bangkok.
---