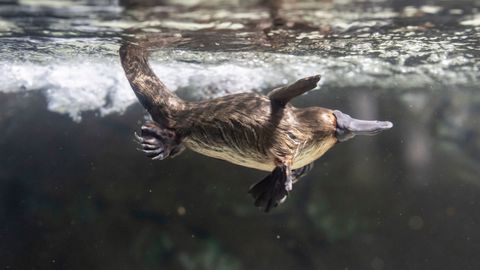 The duck-billed platypus is one of the world's weirdest creatures, and famously elusive, but if you have any chance of spotting one in the wild, it'll be in Tasmania. We took the Geeveston Platypus Walk, outside of Hobart in the southernmost state of Australia, in the dawn dew, treading patiently with eyes peeled. The reward was an adorable Franken-sight very few people ever see. "YOU'LL NEVER SEE a duck-billed platypus in the wild," is what we were told by nearly everyone in Australia. "They're so rare and secretive, even we don't see them," declared nearly every Tasmanian we spoke with. Platypuses aren't pets of course, but they're so delightfully weird and cuddly, I wish they could be. If you think they look like some sort of fake, AI-generated animal, you wouldn't be alone. When sketches were sent from Australia to 18th-century European scientists, they actually thought it was a Frankenstein-style hoax created by Down Under scientists who glued a duck bill to a beaver. So paradoxical was this creature that its original taxonomic name was Ornithorhynchus paradoxus. Years later, platypuses were discovered to be egg-laying monotremes, adding to their weirdness. And if that weren't enough, a few years ago biologists realized they are also bioluminescent, which as far as I'm concerned thrust these critters from super weird into the genus of really, have you ever seen anything weirder? I've long been fascinated by duck-billed platypuses and wanted to see one since I was a boy watching the animated classic Dot and the Kangaroo on HBO in the 80s, which features two grumpy singing platypuses. As it turns out, Tasmania is the best place to spot them in the wild. And so when a Tas trip started to take shape recently, I wondered how and where I could catch a glimpse of one in its natural habitat.
OK, spoiler alert: I saw platypus in the wild this past May on the Geeviston Platypus Walk, located in the foothills of the Hartz Mountains, just 90 minutes from urban Hobart, but a hushed watery world apart. Here's how I did it.
After a brisk autumnal drive over misty farmland and green rolling hills, my two platypus-seeking friends and I pulled into an empty parking lot, binocs and cameras at the ready. Operation Platypus had officially begun. It was still early morning and the grass was capped with a silver frost while an eerie autumn stillness lingered over the entire Heritage Park, which contains the Geeveston Platypus Walk. As we strolled over a great lawn towards the trail, our feet crunched over clear crystalized dew and I spied red mushroom heads poking out of the ground. Together with moss and lichen, they gave off a faint earthy smell that permeated the cold wet air. Orange and red oak and maple leaves rounded out the Halloween vibes. This is exactly how I imagined the environment for such a solitary and secretive animal. Take note, intrepid hikers: the Geeveston Platypus walk is short and sweet. Don't expect any challenges. Mountaineering this ain't. It took us about 15 minutes to walk the entire riverbank trail. "Walk quietly and keep your eyes on the water beside the riverbank," said Josh, the Tasmanian in our trio. "They only surface for 10 to 20 seconds before retreating to their burrows, which are entered from underwater but tunnel deep into the dryer riverbank."
We walked back and forth along the trail a few times under gnarly trees with a dense canopy. After 45 minutes of patrolling the trail, the frost was melting and evaporating. So was our hope to see a platypus. But suddenly, my American friend Nick spotted something in the water. "Is that it?" he whispered excitedly? "Oh my god oh my god oh my god!" (Full disclosure: we were overly excited to see one and almost spastically surprised when we did. We were also over-caffeinated from Tasmania's excellent flat whites, which we'd been sipping like water after a Peloton workout all morning.) The platypus looked busy. And when it saw us, it darted away coquettishly, as if to say, "I know I'm weird. Leave me alone." It swam diagonally across the tannic waters of the stream creating a distinctive V-ripple. And before we could capture it on our cameras, it disappeared and slipped into its watery clandestine burrow.
Even though it was a brief sighting, we got a very good look at its face—intricate and fancy like a crab or a monkey, with deep intelligent eyes like a whale or elephant's. We caught a faint glimpse of its webbed feet and got a good long look at its bluish, chocolate-brown duck bill in the sunlight, which really does look fake. But it was distinctive enough that you knew it wasn't a beaver, otter, or nutria (if you don't know what that, perhaps it's a subject for another story). After the sighting we patrolled the stream a bit more but gave up on seeing a second one and headed into the village. We ducked into a cafe called The Bears Went Over the Mountain, the outside of which was painted purple with cartoon bears holding candlesticks. (Weirdness seems to be in Geeveston's DNA). There, we refueled on more flat whites and hot scallop pies, and sat by the woodstove, nerding out comparing our platypus observations.
Back in Hobart later that night, Nick and I sat over bowls of hot creamy chowder and peaty Tasmanian whisky at the Tasman Hotel and discussed our sighting and how magnificent Australian animals are. There are a lot of reasons to visit Australia—travelers come to surf, explore the outback's aboriginal culture and snorkel the Great Barrier Reef. But I'm proud to come from a weirder genus of traveller who seek out the weirder things in life.
Written By