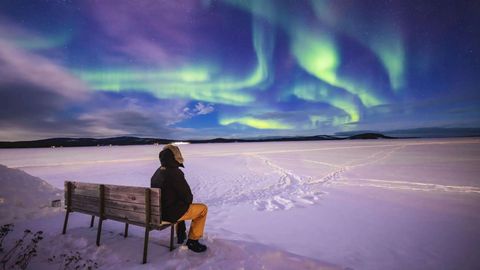 Ah, Finland. The land of saunas, Santa Claus, and happy people. That might be a touch reductive, but they are, in fact, highlights of this Nordic country. Saunas are a deeply ingrained part of Finnish culture; Santa Claus' "official" residence is in the Lapland town of Rovaniemi; and the country has been voted the world's happiest numerous times.
Perhaps unsurprisingly, Finland is a year-round destination, drawing visitors to its lakes in the summer and ski slopes in the winter. Fall and spring might not be quite as busy, but there's one big perk during these seasons: the northern lights. "The best time to see them is really the shoulder months; September and October and February and March," Rose Hipwood, founder of The Luxury Arctic Travel Company, tells Travel + Leisure. It might be a cliché statement, but there truly is no bad time to visit Finland, as each season offers different highlights.
High Seasons: Summer and Winter
Shoulder Season: Fall
Low Season: Spring
Here are the best times to visit Finland for northern lights viewing, outdoor adventures, and more.
Best times to visit Finland for smaller crowds It's easy to find peace and quiet in Finland throughout the seasons — there's a lot of nature here — but if you're looking for smaller crowds at the country's major attractions and most popular destinations, visit in the spring. "In the springtime, the days slowly become longer, and the sunshine begins to make a reappearance from the dark winter months," says Meri Sipilä, the PR and media manager of Visit Finland. "The spring also offers the best skiing conditions in Lapland through early May." As we mentioned, the northern lights are visible throughout most of the spring, with a surge in solar activity frequently occurring during this period.
Best times to visit Finland for good weather "Good" is a bit subjective here, as the best weather really depends on what types of activities you're looking to enjoy. For skiers, good weather means chilly temperatures and snow. "For winter activities, March is best as there is optimum snowfall," says Hipwood.
But for sunshine and warmer weather, you'll want to visit during the summer or early fall. "Personally, I love visiting Finland in September. I really enjoy the summer activities such as hiking and canoeing — it's a nature lover's paradise," says Hipwood.
Sipilä also loves summer activities in Finland. "I love to spend time with my family under the midnight sun at our summer house. In the city, I soak up the long, summer nights by dining at patio restaurants, watching movies at the outdoor theatres, swimming, and visiting the public saunas in Helsinki with my friends," she says. "Summer is my favourite time of the year to explore Finland's many national parks with my dog, Ispa, where I also enjoy berry picking and look forward to the beginning of the mushroom season!"
Book your stay at Solo Sokos Hotel Torni Helsinki via Booking.com
Book your stay at Solo Sokos Hotel Torni Helsinki via Agoda.com
Best times to visit Finland for lower prices Because spring is technically the low season, you'll generally find lower prices for airfare and hotels. But as we mentioned before, spring is still a great time to visit Finland — take advantage of those lower prices and enjoy the northern lights. One caveat: Since March is a snowy month, ski resorts might still charge higher prices. In late spring, you might find better discounts as the weather heats up.
Fall is also considered shoulder season, meaning you'll typically find lower prices than in the high seasons of summer and winter. And it's a very scenic time to visit Finland. "Autumn is all about the changing colours of nature, what Finns call Ruska, and with over 75 percent of Finland's land covered in forests, there is no shortage of colourful fall foliage," says Sipilä. September and October are some of the best times of the year to go hiking and camping or embark on foraging activities, such as picking fresh berries and mushrooms."
Shop the best travel experiences here
Best times to visit Finland for the Northern Lights The northern lights occur year-round, but that doesn't mean you can see them every night. For starters, you'll need darkness — and Finland doesn't have much of that in the summer. As with all northern destinations, the country experiences the midnight sun north of the Arctic Circle, which means the sun never sets below the horizon. And even in the southern parts of the country, you're likely to have at least some light in the sky practically around the clock. For that reason, winter is a much more popular time for aurora viewing because the skies actually get dark and stay dark for longer.
"While many people associate the northern lights with winter, the most active aurora seasons are autumn and spring, when the earth's orientation towards the sun maximises the probability of solar flares interacting with the planet's magnetic field," says Sipilä. "The end of August to April are the best months to see the northern lights in Finland. It requires clear skies and just a bit of luck. Statistically, the lights are visible every other night."
Worst times to visit Finland
Since there's no real "bad" time to visit Finland, it all comes down to the type of experience you're looking for. For instance, if you're travelling to Finland to see the northern lights, you'll be disappointed in the summertime. Though the northern lights technically happen throughout the year, Finland is so far north that the sky isn't dark for very long at night — or at all, if you're north of the Arctic Circle. That results in some pretty poor aurora–spotting conditions. By the same token, don't expect to go skiing in summer! Though ski season can last later than it does in the United States, conditions do deteriorate in the summer.
And if you're looking to avoid crowds, you might want to skip travelling to Finland in the peak seasons of summer and winter. These seasons also command higher prices, which could be another reason to skip visiting at those times of the year. Of course, there's a reason they're so popular — they're great times to visit Finland!
Book your stay at Nova Skyland Hotel via Booking.com
Book your stay at Nova Skyland Hotel via Agoda.com
(Hero and feature image credit: Michael Hausmann/Getty Images)
This story first appeared on travelandleisure.com
Related: Finland Claims The Happiest Country Title For The Sixth Time In A Row: UN
Written By