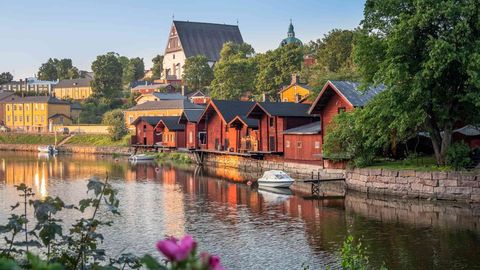 Finland is consistently voted the happiest nation on Earth — and now they're teaching travellers what they know best with a free masterclass.
Entitled the "Masterclass of Happiness," the class will be offered to 10 lucky travellers who will win the chance to head to the country for coaching on how to discover their inner happiness, Visit Finland shared with Travel + Leisure. The coaching will take place over four days in June at the Kuru Resort in the Finnish Lakeland region.
Details for Finland's "Masterclass of Happiness" "We believe Finnish happiness stems from a close relationship with nature and our down-to-earth lifestyle," Heli Jimenez, the senior director, international marketing at Business Finland, said in a statement provided to T+L, adding, "We want to help people find their 'inner Finn' and master the Finnish state of mind. We've chosen the best coaches, one of the most breath-taking resorts in Finland, and a time in the early summer amid the beautiful Finnish nature for our Masterclass. We feel it's a really unique opportunity to discover something wonderful and valuable."
To apply, travellers must sign up online and complete a social media challenge on Instagram or TikTok, creating their own content that details why they want to join the classes and showing "what things make you believe you may secretly be a Finn."
Travellers must apply by April 2 to be considered. The applicants who are chosen will be publicly announced on the Visit Finland Instagram and TikTok channels on May 2.
Those who are not chosen for the in-person classes will then have the chance to experience them from home when they are made available online over the summer.
Finland has claimed the top spot in the World Happiness Report for the past four years. The report evaluates several factors in its rankings, including generosity, perception of compassion, freedom to make life choices, social support, and life expectancy.
Book your stay in Kuru Resort on Booking.com here
This story first appeared on www.travelandleisure.com
Main and Feature Image Credit: Jani Riekkinen/Getty Images
Written By