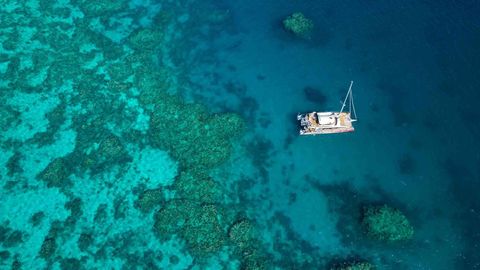 The feeling of weightlessness felt while scuba diving is one of the most freeing sensations in the world, but it hasn't always been available to people with mobility challenges or special needs.
In fact, it wasn't until 2023 that the Professional Association of Diving Instructors (PADI), the world's leading scuba diver training organisation, launched its Adaptive Service Facilities designation, which recognises dive centres that have adaptive provisions.
This is the first accessible dive centre on the Great Barrier Reef One Australian dive centre on the Great Barrier Reef was quick to jump on board. In May 2023, Quicksilver Dive in Port Douglas, Australia became the first PADI Adaptive Service Facility in the state of Queensland and one of just four certified facilities in Australia. It is also the only facility of its kind to hold this accreditation on the Great Barrier Reef, the world's largest reef system and a longtime playground for divers.
"Our skilled dive instructors are focused on diver abilities and can apply adaptive teaching techniques when training and diving with people with special needs; people who may have previously thought diving was not accessible to them," Chris Snel, the operations manager at Quicksilver Dive, said in a press release obtained by Travel + Leisure. He noted that "as with all diving, age and medical conditions apply."
Beyond scuba diving's ability to open up a new, underwater world, PADI said that "learning to dive has helped veterans with PTSD and other life-altering injuries, Paralympians, individuals with spinal paralysis, and countless others find healing." To meet the PADI Adaptive Service Facility requirements, Quicksilver Dive had to make changes to their facility — including the addition of ramps, an elevator, and training pool alterations — and undergo training that teaches their dive instructors how to adapt their teaching techniques to accommodate different needs and abilities.
Quicksilver Dive was ready for the challenge of becoming the first accessible dive centre on the Great Barrier Reef. The dive facility is already a PADI Five Star Instructor Development Center, meaning it meets all the standards of a PADI five-star dive centre while also offering instructor-level training. With that rating, Quicksilver Dive offers development courses and continuing education opportunities to dive professionals as well as offering new instructors what they call "the world's most recognised and desired professional scuba rating." Quicksilver Dive is located in Port Douglas, a waterfront town on the doorstep of the Great Barrier Reef. Beyond diving, the town is known for its beaches (Palm Cove and Four Mile Beach both have beach wheelchairs available) and the nearby Daintree National Park, which has several wheelchair and mobility device-friendly walkways including an aerial walkway through the rainforest. The aerial walkway is also suitable for visitors with vision impairments and service dogs.
Shop the best travel experiences here
(Hero and feature image credit: Tourism and Events Queensland)
This story first appeared on travelandleisure.com
Related: Sun, Sand, Sea And Surf: Bookmark These Best Beaches In Australia For That Summery Vibe
Written By