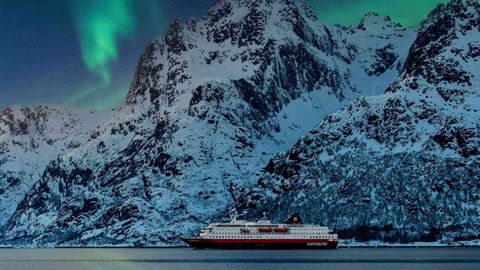 As conscious travellers consider climate change and their individual impact on the globe, deciding how to travel is, for some, as big a question as where to go. Transportation industry leaders like the cruise line and airline below are investing significant resources in reducing the carbon footprint, from physical renovations to reduce carbon-dioxide emissions to turning to renewable sources to fuel their journeys across the globe.
The year 2023 is an exciting moment in the progress of planes, trains, and automobiles — and we can't wait to see what the future holds. — T+L Editors
United Airlines and Hurtigruten cruise line are making eco-friendly travel a reality
United Airlines Carbon emissions and air travel might seem inextricably linked, but United Airlines knows that cleaner flights are achievable — in part because the solution exists. Sustainable aviation fuel (SAF), a type of renewable energy made from organic materials, has huge potential to lower greenhouse gases if it's affordable and widely available, according to Lauren Riley, United's chief sustainability officer.
To help create that marketplace and fund SAF and other innovations, the company launched United Airlines Ventures in 2021. The airline has also signed purchase agreements with several SAF producers, including Finland's Neste, which makes its version from 100 percent cooking oil and animal fat. For United, SAF is the real endgame — along with the lofty goal of flying with net-zero carbon emissions by 2050. "If we're able to replace fossil jet fuel with a sustainable alternative, we pull emissions way down," Riley says.
Hurtigruten There is perhaps no one more vocal about the cruise industry's challenges in reducing its carbon footprint than Daniel Skjeldam, CEO of the Norway-based Hurtigruten Group. "There's a massive amount of greenwashing out there," he says. "But the more we speak about it, the more pressure we're putting on operators to make significant investments in a more sustainable cruising industry." The 130-year-old company has invested USD 109 million (SGD 14,53,44,415 – at the time of writing) to retrofit its seven Norwegian Coastal Express ships, which will reduce the company's carbon-dioxide emissions by 25 percent and its nitrogen-oxide emissions by 80 percent by 2024.
Among the improvements: upgraded propulsion systems and wastewater treatment, new battery packs, and certified biofuels. "We're simultaneously cutting emissions in our current operations and learning about what we need to do for future builds," Skjeldam says, adding that Hurtigruten aims to sail the world's first zero-emission ship by 2030, then follow it up by eliminating all of the company's emissions 20 years later. But he is also realistic that these upgrades are going to lead to tangible changes that passengers need to prepare for. "These are costly investments," he admits. "We have to accept that travelling in the future — when it's going to be sustainable — can't be as cheap as it is today."
This story first appeared on www.travelandleisure.com
Main and Feature Image Credit: Stian Klo/Courtesy of Hurtigruten
Related: This Todos Santos Hotel Is An Eco-Conscious Paradise
Written By