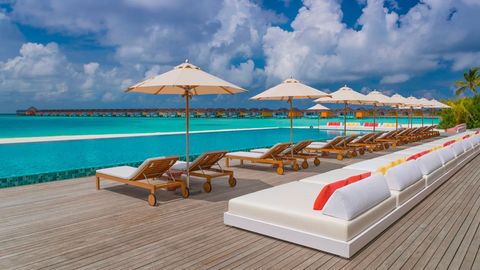 The 'work-from-anywhere' age is upon us. We checked in to The Standard, Huruvahli Maldives to review what it's like to work from paradise. AS FAR AS DISTRACTIONS GO, the piercing jewel tones of a Maldivian lagoon are right up there. I glance at my Macbook briefly, only for my gaze to be lured back to the moving meditation beyond my overwater villa. The clarity of the water is unlike anything I have ever seen. Fish dart under the deck. An email arrives. For many years, I've been dreaming of this destination, not quite believing it could look as impressive in real life as it does on Instagram feeds. But it does–it's near surreal. Despite the temptation to want to float out into the horizon, I get cracking with my tasks. A resort in the Maldives might not seem like the most obvious place for digital nomads. But in the era of the untethered workplace, anything goes. For me, to an extent, at least, working this way comes naturally. It's been seven years since I stepped foot in an office. While planning this trip to the Maldives, I realise that one could call freelance travel writers the original digital nomads: we reply to emails, Zoom, take calls and write articles from some magical places, be it an all-bamboo jungle retreat in Bali or the world's highest infinity pool in Dubai. But there's something about working from a bucket-list destination that just hits different. People don't go to the Maldives to work, they come to honeymoon or hang out as a family. But those old rules no longer apply. Life-choice lines are blurred. Travellers are getting more savvy about their time and how they spend it. And resorts are taking notice.
Hip American-born chain The Standard is leading the movement in the Maldives, having recently reinvigorated their 'Stowaway' extended stay package, which encourages remote workers to use the resort as their headquarters. "Make the Maldives your home, any moment in any season' persuades the marketing material. "Far more than just a place to lay your head," quips another tagline. The package offers stays of up to 28 days from US$6,000, which includes special room rates, daily breakfast, 20 percent off F&B, weekly laundry service and snorkel tours, unlimited coffee, use of snorkel gear and paddleboards, access to the gym and yoga and wellness classes, plus weekly activities including movie nights and DJ sets at the over-water club. The breezy, 115-villa resort opened in 2018 and has six dining venues, including must-visit Guguguda, which serves traditional Maldivian cuisine in a polished setting. The resort offers both contemporary overwater and beachfront accommodation, with on-brand disco balls hanging over oversized tubs in the bathrooms. A refreshing diversion from the norm of natural tones in this part of the world, the villas are painted in The Standard's signature pops of yellow, orange, peach, and ascend in gradients, like a Pantone chart. Shail at reception tells me the island is so small that you can circumnavigate it on foot within 10 or 15 minutes. But as I soon find, the complimentary white bikes scattered around the grounds are more fun, and I ride to breakfast each morning wanting to pinch myself.
Despite only being on this Maldives idyll for four nights, I manage to get into a proper digital nomad routine, which is crucial for my productivity. I wake for complimentary yoga at 8 a.m. with Thai-born instructor Nok, ride to breakfast at Kula restaurant (an all-day buffet, which has an impressive, rotating spread for lunch and dinner each day, as well as themed nights, such as Indian, Mexican and sushi). I then get to work on a small table on the deck of my Ocean Overwater Pool Villa in my office attire: bikini, sunscreen, shades and hat. The setting is quiet and tranquil and I'm usually done with my work day by 1 or 2 p.m. Breaks consist of cooling off in the plunge pool overlooking the lagoon or floating in the ocean on the fluoro inflatable ring hanging on the equipment wall in my villa, along with all-white Star Wars-esque full face snorkels. When I stay, wellness practitioner Numthip Puntha is visiting from Thailand and she uses a combination of energy work and body massage in a 90-minute session one afternoon to help heal some of my concerns. It's so powerful that I'm moved to tears.
"There's a big chance in the next few days for mantas," says Farouk, head of watersports, when we meet. "It's usually around the full moon." I eagerly await news, but unfortunately miss out this time due to a miscommunication and head off for a Turtle Expedition instead. The weather comes in as we arrive and it's a little rough out there, but I spy a huge stingray under the sand and a turtle as I head back to the boat. T+L Tip: the boat trip is longer than I had anticipated, so, if you're time-pressed, I'd recommend instead snorkeling the natural house reef between meetings. On my final morning, as I walk to breakfast, a large reef shark passes under the overwater path. I realize it's a perfect #workfrommaldives moment to work into my article on this trip. Only in paradise can you find sharks sharing your coworking space.

standardhotels.com/maldives/properties/huruvalhi; from US$6,000 for 28-day stay
---
All photos courtesy of The Standard, Huruvahli Maldives.
Written By