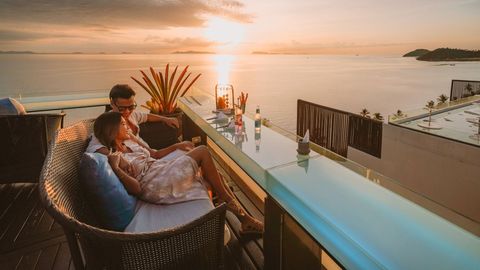 InterContinental Koh Samui Takes International Women's Day as a Day to Celebrate Their Top Female Execs. Get to know these female powerhouses of hospitality management.
INTERNATIONAL WOMEN'S DAY is March 8, and the ever-pristine InterContinental Koh Samui is taking the opportunity to shine a light on the cultural and professional achievements of these female leaders that make the Taling Ngam-area beachfront resort a perennial favorite for luxury travelers. In fact, over half of the managerial staff at InterContinental Koh Samui is female and the resort is dedicated to creating opportunities for career growth for women. It's a worthy mission. So many visitors enjoy the 22-acre luscious tropical property — a favorite of honeymooners and the perfect place to stage intimate weddings or elopements — but know little about the hospitality masterminds behind every memorable experience, meal, and interaction.
However, the next time you visit the stunning beachfront resort and toast another stunning sunset at destination sundown spot Air Bar, you can lift your glass to all of the wonderful women that make the resort the award-winning getaway it is today. Vinusda Vatcharanukulkiet was appointed as the new General Manager of InterContinental Koh Samui Resort in late January. She has over 30 years of experience in the hospitality industry across a variety of luxury hotels and resorts.
She began her hospitality career in Thailand in 1989 in the rooms division before taking on her first role as Director of Rooms. She has worked at renowned properties like Sheraton Grande Sukhumvit, a Luxury Collection Hotel, Bangkok; Royal Orchid Sheraton Hotel & Towers, Bangkok; and Le Meridien Koh Samui Resort & Spa.
She was immediately enchanted by InterContinental Koh Samui Resort's incredible ocean views of the Gulf of Thailand, five nearby islands, and Ang Thong National Marine Park, as well as its 79 guest rooms, suites, and villas in three zones that offer uninterrupted views from the cliffside, sea-level, and beachfront.
Vatcharanukulkiet is enjoying overseeing operations at InterContinental Koh Samui Resort, leading the team by providing guests exceptional Samui experiences delivered with a can-do attitude that's responsible to the environment and local communities as well as guests.
She also has a vision for running hospitality businesses, embracing the human aspects of understanding and caring for people. She is a role model inspiring her team to grow. Supattra Rojjanateepthat is the Director of Sales and Marketing and a key female leader among Sales and Marketing Professionals in Southeast Asia's hospitality industry. Supattra is fascinated by Koh Samui, which has been rated the third best island in Asia, and is pleased to call the destination her home.
A fan of technology and its relation to gender equality, she believes that the post-Covid era has opened the door to new digital tools and can transform the industry, providing new opportunities for women in digital and hospitality fields.
In her mind, digitalization plays an important role in tourism, especially for female travelers, who rely on apps and more to book reservations, learn about destinations, and stay safe. She believes that when women travel, they gain knowledge, experience and a better quality of life.
"Behind every successful man, there is a strong woman. And here, behind every fascinating luxury beach resort in Samui, there is strong women power," she said. Janitta Engsilp is the resort's Director of Finance and Business Support. She has 15 years of experience in accounting and financial roles across many hospitality sectors.
She brings to the table a keen mind for bettering a hotel's financial profile and a passion for investing in sustainable and modern energy to reduce the hotel's environmental impacts. She can often be found sourcing responsible business partners and suppliers and helping to enact sustainable growth objectives.
Ornchuma Promrak is the hotel's Human Resource Manager and one of a key team of female leaders in charge of Human Resource Management. To her, leading a team with empathy is a key part of success in the hotel business. With an emphasis on understanding people's feelings and keeping an open mind, she believes in working together and listening to several opinions before making final decisions. This is a vital asset in creating a great workplace aligned with IHG's core value of celebrating difference.
Promrak is also an environmental project leader at the hotel, protecting the resort's private, white-sand beach from garbage and erosion, so guests always see the best side of Samui. A fixture at the resort's weekly scheduled beach clean-ups, she helps to keep the hotel's environmental promise. Saisakul Ratanamarno fills the Front Office Manager position. She has 17 years' experience in the hospitality industry, working for international brands including Mandarin Oriental Hotel Group and Soneva.
The hotel business has always been fascinating to her. She takes special pride in ensuring guests have pleasurable stays, not just warm welcomes and focuses her energy on solving any guest issues during their holidays.
She believes that women thrive in the hospitality industry because of their attention to detail and way of picking up on guests' moods and feelings, allowing them to intuit what guests want and need and providing ultimate guest satisfaction.
Jutarat Limsathien is the Director of Sales and has over 20 years of experience in prestigious hotel groups including Starwood, IHG, Banyan Tree and Peninsula. She began her career journey in operations and has been climbing the ladder in the field that she loves ever since.
As Director of Sales, she travels around the world as a business traveler, constantly experiencing the same travel pain points as guests and using that information to better the guest experience at InterContinental Koh Samui Resort.
She considers Samui an inspiring destination with a great lifestyle. The harmony of local life and international travelers lets visitors to Samui experience Thai culture alongside world-class dining, watersports, shopping and more. Next time you visit InterContinental Koh Samui Resort, be sure to thank these inspiring hospitality leaders for their admirable contributions to making the resort the award-winning place it is.
---
Article Sponsored by InterContinental Koh Samui Resort.
All images courtesy of InterContinental Koh Samui Resort.
Written By