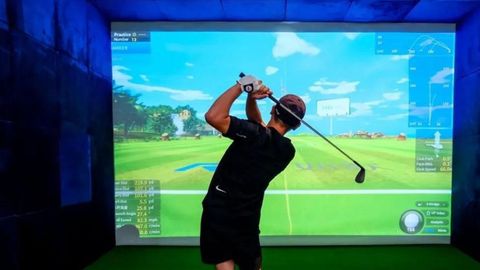 Singapore might be a well-known stop for golf tournaments and enthusiasts, but there is a major hindrance: the weather. The heat and humidity of the island nation can make it difficult for anyone to tee off on the greens. And perhaps this is why indoor golf courses in Singapore are becoming increasingly popular among those who want to practise without being subjected to the sweltering heat.
All the indoor golf facilities in Singapore are fully air-conditioned. Each of them is equipped with state-of-the-art simulators, which let golfers not only get the best experience of virtual versions of real-world courses but also gather data to help them improve their skills. More advanced simulations are almost at par with some of the world's best golf courses, and, therefore, help players become more adept at playing outdoors.
But it's not just about the data; some of the facilities also have pro golfers as on-site coaches to help serious players train better for golf tournaments. Owing to their expertise, the coaches are better able to translate the data points into action for players.
Since facilities have specific sections, called bays, more than one player can play at the same time. All facilities provide golf clubs to players either free or at a nominal charge, but most of them recommend that players bring their own clubs.
At the same time, the facilities are designed to create a fun-filled environment. Thus, some of them have specific areas and indoor greens for children to learn golf. To make the experience more luxurious and comfortable, some facilities have their own menus offering delicious food and drinks to help players enjoy as they play or to regain energy after a tiring game.
These are the best indoor golf courses in Singapore:
Jump To / Table of Contents This story first appeared here.
(Main and Featured images: Alpha Indoor Golf)
Frequently Asked Questions (FAQs)
Question: Where can I play golf indoors for fun in Singapore?
Answer: There are many places to pay indoor golf in Singapore. Among them are GolfX, Five Iron Golf, The Par Club, Clubhouse and The Par Tee.
Question: Is golf an expensive sport in Singapore?
Answer: Indoor golf is less expensive than the sport anywhere in the world. However, prices at indoor golf facilities may vary.
Question: How much does it cost to set up an indoor golf course?
Answer: A low-budget golf simulator can cost anywhere between USD 3,000 to USD 5,000. Estimates suggest that setting up an entire facility could be anywhere between USD 50,000 and USD 250,000.
Question: Where is the best indoor golf course in Singapore?
Answer: Almost all indoor golf courses in Singapore offer the best of experiences to both expert-level players needing practice and those playing for leisure.
Written By