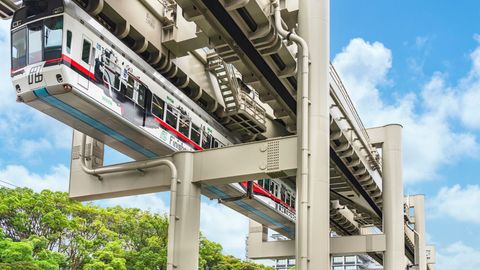 China introduced its first commercial suspended monorail in Wuhan on September 26, 2023.
The cutting-edge train marks a remarkable addition to the country's public transportation network, offering commuters an experience akin to a scene from a sci-fi movie.
Currently in operation, this monorail covers a distance of 10.5 km and serves six stops within Wuhan, the capital of Hubei province, China.
What we know about this groundbreaking suspended monorail:
Get ready for a ride of a lifetime on Wuhan's suspended monorail! This state-of-the-art transportation system is more than just a futuristic design, it's also a window to the future of urban mobility. Join us on this exciting adventure while witnessing its breathtaking views pic.twitter.com/emQZpmqOJU

— China Xinhua Sci-Tech (@XHscitech) May 11, 2023
Operating for 12 hours daily, a monorail departs every 10 minutes, according to the Chinese news agency Xinhua. The monorail achieves a maximum speed of 60 kmph, as reported. It is important to note that the entire process, from door operations and station entry to exit, as well as the train's actual movement, is entirely automated.
Xie Hongzhen, a staff member of Optics Valley Traffic Company, the operator of the monorail, explained that the vehicle is suspended from a single beam, making it an ingenious operational solution, writes Xinhua. The train dangles beneath the track, featuring a glass floor that provides travellers with a unique view of the city. This perspective offers a distinctive experience, allowing passengers to observe what lies directly beneath them.
The first test run of the suspended monorail took place in May, capturing the attention of tourists and locals alike. However, it's worth noting that the Optics Valley Photon, as the train is known, is not the world's first suspended monorail; similar systems can be found in countries like Japan and Germany.
This new suspended monorail in Wuhan promises an exciting and efficient mode of transportation, representing another step in China's continued advancements in modern infrastructure.
Hero and Featured (representative) image credit: kuremo/Shutterstock
Related: These Are The Most Stressful Train Stations In The World, According To New Research
Written By