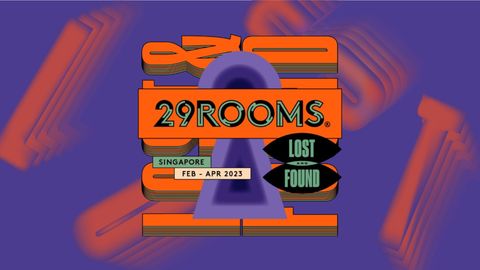 All you 'Insta-zens' (Instagram citizens, duh!), here's a really cool piece of news for you. For the first time, selfie museum 29Rooms is venturing into Asia with a pop-up museum installation in Singapore's Garden By The Bay, West Lawn.
Selfie enthusiasts and art lovers can flock to the location from 10 February to 16 April 2023. However, this should not be mistaken for any of your regular selfie spots. Featuring a collection of themed rooms — each coupled with its own surround audio, textures, props and much more — the museum is here to elicit thoughts and let visitors reflect on some "life questions".
All the details about Singapore's 29Rooms selfie museum
About 29Rooms Debuted in 2015 in New York, 29Rooms is the creation of the digital publication platform Refinery29 and its parent company Vice Media. The event soon went on to host other editions in Los Angeles, San Francisco, Chicago and other metro cities.
Described as "The creative playground for the Instagram generation" by The New York Times, the selfie museum features a collection of 29 rooms, each with its own theme, setup and feel.
Over the years, 29Rooms saw major success and witnessed collaborations with noted celebrities such as Lizzo, Margot Robbie, Jake Gyllenhaal, Emma Roberts, Solange, RuPaul, Janelle Monae and Jason Wu. They have not only been involved in the event but have also designed their own rooms.
About Singapore 29Rooms
29Rooms 2023 is no different in terms of major star power and partnerships that shall flex their creative strengths. Based on the theme of 'Lost and Found,' the Singapore edition is expected to feature local and international artists.
The event website states, "Created in collaboration with artists, creators and the community, 29Rooms: Lost & Found has 29 interactive spaces open for all to pause, laugh and wonder. Step in and discover sensorial experiences designed for surprise and contemplation, celebration and reflection. You game?"
29Rooms 2023: An experience to remember Covering a massive area of 4,500 m sq, the Singapore chapter of 29Rooms shall be no stranger to the art of playing with the senses. As already mentioned, each of the 29 rooms will have its own uniqueness, which includes motif, light, sound, smell and even food and beverage options. Additionally, the texture and feel of the surfaces are expected to vary as per the motif being highlighted.
Right at the entrance, visitors will first make their way through the Lost and Found Forest, where mystical trees and exotic smells await to introduce them to the whimsical '29 Questions' about life.
Enumerating all that the experience offers, the website states, "Be the first to create your own adventure through our wonderland of installations to rediscover a whole new future."
From revelling at the world from a child's point-of-view in a room named Dora's Diary to finding calm on witnessing mesmerising sunsets created by Hong Kong artist Desmond Leung at a Huetopia room, there are various things to do at Singapore's 29Rooms.
And if you are a gizmo enthusiast or a tech junkie, then this Gardens By The Bay event is your paradise. Immersive technology from the house of Samsung makes some of these rooms come alive. Glambot and Epic Nights In Asia (which will let visitors stroll through Vietnam, Thailand, Indonesia and South Korea) are some of the other major attractions.
Those looking for a room to let your hair down and grab some quick and delicious bites, 29Rooms has taken care of that too. Saving the best for the last is the event's hottest attraction — XRoom.
The first of its kind in 29Rooms, XRoom is where "hottest and coolest tastemakers" shall come together to whip up something extraordinary.
Billie Eilish fragrance room
The Singapore edition of 29Rooms has another major highlight for its visitors. As part of its star-studded collaboration, the event will have a special space dedicated to the Grammy-winning artist's range of Eilish perfumes. The line of evocative scents dwells on the strength of one's olfactory senses to recall stories and vivid memories.
Guests are expected to be taken on a journey of Billie Eilish's world of perfume-making, witnessing an array of not just scents but also sounds and images. They can experience all this in a mystical room covered in fog, 360-degree wall projections and the singer's soulful voice.
Speaking about the essence of these fragrances, a press release by 29Rooms states, "The fragrance opens with textural impressions of sugared petals, followed by delicate notes of creamy vanilla at its heart, and supported by sleek woods that exude a sense of warmth as its base. Down to its packaging, the gilded amber-bronze torso-shaped bottle — with a particular focus on the beauty of the neck and collarbone — is a reflection of inner beauty and self-love."
"At 29Rooms Asia, guests will be able to sample and purchase the scent to take home," the press release adds.
Timing and tickets
The event is open from 4 pm to 10 pm on Wednesdays and Thursdays and from 12 pm to 10 pm from Friday to Sunday. On Mondays and Tuesdays, the event shall remain closed.
Tickets are available across various categories and can be purchased on the website.
(Main and feature image credit: Gardens By The Bay)
Related: Backstreet Boys Announce DNA World Tour 2023 In Asia; Will Perform In Singapore
Written By