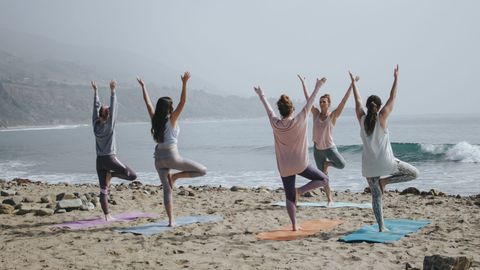 Macau's first and largest outdoor yoga and musical carnival "Hush! Beach Concerts x Urban Yogo Wellfest" is coming this November 4-5. The two-day event will be hosted at the Hac Sa Beach and Hac Sa Temporary Green and Leisure Area in Macau.
The upcoming event is a crossover of Macau's largest pop music event, Hush! Beach Concert" and the wellness travel initiative "Urban Yoga Wellfest", which is happening for the first time. The Macau government merged the two to create a unique event for wellness in addition to music and culture. Find out what to expect from this event!
Macau's upcoming yoga and music event: Everything we know
Get ready to see over 40 celebrity fitness and sports instructors from around the world. The exciting festival line-up includes yoga instructor Coffee Lam from Hong Kong and fitness trainer Jordan Yeoh from Malaysia. In addition, New Zealand yoga instructor Ivy Wang and former Swedish national delegate Josh Kramer will also be in attendance.
The event will feature three thematic zones: Zen Garden, Fit District, and The Playground. And under the guidance of stellar instructors, participants can relax, refresh, and unwind. Activities include yoga, fitness, meditation, and various workshops. For the first time ever in Macau, there will also be a SUP yoga class.
Meanwhile, music fans can look forward to performances from bands such as Gaofunk, Suld, Sokoninaru, and Amazing Show. More details will be unveiled later, so stay tuned on the official website.
Take advantage of the early bird promotion and hotel package
Early bird tickets (September 2 to October 8) cost MOP/HKD 300 (SGD 52) for single-day entry. Weekend passes cost MOP/HKD 450 (SGD 78). Regular tickets (October 9 to November 3) cost MOP/HKD 300 (SGD 52) for a single-day entry and MOP/HKD 600 (SGD 104) for a weekend entry. Those who plan to purchase on-site will have to pay MOP/HKD 500 (SGD 87) for a single-day entry and MOP/HKD 800 (SGD 139) for a weekend pass.
The SUP yoga class costs an additional MOP/HKD 60 (SGD 10) (early bird and regular tickets) or MOP/HKD 100 (SGD 17) for on-site purchase.
Those looking to attend both days can opt for the hotel package which includes a one-night stay at MGM Cotai. The package also includes tickets for two, breakfast for two, 20 per cent off on selected spa treatments, and an event-exclusive plush. Interested parties can call the reservation number at +853 8808 8888.
Book your stay at The Venetian Macao via Agoda.com
Book your stay at The Venetian Macao via Booking.com
Shop the best travel experience here
The currency conversion was done at the time of writing
This story first appeared here.
[All images credit: Kaylee Garrett/Unsplash]
Related: India To California: 8 Of The Best Yoga Schools Around The World
Written By