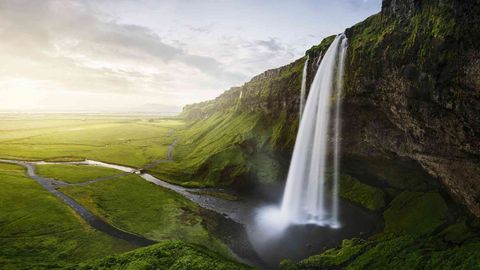 Visiting Iceland will soon cost a little more, but the increased expense will go to a good cause. The Nordic country plans to add a new tax for tourists that will support climate and sustainability goals.
"Tourism has really grown exponentially in Iceland in the last decade and that obviously is not just creating effects on the climate," Katrín Jakobsdóttir, Iceland's prime minister, said in a television interview on Bloomberg while attending the United Nations Climate Ambition Summit 2023 in New York City. (Iceland saw a sharp rebound in tourism after COVID-19 lockdowns, with over 8.5 million travellers visiting the country in 2022.)
Everything we know about Iceland's tourism tax While no specifics were provided on the exact cost, Jakobsdóttir noted the tariff would "not be high," and it would be implemented as city taxes for people staying in Iceland.
Jakobsdóttir also said her administration has been working closely with tourism companies throughout the country to make changes that are sustainable for the environment, including companies moving their fleet of vehicles to electric.
Many cities globally already have tourism taxes in place as a way to increase investment in the community, however, tourism taxes to support sustainability efforts have begun to gain popularity around the world. A new USD 10 (SGD 13) tourism tax will be required for visitors to Bali to help with environmental efforts in 2024, according to a local press report.
The travel industry has taken additional steps overall to help become more sustainable and eco-friendly. This week, for example, the Port Authority of New York and New Jersey released a plan and roadmap for net zero carbon emissions by 2050 and United Airlines previously announced a goal to achieve a 100 percent reduction of greenhouse gas emissions by 2050.
Shop the best travel experiences here
(Hero and feature image credit: Viaframe/Getty Images)
This story first appeared on travelandleisure.com
Related: Experience What It Is Like To Dive Between Two Continents In Iceland At The Silfra Fissure
Written By