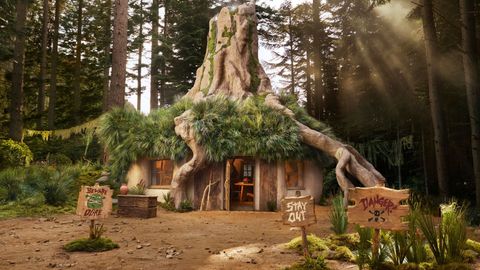 This Halloween, indulge in a weekend escape straight from your favourite movie fantasies. Airbnb presents an extraordinary opportunity to stay at Shrek's iconic, moss-covered, mud-splattered home, with none other than his loyal friend, Donkey, as your "host".
Nestled amidst the picturesque rolling hills of Scotland, this property invites guests to revel in late-night serenity and experience a place that seems plucked from the realm of dreams.
What awaits you at the Shrek swamp stay by Airbnb This enchanting place is listed under Donkey, who will play the gracious "host" during your stay. Travellers can immerse themselves in the rustic charm of this legendary house for a two-night sojourn. Inside, you'll bask in the warm glow of rooms lit by "earwax candlelight", share tales by the fire, savour parfait (because who doesn't love parfait?), wake up to freshly made waffles each morning, and relish the seclusion of Shrek's outhouse. The property boasts amusing "BEWARE" signs scattered around, though they're likely for decorative purposes, as the listing suggests. This Shrek Swamp listing on Airbnb promises an unforgettable, once-in-a-lifetime adventure and comes with a price tag of GBP 0/USD 0. It can accommodate up to three guests and is available from October 27 to 29, 2023. Booking for this unique house opens on October 13, 2023, at 6:00 pm BST. If you're not a local, you'll need to handle your own travel arrangements to and from Scotland.
Airbnb has a knack for turning childhood dreams into reality. Earlier this year, ahead of the release of Barbie: The Movie, they offered an exclusive stay at Barbie's Malibu DreamHouse, with Ken as the host. The California-based home features a gym, roller rink, bar and grill and a massive infinity pool.
Find out more about the Shrek Swamp listing and book your stay here
Hero and Featured Image credit: Alix McIntosh/Airbnb
Related: Here's How To Rent The Iconic Barbie Malibu DreamHouse On Airbnb
Written By