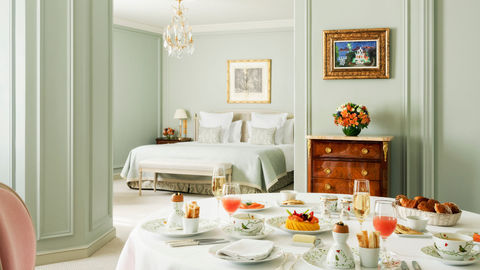 Standing tall and graceful, Le Bristol Paris is a renowned luxury hotel located in the heart of Paris. It is known for its exceptional architecture, rich history, world-class hospitality, exquisite food, and luxurious accommodations. It is an exquisite concoction of the classic French style with contemporary luxury.
Le Bristol Paris: A French-style sanctuary of comfort and luxury: I remember being mesmerised by the glimpse of Le Bristol Paris when I watched Midnight in Paris for the first time. On my visit to the grand hotel, I truly resonated with what Gil, Owen Wilson's character says about never wanting to leave Paris. The hotel, right from the first step you take makes you feel like you belong.
Le Bristol Paris was built in 1925 and its exterior features an elegant Haussmannian facade, a characteristic that adds to the beauty of Paris and is common to the city. The interior of the hotel combines traditional Parisian charm with contemporary elements, creating a sophisticated and luxurious ambience. The rooms, with their little French balconies and windows, make your stay extremely authentic and initiate you into the flair of the French.
The inevitable 'bonjour' comes rushing out of your mouth with a sweet smile soon after you step into the property. Greeted with warmth and a sense of belongingness, the people of Le Bristol make the place what is it today. The attention to detail gives this remarkable property an unmatched character. You can oscillate between the comforts of a luxurious stay and the energy of the nightlife, all in one place.
The Stay: Le Bristol has 190 recently renovated rooms and suites, each giving you a unique view of Paris. Well-equipped rooms and suites, you will be treated to tasteful art, soothing decor and some scrumptious chocolates on your arrival. Spacious and sophisticated, the rooms spell luxury in more than just one way. The beds are exceptionally comfortable, guaranteeing a restful night's sleep, while the spacious bathrooms are equipped with high-end amenities and feature exquisite marble finishes. While the basic amenities are already beyond expectations, it's the little details that make Le Bristol stand out in its hospitality. Wine and Dine: Le Bristol Paris boasts several outstanding dining options, including the renowned three-Michelin-star restaurant, Epicure. Led by celebrated Chef Eric Frechon, Epicure offers a gourmet dining experience featuring French cuisine prepared with the finest ingredients. Not only is the food like a symphony in your mouth, but the way the food is served is also nothing short of a theatrical production. Your taste buds will be challenged and met with unparalleled flavours, delivering the spectacular experience promised at Epicure. A cautiously-curated menu that is an unforgettable gastronomical experience leaves a lasting impression on you.
Another dining option is 114 Faubourg, which offers a more relaxed atmosphere while still serving exquisite dishes. The restaurant is famous for creating innovative dishes from seasonal ingredients and we highly recommend trying the Scrambled eggs with lobster on your visit. For an even more relaxed dining experience, the hotel has a charming brasserie-style restaurant, Cafe Antonia. True to Le Bristol's quality and experiences, this restaurant has a range of delectable dishes, right from breakfast to dinner.
The hotel also has an exquisite wine cellar, that was earlier a vault for a bank. They have approximately 8000 bottles of beautifully aged wines that you can enjoy with your meals at the different restaurants.
Le Bristol Paris is a remarkable destination that seamlessly blends timeless elegance with modern luxury. A stay at Le Bristol Paris is an experience that transcends ordinary luxury that makes it an unforgettable stay for travellers, in the heart of Paris.
Book your stay at Le Bristol Paris - an Oetker Collection Hotel via Booking.com
Book your stay at Le Bristol Paris - an Oetker Collection Hotel via Agoda.com
This story first appeared here
Related: How To Spend One Perfect Day In Paris
Written By