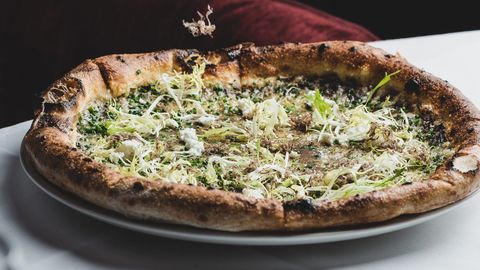 It is easy to stick to French classics at Brasserie Astoria, the second restaurant in Singapore by Swedish chef Björn Frantzén, but the best things here hail from the rest of the world.
Here's why a visit to Brasserie Astoria is a must
Butter fried råraka, Sweden's version of rosti, featured shredded, delicately crunchy Agria potatoes in the perfect shade of golden brown, augmented by sides of vendace roe, chives, creme fraiche, red onion, and lemon. Calamares fritos, or deep-fried baby squid with black pepper and green onion, was reminiscent of the Spanish and Italian coasts before a galangal aioli teleports you to Southeast Asia. Grilled spring chicken with a smoky Buffalo-style marinate was accompanied by macaroni pudding, which had their tips charred, arranged like a Lego brick, and planted on corn velouté. Together, they recalled the joys of eating in an American diner.
Perhaps it's Brasserie Astoria's beginnings that let it bend the rules of the French culinary institution. The casual dining concept first opened in Stockholm's Astoria Cinema and was meant to evoke the theatre's 1920s grandeur and opulence. During its heyday, it was the hot spot for international performances from vaudeville to silent films. Dominated by the Roman columns of Victoria Theatre & Concert Hall, Brasserie Astoria Singapore is equally imposing. Much of the original restaurant has been replicated here, from the curtained dining booths to the irreverent plates used for dessert. Frantzén, who also owns the three-Michelin-starred Zén in Singapore, even has a DNA director to ensure his clone has a similar taste in music, which includes Pet Shop Boys and Fleetwood Mac.
With both restaurants residing in a theatre, a bit of drama is to be expected, and Brasserie Astoria does not disappoint. Astoria Osciétra caviar arrived in a tin over ice, plus a mother-of-pearl spoon to spread over parsnip waffles with creme fraiche, lime, brown butter, and argan oil. "It's also good for your hair," quipped Frantzén Group executive head chef, Tristin Farmer. Cesar salad was tossed table-side with pine nuts and parmesan aged for 24 months, and served with a side of wonderfully juicy grilled chicken breast, smoked pork belly, and long beans. If you order the whiskey flambeed beef – either Angus or Wagyu – a server appears with a trolley equipped with a pan and stove, and proceeds to light the meat on fire using Buffalo Trace whiskey. The drippings are turned into a kampot and green pepper sauce, and the dish is accompanied by roasted potatoes glazed with funky Fourme d´Ambert cheese.
This being a brasserie, a Martini is imperative, and here they are pre-batched, kept at minus 11 degrees Celsius, and presented bracingly cold. For dessert, skip the tutti-frutti soft serve ice cream, which reminded me of bubblegum toothpaste, and opt for the waffle ice cream instead. Two spongy, heart-shaped pistachio waffles held together oolong ice cream dripped with tart raspberry sauce and blanketed by pistachio and raspberry crumbs. A lot of restaurants say they cook from the heart: at Brasserie Astoria, it is literally so.
Brasserie Astoria is located at 11 Empress Place #01-01, Singapore 179558.
This story first appeared
here
.
(Hero and featured images credit: Brasserie Astoria)
Related: Chef Ling Of Summer Pavilion On Dim Sum Etiquette, Using Contemporary Ingredients, And More
Written By