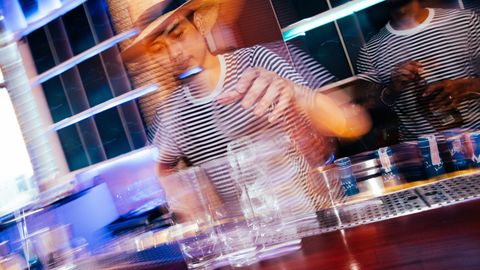 T+L had a first look at Grey Goose Aurora, a limited-edition vodka bottle inspired by the Northern Lights. You could say geese are the ultimate world travellers, and lucky for us in Southeast Asia, they've headed south this summer.
ONE OF NATURE'S COOLER phenomena is the migration of millions of birds south for winter. Another is of course the aurora borealis, the northern lights glimmering on so many travellers' bucketlists. Grey Goose, that classy cool, super-smooth French vodka brand we all love, is out now with a limited-edition bottle that marries the beauty of those two amazing occurrences. An ethereal design in vibrant turquoise and chartreuse, Grey Goose Aurora started jazzing up the Thailand drinks scene this summer, touring clubs and bars in Bangkok and Phuket. In honor of these awe-inspiring geese who've made their landing here in Southeast Asia, we offer up a tasty cocktail recipe—marrying the distilled French-wheat-and-spring-water vodka with some of the most beloved flavors of Thai cooking.
Watch brand ambassador Andrea Paleari mix things up at Soho House Bangkok, then do try this at home:
Cocktail Recipe: Siamese Light Ingredients
– 50 ml Grey Goose Aurora
– 20 ml
– Siamese Herb Cordial*
– Cubed ice
– Soda Water
– Kaffir lime leaves for garnish
Method:
Pour all the ingredients in a highball glass, add ice and top up with soda. Gently stir and garnish with kaffir lime leaves. *Siamese Herb Cordial Ingredients
– 500 g Water
– 500 g Sugar
– 1 g Fennel Seeds
– 3 g Grated Ginger
– 5 g Grated Kaffir Lime Zest
– 1 g Turmeric Powder
– 1 pz Star Anise
– 2 pz Lemongrass
– 10 g Peppermint
– 1 g Citric Acid
– 50 ml Apple Vinegar
Method:
In a saucepan, add water and dissolve the sugar. Let the syrup cool down and add the rest of the ingredients. Let infuse for 6 hours and strain the cordial with a cheesecloth. Keep refrigerated
In Thailand, Grey Goose Aurora is available in select high-end night clubs (Bangkok: Pastel, Anaconda, Bobo, Space Plus; Phuket: Illuzion, Café Del Ma, Armania; Pattaya: JP Republic, Inbeat, Insomnia) and in premium gourmet marts and supermarkets. In other countries, check with your local distributor.
For more information, visit www.greygoose.com
---
Images courtesy of Grey Goose.
Written By