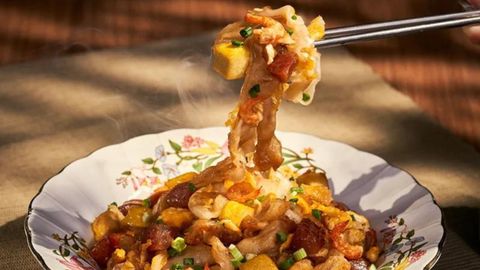 Roza Food has put the sauce for the Cry Baby Noodles from Netflix's Hunger on the market. Now, you can make Pad Ngor Ngae or Cry Baby Noodles at home. Here's how.
There were many dishes on Netflix's Hunger that raised eyebrows. The Thai film that quickly became Netflix's most-watched across the region, follows the rise of a street food chef who becomes seduced by the world of fine dining. Young Aoy follows in the footsteps of the notorious Chef Paul, who plays into an exaggerated ego-centric chef stereotype and does things like feeding his diners meat off an actual cow carcass.
And yet, beyond all the blood-splattered plates and tap water consommé, there is one dish in the film that stands out from all the rest: Cry Baby Noodles or Pad Ngor Ngae.
Why Hunger's Cry Baby Noodles are getting all the hype Go to any Bangkok dinner party and it is likely Hunger will come up as a central topic of conversation. The film does not only follow the (arguably unrealistic) rise of a chef prodigy in the culinary world, but it also provides a socio-political commentary on privilege in Thailand.
For the most part, Hunger uses food as a medium to symbolise the divide between the rich and the poor. Chef Paul explains that "the poor eat to end their hunger, but when you have more than enough to eat, your hunger doesn't end." It becomes apparent that Hunger is not so much about a craving for food, but rather a showcase of power, and of power play. In many ways, giving the rich something to eat is Chef Paul's twisted approach to 'eat the rich.'
This metaphor comes to life in various instances throughout the film. Grotesque scenes featuring the country's elite devouring bloody meats are designed to make a mockery of these individuals, very much reminiscent of a similar mania found in the plot lines of the Hollywood film The Menu. Yet unlike in The Menu, and far away from the high society homes of Bangkok's most bold and beautiful, Aoy's Cry Baby Noodles are getting the biggest hype of all.
In an aggressive world of power and politics, Cry Baby Noodles represent home and comfort. The first appearance of Cry Baby Noodles in Hunger comes when Aoy's father prepares the dish for his children at their street food restaurant. Later, when Chef Paul lands up in the hospital, Aoy brings him this dish in a Tupperware container, claiming it would make him feel better (suited to his character, but it doesn't). The final appearance of Cry Baby Noodles comes at the end of the film, during a cook-off between Chef Paul and Aoy, where the young chef decides to cook something she knows and loves to woo the crowd. Madame Milky and her friends are impressed for a hot minute, but their attention is quickly derailed when Chef Paul presents the next ridiculous thing. Nevertheless, the viewer's focus remains on Aoy and those mouthwatering shots of the Cry Baby Noodles. As Chef Paul exits the cook-off, he tells Aoy: "No matter how good your food is, how sophisticated it looks, or how creative your menu is, prejudice is something you can never overcome. These people know who I am. They've already crowned me the winner because they are hungry for me."
The viewer is left to pick a side. The humble Cry Baby Noodles which use 'love' as the cheesy central ingredient, or the extravagant mental games Chef Paul presents on his plates. In a world of exotic and uncomfortable hunting trips and cigarette-sauce slurping, most of us preferred the former. Cry Baby Noodles prove the triumph of good over evil in some way, but also the sentimental, sincere value of food that goes beyond rich or poor.
@cookedbymike

'Cry baby noodles' from the Netflix film 'Hunger' Recipe: 1/2 cup lap cheong (chinese sausage) 1/2 cup dried shrimp 1/4 cup fish tofu 2 eggs 2 tbsp of XO Sauce and Miso paste mixed together 2 cloves of garlic minced Minced ginger 3 tbsp soy sauce 2 tbsp oyster sauce 2 tbsp fish sauce 1 tsp msg 1 tsp salt Rice noodles Chopped green onion Instructions: -Dice lap cheong and fish cake tofu into small bits -in a wok heat up oil and fry your dried shrimp for 60 seconds (usually you have to soak your shrimp first, go by package instructions) -remove shrimp and fry lap cheong for 2 minutes. -add garlic and ginger fry for 30 seconds -add your eggs and mix well -add your cooked rice noodles and stir for 2-3 minutes. This part is important to get the char on the noodles -add your xo/miso paste with your other sauces and stir -add your shrimp, lap cheong and fish cake tofu with your scallion and mix for another 60 seconds -serve immediately and enjoy 🙂 #crybabynoodles #hunger #netflixhunger #padseeew
A recipe for Cry Baby Noodles
After the release of the film, a rumble of hungry bellies could be heard around the globe. Whilst it isn't a real Thai dish, Cry Baby Noodles quickly rose to fame in foodie circles, and countless TikTokers have tried their hand at the recipe. The film portrays a few of the key ingredients, and according to Cooked by Mike, the recipe for Cry Baby Noodles could go as follows:
Ingredients
1/2 cup lap cheong Chinese sausage
1/2 cup dried shrimp
1/4 cup fish cake tofu
2 eggs
1 tbsp XO sauce and 1 tbsp miso paste (combined)
2 cloves of garlic (minced)
1 tbsp minced ginger
3 tbsp soy sauce
2 tbsp oyster sauce
1 tsp MSG
1 tsp salt
10-12 ox rice noodles
Chopped scallion
Instructions
-Dice lap cheong and fish cake tofu into smaller pieces
-Heat oil in a wok and fry dried shrimp for 60 seconds
-Remove shrimp and fry lap cheong for 2 minutes
-Add garlic and ginger, fry for 30 seconds
-Add eggs and combine
-Add cooked rice noodles and stir fry for 2-3 minutes until charred
-Add XO sauce and miso paste, as well as other sauces
-Add shrimp, fish cake tofu, and scallions. Stir fry for 1 minute
-Serve immediately and enjoy Roza Food unveils Hunger-inspired Cry Baby Noodles sauce Still, the Cry Baby Noodles hype did not stop there. After Netflix opened a Hunger Restaurant in Bangkok, Roza Food jumped on the trend too and released a Hunger sauce for faster cooking.
Answering the hype around the noodles, the sauce and canned foods company was quick to release an instant sauce just last month. It features a smoky wok aroma to mimic Aoy's signature cooking style. What's more, the actress who plays Aoy, 'Aokbab' Chutimon Chuengcharoensukying, has even demonstrated how she uses the sauce in her preparation of the dish.
At the time of writing, the Hunger sauce is available at Big C and on Shopee.
Where to find Cry Baby Noodles in Bangkok if you don't want to cook
Even restaurants have jumped on the trend. If you're too much of a crybaby to cook the noodles yourself, you can also find Cry Baby Noodles or Pad Ngor Ngae in a real Bangkok restaurant.
Iron Chef Thailand winner and Maggi Ambassador Chef Gigg Kamol is serving up Cry Baby Noodles at his Lerdtip Wanghin restaurant. Ranking at no. 73 on Asia's 50 Best Restaurants 2023, the Thai restaurant has long been a popular spot for Thai food favourites.
Stir-fried in a wok just like how Aoy would have liked it, the Cry Baby Noodles are priced at THB 180 (SGD 7) a dish and are even available on Lineman.
View this post on Instagram
Chef Paul's cow carcass, meanwhile, is available nowhere.
Shop the Roza 'Hunger' sauce here
This story first appeared here.
[Hero & Featured Image Credit: Roza Food]
Related: The Definitive Pad Thai Recipe From the Chef of Asia's Best Restaurant
Written By