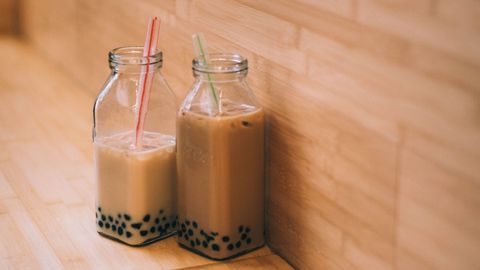 Imagine a refreshing creamy milk tea served chilled in a tall glass or jar, at times with punches of fruit syrups. A native of Taiwan, boba or bubble tea is now nothing short of a worldwide phenomenon and has an ever-growing band of takers. With every country and region having its own variation, let us find out more about bubble tea.
Whether you call it bubble tea, boba tea or pearl tea, the chewy round tapioca pearls are the main reason behind the hype around this drink. Such is its global popularity that on January 29, 2023, Google dedicated a play-along doodle to this milk tea and highlighted some of the well-known flavours and ingredients.
However, while first-timers may have divided opinions when they take a sip of this beverage or bite into the tapioca, bubble tea is generally a much-loved beverage that has stirred up a culinary wave.
Today, this pearl milk tea often comes garnished with delectable toppings and infused with unique flavours, which render a rather contemporary twist to the classic bubble tea to suit modern taste buds.
Here's everything to know about bubble tea — origin, how to drink and recipes
Origin of bubble milk tea Tapioca tea has its roots dating back to the 17th century but gained mass popularity only in 1980s Taiwan. As per Britannica, "the genesis of bubble tea traced to 1949, when an entrepreneur and former bartender, Chang Fan Shu, developed a tea that was shaken in a martini mixer to create a foamy surface."
It is said that this hand-beaten tea, called shou yao, is the predecessor of bubble tea as we know it today. The resultant product became a luxury cold drink that wasn't affordable for the Taiwanese until the country saw an economic boom in the 1980s. In 1986, Britannica adds, another businessman named Tu Zonghe opened a tea shop in T'ainan where he sold tapioca balls called fen yuan in green tea.
Another bubble tea origin story says that a Taichung tea shop called Chun Shui Tang started a fad of serving Chinese tea cold after being influenced by Japanese iced coffee. A few years later, the shop's product manager, Lin Hsiu Hui, at a staff meeting was so bored that she dropped her sweetened tapioca dessert called fen yuan into her tea and drank it. The resultant product tasted so delicious that the tea recipe was included in the shop's menu. The beverage gained immense success and fame. Soon, other tea shops started adding tapioca pearls to their teas and began experimenting with fruit juices and other flavours.
Bubble tea's popularity and global growth Over time, bubble tea has undergone a lot of changes. The recipe was modified to incorporate larger-sized tapioca pearls, which are termed boba pearls. In fact, the straw used to drink bubble tea was also widened. This way, customers could enjoy the refreshing boba drinks along with the pearls, without having to use a spoon. This led to the popularity of the names boba tea and boba nai cha, and today, the terms bubble tea and boba tea are used synonymously.
Such is its mass appeal that bubble tea spread rapidly among the Chinese expat population residing in New York, London and Berlin in the 2000s. Soon, it spread its wings across Europe, and boba shops began to crop up in other parts of North America as well.
Served cold with an array of natural flavours and generous amounts of tapioca pudding balls in a rich milk tea base, the drink has seen an unprecedented consumer surge, as Asian cuisine and typical Asian snacks have grabbed attention worldwide.
What do the boba pearls taste like? Despite having several variations, the basic ingredients and form of bubble tea remain the same. This, when made right, gives a smooth consistency for drinkers to enjoy bubble tea.
The most interesting aspect of this tea drink is the chewy tapioca pearls. The thick, chewy consistency of these balls sitting at the bottom of the iced tea is somewhat of a cross between jelly and chewing gum.
Generally, the boba pearls are made from cassava starch, a root vegetable native to South America also referred to as yuca. Black tapioca pearls, soaked in caramel syrup, are the most common ones. Depending on the ingredients used, they can also be white or transparent.
These tapioca pearls do not have a particular taste of their own, but when steeped in sugar syrup, they take on a sweet taste. There is also something called popping boba. Produced via molecular gastronomy, these balls are made by combining sodium alginate and flavoured fruit juices. When bitten, the balls release a burst of sweet flavours. What makes them different from other flavoured boba is that it doesn't use tapioca.
How to make bubble tea?
Bubble tea has moved on from being just one of the traditional Taiwanese drinks and has adapted to the many global food trends that have rendered their own influence on it.
As per Thrillist, its tea base is usually either green or black tea, which can be modified according to preference, with a punch of any kind of syrup such as peach, strawberry and lychee. Authentic boba milk tea is a concoction of black tea, milk and tapioca pearls.
However, there are certain iterations which stray from these bases. Even in Asia, places such as Hong Kong, Singapore and Japan, bubble tea has seen the rise of a wide spectrum, which includes white tea, taro tea, brown sugar tea and matcha green tea variations. Additionally, others use sweetened condensed milk to accentuate the flavour profile. Although traditional bubble tea uses milk and Assam or Darjeeling tea, there are several water-based variations as well.
If you are looking for caffeine-free variants, the wide gamut of fruit teas, often accompanied by fruit slices, are available at boba shops. Besides these, most bubble tea shops also offer classic milk alternatives such as almond milk, coconut milk and soy milk.
You can also customise your drink as per your liking with popular bubble tea toppings such as popping boba, red jelly beans, pudding, basil, chia seeds, fruit jelly and ice cream. Bubble tea can also be topped off with whipped cream and fresh fruit slices.
Pro tip: If you are a slow drinker and wish to savour the flavours, ask for less crushed ice.
Some of the best bubble tea recipes to try The number of boba shops across the globe has seen a major hike. Even in India, major cities such as Delhi, Mumbai and Bengaluru have ample bubble tea stalls that offer several delectable flavours and combinations.
However, you can also whip up a batch of boba tea yourself. Just purchase pre-made tapioca pearls for easy making of the drink.
Classic Earl Grey bubble tea Ingredients: 32 g dried boba pearls, 2 Earl Grey tea bags, 1 glass of milk of choice, a splash of fruit syrup or nectar and water.
Method: In a saucepan add 480 ml of water for 32 g of boba and cook till they begin to float. Once done, turn the heat to medium and allow it to cook for another 12-15 minutes. Remove it from the flame and let them rest for the same time.
To make the caramel syrup for the balls, boil 120 ml of water on high heat and add 150 g of sugar and dissolve it.
To make the tea base, boil 240 g of water and add Earl Grey tea bag(s) as per preference. Remove the bag(s) after 15 minutes and chill it. This step can be done while preparing the boba or slightly earlier so that there is time to let the tea cool.
Strain the pearls from the water and soak them in the sugar syrup for 15 minutes. Now, once the ingredients are ready to assemble, pour the tea into a tall glass, add the boba pearls and add milk to make boba milk tea. Add fruit juice for a sweet fruity flavour or just some more water for a concentrated taste.
Persian rose milk bubble tea Ingredients: 5 g loose black tea leaves (preferably Assam) or 2 black tea bags, 450 ml hot water, 50 ml milk of choice, 50 ml sugar syrup, 1-2 drops of rose water per serving, 120 g cooked black tapioca pearls, whipped cream, rose petals and slivered pistachios (optional) and ice.
Method: Soak the tea in boiling water and allow it to cool until lukewarm. If you are using tea bags, remove them only before pouring the tea into the glass. Once the tea is ready, pour it into a tall glass and then add milk, sugar syrup and rose water. Stir gently until mixed thoroughly.
Next, carefully add the tapioca pearls to it. Leave it to chill and add a few cubes of ice. You can garnish it with whipped cream, dried rose petals and slivered pistachios.
Hibiscus cooler bubble tea Ingredients: 10 g dried hibiscus flowers, 250 ml hot water, 2 tbsp lemon juice, 4 tbsp sugar syrup, 400 ml cold water, 120 g cooked coloured tapioca pearls and ice.
Method: Soak the hibiscus flowers in the hot water and allow the mix to cool until it's lukewarm. Once done, remove the petals and pour this 'hibiscus tea' into a jug. To this, add the lemon juice, sugar syrup and cold water and stir well. Leave it to chill.
Add the tapioca pearls and a few ice cubes and serve it in tall glasses. Garnish with a slice of lemon.
(Main and feature image: Courtesy Rosalind Chang/ @rosalindjchang/ Unsplash)
This story first appeared on Lifestyle Asia India.
Related: Hidden Bars In Taiwan's Cultural City Of Taichung
Written By