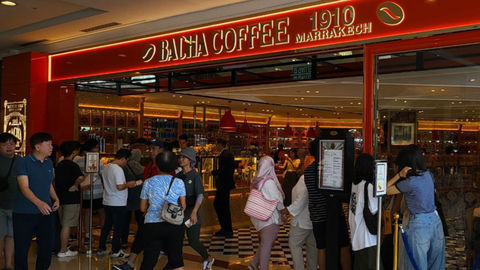 Whether you take a liking to a robust cup of local coffee served alongside toast and caramelised coconut spread or have a more profound appreciation for specific house blends, there's no disputing how ingrained coffee culture has always been in the fabric of Malaysian culture. Now, Bacha Coffee is looking to add to that appeal with its debut in the heart of the city.
Founded by Taha Bouqdib of TWG fame in 2019, the brand is meant to serve as a reinterpretation of Moroccan coffee culture for the masses, with roots being tracked to 1910. As the company explains it, Bacha Coffee takes its name after the Dar el Bacha palace in Morocco, which played host to the cortège of international guests such as Josephine Baker and Winston Churchill, serving as the lynchpin for a union between fine coffee and culture.
Prior to it's Malaysian opening, Bacha maintained a presence in Singapore, France, and of course Morocco. To date, they now operate a total of 13 outlets globally.
The world of Bacha Coffee debuts in Malaysia at KLCC
Locally, interest in the brand has almost reached a fever-pitch, with consumers vying to be among the first to sample a sip of their Arabica brews in the months following up to their grand opening. And if the snaking lines are any indication, none of the zeal has abated.
Measuring 7,000 sqft, Bacha Coffee's KLCC outlet is among one of their largest physical stores, which encompasses everything from a boutique to a dining hall, private salons, and a Moroccan-inspired alfresco area. At first glance, much of the brand's hallmarks have been translated with great care, exuding a warm, if not almost scholarly ambience with their ornate shelves of tinned coffee and accompaniments, all decorated in their signature orange, copper and gold motifs. The dedication that the brand has for the art of a good cuppa is readily evident, expressed most prominently from their comprehensive range of coffees lining the walls. Prices for their tinned coffees lean on the pricier end of the spectrum, but that's a given considering their hand-brewed nature.
For those looking to further enhance their brewing experience at home, you may even look at purchasing dedicated pots, decanters, stirrers, and even china emblazoned with the company's logo from the sale floor. As for the indoor dining hall, their cluster of tables seats a decent capacity, but don't expect to waltz in and get a table in the first month of their opening, considering Bacha's fresh-faced novelty. This is bolstered by an outdoor dining area that appears to take after the languid air of a dusky Moroccan villa tinted in mint. Be warned, you are better off seeking air-conditioned respite indoors than brave the midday heat. Bacha Coffee takes immense pride in the ritual surrounding the preparation of their single-origin blends, as indicated by their dedicated coffee room menu. Spanning regions as far-flung as Africa to neighbouring Indonesia, customers are likely to find themselves at a dizzying loss for choice. Thankfully, trained staff are ever ready at hand to provide suggestions to best suit your palate. Our order of the Bacha signature 1910 blend is an easy choice for those looking to chart their start into the brand's exhaustive range of coffees, bearing fruity notes on the first sip.
Both hot and cold coffees are served in elegantly curvaceous gilded mokka pots, accompanied by brown sugar granules and heavy cream whipped with flecks of vanilla bean. As for entrees, a concise selection of poultry, fish, and meats are available, served in a medley of combinations from sandwiches to mains. But of course, it's the viennoiseries that marry best with their coffees, with croissants and pastries galore. The raspberry croissants, served with bright coils of red and filled with a rich fruit compote, were our choice for the afternoon with their crisp exterior and fluffy bite.
As a whole, the experience isn't at all dissimilar to its V3 Gourmet stablemate, TWG. Prices are also par for the course, with coffees starting from RM30 (SGD 8). Bacha Coffee can be found at Level G in KLCC, across from the Burger & Lobster outlet.
Book your stay at Hilton Kuala Lumpur via Booking.com
Book your stay at Hilton Kuala Lumpur via Agoda
Shop the best travel experiences here
This story first appeared here.
Feature and hero image credit: Lifestyle Asia KL, fishmeatdie/Instagram
Related: Grab A Cup Of Joe At The Most Gorgeous Starbucks Outlets Around The World
Written By