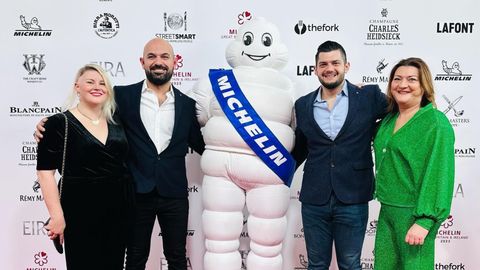 If there's any badge of honour to flaunt in the culinary world, it's the Michelin Star. An unmatched prestige and honour, restaurants across the world are constantly accelerating their game to earn that one star to make it big! Michelin Guide announced the Michelin Star restaurants 2023 in Britain and Ireland and you might want to take a look at them.
On March 27, 2023, the Michelin Guide in Great Britain and Ireland announced restaurants across the countries which earned their first Michelin Star, and which ones got to keep or lose theirs respectively. Going by the list, we can see that in 2023, the number of restaurants having three stars in Great Britain and Ireland stayed at just eight, out of which five are located in London. This means that the list added no new restaurants to its three-star ranks. The good news is that 20 new restaurants received their first star, and three restaurants received a second star. Interested to know what the list looks like? Let's find out.
Britain and Ireland's Michelin Star restaurants in 2023
This year saw the first physical ceremony post the COVID-19 pandemic. The list majorly covers England, Wales, Scotland, and Ireland, but with 74 Michelin Star restaurants in 2023, London clearly dominates the list.
In 2020, Michelin also introduced a new category of green stars, for restaurants whose service had the culmination of culinary excellence with outstanding eco-friendly commitments. This year, four new restaurants received the green star.
Here's the full list:
Michelin three-star restaurants 2023 Three Michelin stars denote "exceptional cuisine that is worth a special journey"
Alain Ducasse at The Dorchester, London
CORE by Clare Smyth, London
Fat Duck, Bray
Hélène Darroze at The Connaught, London
L'Enclume, Cartmel
Restaurant Gordon Ramsay, London
Sketch (The Lecture Room & Library), London
Waterside Inn, Bray


4 New Green Stars Added to the MICHELIN Guide Great Britain & Ireland 2023
Explore the 4 new awards and view the full list of Michelin Green Stars for 2023 https://t.co/ALU8BbrVsM#MICHELINGreenStar #MICHELINGuideGBI pic.twitter.com/KS1BjFfULG

— The MICHELIN Guide (@MichelinGuideUK) March 28, 2023
Michelin two-star restaurants 2023 Two Michelin stars signify "excellent cooking that is worth a detour". Three new restaurants were added to the list this year, which earned one extra star, meeting the Michelin standards. This brings the total score up to 25. They are:
Alex Dilling at Hotel Café Royal, London (new)
Dede, Baltimore (new)
The Ledbury, London (new)
A.Wong, London
Aimsir, Celbridge
Andrew Fairlie at Gleneagles, Auchterarder
Chapter One by Mickael Viljanen, Dublin
Claude Bosi at Bibendum, London
Da Terra, London
Dinner by Heston Blumenthal, London
Hand and Flowers, Marlow
Ikoyi, London
Kitchen Table, London
La Dame de Pic London, London
Le Gavroche, London
Le Manoir aux Quat' Saisons, a Belmond Hotel, Great Milton
Liath, Blackrock
Midsummer House, Cambridge
Moor Hall, Aughton
Patrick Guilbaud, Dublin
Raby Hunt, Summerhouse
Restaurant Sat Bains, Nottingham
Story, London
The Clove Club, London
Ynyshir, Machynlleth

New Stars & Awards in the MICHELIN Guide Great Britain & Ireland 2023 #MICHELINGuideGBI #MICHELINStar23 https://t.co/BAUc6mjXV7

— The MICHELIN Guide (@MichelinGuideUK) March 27, 2023
Michelin one-star restaurants 2023 One Michelin star indicates "a very good restaurant". With 20 new entrants this year, the number in UK and Ireland stands at 173 now. Here are the new restaurants of 2023:
Àclèaf, Plymouth
Ben Wilkinson at The Pass, Horsham
Cycene, London
Gidleigh Park, Chagford
Grace & Savour, Hampton in Arden – New
heft, Newton in Cartmel
Heron, Leith
Luca, London
Lumière, Cheltenham
Pentonbridge Inn, Penton
Restaurant Twenty-Two, Cambridge
Sō–Lō, Aughton
SOLSTICE BY KENNY ATKINSON, Newcastle upon Tyne
St. Barts, London
Store, Stoke Holy Cross
Taku, London
Terre, Castlemartyr
The Samling, Ambleside
The Tudor Pass, Egham
Timberyard, Edinburgh
What is a Michelin Star?
The biggest honour in the world of food, a Michelin Star is awarded to restaurants that offer outstanding cooking. According to the Michelin Guide, there are five criteria that are taken into account while awarding a star to a restaurant. Those are: the quality of the ingredients, the harmony of flavours, the mastery of techniques, the personality of the chef as expressed through their cuisine and, just as importantly, consistency both across the entire menu and over time.
The star is awarded only on the basis of what is served on the plate, nothing else. This makes sure that the food remains the true hero of any restaurant.
All Images: Courtesy Instagram
This story first appeared here
Related: Thevar and 5 Other Restaurants In Singapore Make It to the 2023 List of Asia's 50 Best 51-100
Written By