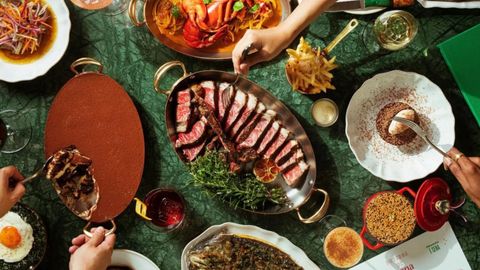 Bottega di Carna was born out of love by master butcher Dario Cecchini and local heroes – Executive Chef Alastair Clayton and Chef de Cuisine Kenny Huang.
All eyes were fixated on the exuberant Dario Cecchini, the 'world's greatest butcher' hailed by the New York Times, as he skillfully dissected a majestic piece of meat (beef from Huber's Butchery and Stockyard, if you're wondering) with precision for a butchery workshop. And his audience was left in awe.
The culinary maestro from Tuscany, Chianti, was in town to open his newest restaurant, Bottega di Carna, at Mondrian Singapore Duxton, where the act was performed. If Cecchini's name rings a bell, it's because he has appeared on Netflix's Chef's Table. The affable chef-butcher also owns various meat-focused restaurants, such as Solicciccia and Officina Della Bistecca near his butcher shop in Panzano, Italy.
Cecchini has a knack for meat, more so because he's not only a descendant from an unbroken line of eight generations of butchers in Panzano, but also studied veterinary science at the University of Pisa. Three years into his six-year course, he felt compelled to take over the family butcher business from his dying father.
Restaurant Review: What's Good at Bottega di Carna Cecchini's Southeast Asia outpost in Singapore still follows his philosophy of respecting animals. "You must guarantee the animal a good life and a dignified death, and use every part of the animal well. What began as an economic necessity is now an ethical imperative. We should leave this world a little bit better than we found it. When you eat meat you must be respectful, reverential."
Alongside Cecchini, Bottega di Carna will be helmed by Executive Chef Alastair Clayton, formerly from a Gordon Ramsay establishment, and Chef de Cuisine, Kenny Huang, who speaks fluent Italian from his years living and working in Italy. Chef Kenny also spent time in Panzano with Cecchini, absorbing his philosophy and methods.
Interior-wise, Bottega di Carna feels spacious with its open kitchen to showcase the chefs at work and the expansive dining area that allows natural sunlight to enter during the day. Cecchini's chummy hospitable spirit is also evident from his choice of communal tables. This arrangement allows the conversation to flow easily within a group or even with strangers sitting next to you.
The menu at Bottega di Carna is modern Italian – not stuffy and with a hint of rebellion using unexpected cuts of meat. Rounding up the experience are crudos and charcuterie, moreish handmade pasta, flame-kissed steaks and fish, and carefully curated fine wines.
Bistecca ala Florentine

Warm Beef Salad

Aperitivo: Artichoke and Pizette Fritte "Montanare"

Linguine Spicy Lobster

Whole Branzino
Communal dining is encouraged. To open the palate, the bite-sized Artichoke charms with a combination of Parmigiano and Goats' Cheese flavours and sweet Acacia Honey. Another delight is the Pizzette Fritte "Montanare" that's crowned with San Daniele ham.
Chianti Crudo, one of Cecchini's signature beef dishes, made a fitting follow-up, only coated in smoked paprika, olive oil, and lemon here, allowing the meat to shine. Other outstanding sides are the refreshing Zucchini Noodles in basil pesto and Tenerumi In Insalata. The latter is a comforting boiled beef and vegetable salad that's served with a warm broth tableside.
Of course, the tour de force of the menu had to be the L'Etusco Steak, a special cut selected by Cecchini. Wood-fire grilled to perfection in Fiorentina style – tender on the inside and slightly charred outside – we expect other cuts on the menu like the ribeye, striploin, and Wagyu to shine similarly too. We recommend savouring it without sauces, as they'll be dry rubbed with Cecchini's Signature Salt Profumo Del Chiant to draw out the meat's essence.
Besides glorious meat cuts, Bottega di Carna also offers seafood options like Linguine with Spicy Lobster and Whole dry-aged Brazino.
Save some room for a Dolci or two. Smiles will become a series of surprised expressions once you have a spoonful of the zesty and Instgramamble Lemon Givré. Otherwise, the Tiramisù is always a reliable pick with its calming and grounded classic dessert flavours. Pair them with the bar's wide selection of signature negronis and aperitivo for a 'perfetto' meal.
Bottega di Carna is located at 16A Duxton Hill, Mondrian Singapore Duxton #03-01, Singapore 089970. Book here.
This story first appeared here.
(Hero and featured images credit: Bottega di Carna)
Related: 11 Hawker Stalls And Restaurants For The Best Pao Fan In Singapore
Written By