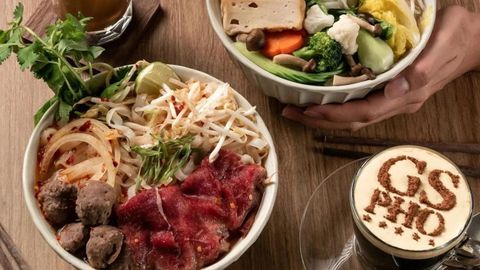 Vietnam is a country that's filled with gastronomic surprises, which comes as no surprise that it's on the bucket list of gourmands around the world. Of its many iconic foods, one remains the most recognisable, and has become an entryway to the world of Vietnamese cuisine: Pho. It's a dish that might look unassuming, but as many subpar bowls might have already told you, it's one that's extremely hard to get right. While there are a number of stellar Vietnamese restaurants in Singapore, these establishments in KL have become known for serving the best bowls of the piping-hot pho.
Suitable for all meals of the day, pho (pronounced 'fer') is a Vietnamese soup dish consisting of broth, rice noodles, herbs, and meat. It's just as popular a dish in Vietnam as it is in the rest of the world, and can be found everywhere, from households and street stalls to the fanciest restaurants. Sources differ, but it's said that it originated in the early 20th century in Northern Vietnam by residents of the city of Nam Định, before refugees popularised it throughout the world after the Vietnam War. But regardless of its origins, we can all agree that pho is one of the best exports of the country.
Indeed, there is a certain allure in squeezing the wedge of lime into a steaming bowl and then taking the first spoonful of the clear broth. Every sip brings an echo of spice that's perked up by the tangle of fresh herbs. Some food historians claim that the name "pho" was derived from the French "pot-au-feu" — a beef stew. Others believe it is derived from olden-day Cantonese-speaking hawkers selling meat and noodle dishes and calling out "yuhk fán!" into the streets. The styles of the dish differ by region too; the Hanoi (northern) and Saigon (southern) versions sport different noodle widths, the sweetness of broth, and the choice of herbs and sauce.
Either way, a good bowl of pho isn't just about the broth and the thickness of rice vermicelli, or the quality of beef; it's a sum of its parts that comes together in glorious harmony, and these Vietnamese restaurants in Kuala Lumpur know that best. Here's where you can get the best pho in KL now.
Book your stay at Hilton Kuala Lumpur via Booking.com
Book your stay at Hilton Kuala Lumpur via Agoda
6 places for the best pho in KL today:
Jump To / Table of Contents Written By