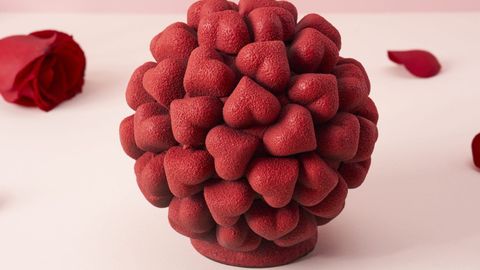 You got the flowers. You got the oysters. Now seal the deal with these best desserts for Valentine's Day.
It's the time for love and like Mariah Carey every Christmas, Singapore chocolatier Janice Wong appears at every occasion with a new dessert, and she has created a chocolate heart sculpture for Valentine's Day. Lady M turns out bon bons in a heart-shaped box as well as a raspberry and chocolate cake, while Le Matin's new bistro marks its first Valentine's Day with a strawberry shortcake.
Italian grocer Da Paolo Gastronomia is now stocking the artisan brand Davit Chocolate, which makes them in the form of a gianduiotto, a Piedmontese chocolate speciality with hazelnuts. Black Tap serves an over-the-top milkshake topped with red velvet cake, and Eggslut reimagines one of its signature items with berries and cream cheese. Pastries with Japanese filling and reduced sugar come courtesy of Baker X and Chocolatea, while Level33 turns leftover beer-making material into an indulgent chocolate, banana, and hazelnut tart.
Butter up that special someone this Valentine's Day with these best desserts
Jump To / Table of Contents Written By