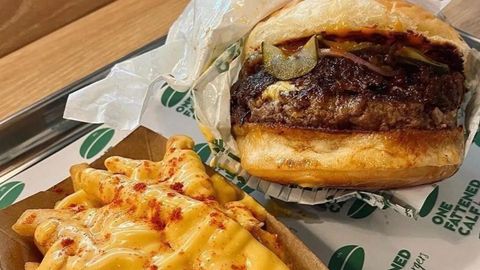 Melburnian-style brunch, unfussy Italian fare, and smashed patty burgers: these restaurants and cafes serve the best food at One-North.
Sandwiched by the Buona Vista and Queenstown neighbourhoods, the area is Singapore's downtown for the knowledge-based economy. Media companies like Lucasfilm and Mediacorp have homes here, as well as the pharmaceutical conglomerate Proctor & Gamble. If you ever hailed a Grab, your data probably passed through their massive gleaming headquarters here.
All these workers need to eat, and One-North provides a diverse range of restaurants and cafes spread over the large vicinity. Near the MRT station, Bread Yard has bagels, cruffins, and grain bowls for the brunch crowd. Pietrasanta does uncomplicated Italian food by the way of Tuscany. Daehwa takes the best of Korean cuisine and makes them vegetarian. One Fattened Calf puts together homemade smashed patty burgers, and Takagi Ramen makes the Japanese culinary icon for the average Singaporean. At Timbre+, a swath of local food awaits with live music.
Bordering One-North Park is Jimmy Monkey Cafe, a Melbourne native's tribute to his hometown's cafe culture, and Arkadas, which showcases Turkish food. On the other side of the park is Curry Nations, which slips in dishes from the west Indian city of Mangalore.
The food offering at One-North also extends outside of its business centres. Head to Rochester Park for Cali and its rendition of Tex-Mex favourites. Then travel back in time to Colbar, which serves homey staples and a peek into the area's colonial past.
11 cafes and restaurants to visit for the best food at Singapore's One-North
Jump To / Table of Contents Written By