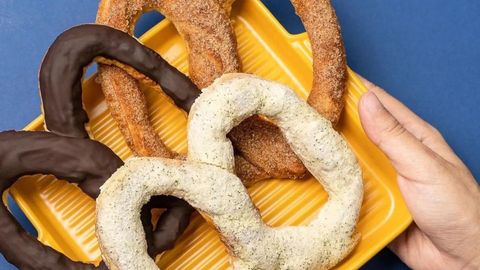 Germany is steeped in bread-making tradition, and these places sell one of its most recognisable icons. Here is where to find the best pretzels in Singapore.
Also known as a brezn or brezel, a pretzel is a baked wheat pastry shaped into a knot. It is typically bathed in a lye solution similar to how yellow noodles and ramen are made, flavoured with salt, and served with condiments like butter and mustard. Other popular toppings include cheese, nuts, and seeds, while sweetened variants come with cinnamon and chocolate. Whatever the form, a good pretzel should have shiny brown skin and a soft, springy texture.
Pretzels are most commonly found in Bavaria and Austria, as well as the German-speaking regions of France, Switzerland, and Italy. The snack is thought to have religious origins. Some claim it was a reward for children who recited their prayers correctly. Others said it derived from the Latin word for bracelet and little arms. Eventually, it became popular in the Middle Ages and turned into a symbol of matrimony and prosperity. Pretzels also spread to America, which gave birth to the hard pretzel. There is even a National Pretzel Day celebrated annually on April 26.
Unsurprisingly, German dining establishments sell the best pretzels in Singapore, including Frieda, Brotzeit, Bread, Beer & Brez'n, and Paulaner Bräuhaus. Joining them is Park Bäckerei, a bakery that makes pretzel sandwiches. Then there is the ubiquitous Auntie Anne's, which sells pretzels in all kinds of flavours. Check them out below.
Where to find the best pretzels in Singapore today:
Jump To / Table of Contents Written By