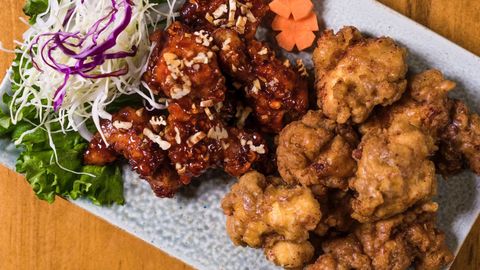 Fried chicken is undoubtedly one of the most celebrated meat dishes in existence. Who doesn't like fried chicken, especially the best Korean fried chicken in Singapore? Nobody can resist its crispy batter and flavourful meat when done well. In recent years, the Korean take has joined the fray as its sub-genre.
Made popular by Korean soft power elements like K-drama and K-pop, this casual but satisfying food pairs well with beer. Hence, the birth of Chimaek, or the combination of fried chicken and Maekju (beer in Korean).
Origins of Korean Fried Chicken
Like army stew and spam musubi, Korean fried chicken was first introduced by American military troops during the Korean war in the late 1940s to the early 1950s. As turkey wasn't native to South Korea, the US troops stationed there had to celebrate the occasion using chicken instead.
While stuffed turkey is often roasted, they fried the chicken and shared the dish with their Korean compatriots who enjoyed it. Koreans typically ate steamed or boiled chicken that's prepared in soups or broth before discovering the frying method.
Korean Fried Chicken gained prominence in the 1970s as the country was poor prior due to the Korean war and economic growth only picked up from the 1960s. Now, Korean Fried Chicken is enjoyed by many around the world.
What is the difference between Korean Fried Chicken and fried chicken?
Fried chicken is often associated with Southern-style Fried Chicken from America. Golden-skinned from deep frying, the batter coating usually includes buttermilk and a medley of herbs.
On the other hand, there's no definitive recipe for creating Korean Fried Chicken due to its brief history. But Korean Fried Chicken is often fried twice to attain a crunchier texture and forces the grease out from the initial fry. Establishments also prefer to use younger chickens for their tender meat.
Another difference is the gravy and sauce used. Unlike the rich peppery or country-style gravy favoured in Western-style Fried Chicken, Korean Fried Chicken pairs up with all kinds of sauces and flavoured powders. From the sweet-spicy yangnyeom and garlic soy sauces to honey butter-flavoured powder, there'll be a flavour to suit your palate.
Here's where you can find the best Korean Fried Chicken in Singapore.
Jump To / Table of Contents Written By