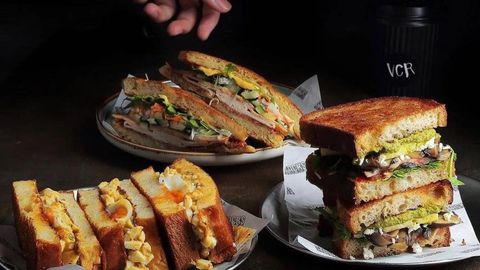 Sandwiches are proof that the simplest ingredients can make a fantastic meal. Whether you like yours with cold fillings like tuna mayonnaise and egg salad, or toasted with cheese, ham, or even salted beef, the possibilities are endless with this staple. If you're in KL and fancy a gourmet sandwich – just in case, you know, you get ever bored with the local food – here are the best places to head to.
What's better than indulging in warm toasted bread? In all of its glory and gluten, there's no better companion than a savoury sandwich. But if Subway's just not cutting it for you anymore (we're not judging), there are restaurants and cafes in Malaysia's KL that deliver gourmet sandwiches that'll keep you coming back for more. Perfect for a quick bite at lunch, for a picnic over the weekend, or even just as a mid-noon snack, these sandwiches are filled generously with some of the most premium ingredients, from roast ribeye steak to the most expertly executed onsen eggs. Those who prefer a local touch will enjoy the salted egg variations, while those who constantly reach for classics will enjoy the Reubens and grilled cheeses on this list.
In this guide, you'll find a curated list of the best sandwiches eateries from the likes of cult favourite VCR Stacks, Santouits and more. The difficult part then, is choosing which sandwich to go for.
Book your stay at Mandarin Oriental Kuala Lumpur via Agoda.com
Book your stay at Mandarin Oriental Kuala Lumpur via Booking.com
6 places in KL and PJ for the best gourmet sandwiches today
Jump To / Table of Contents Written By