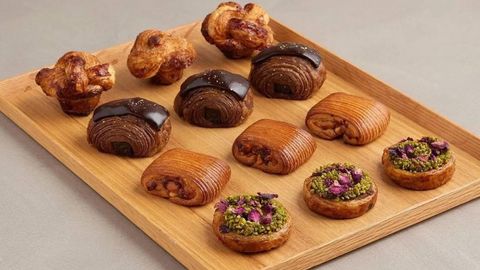 From a pain au chocolat to an escargot-filled croissant, head to these bakeries for the best French pastries in Singapore.
Gone are the days when Deliverance was the only place to get a half-decent eclair. Today, the island is teeming with quality French bakeries from big to small. The most recent entry is Cédric Grolet, who brought his hyperrealist fruit and flower pastries to Orchard, joining other notable international chains like Maison Kayser and Paul. Then there are local brands such as Le Matin Patisserie, Tiong Bahru Bakery, and Tarte by Cheryl Koh, which have become household names.
A note about the terms patisserie, boulangerie, and viennoiserie. Pastry shops in Singapore tend to use them interchangeably, but they mean different things. A patisserie is originally used to describe a place that makes and sells French pastries like mille feuille and Paris Brest, and laws in France and Belgium restrict its use to people who are trained pastry chefs. A boulangerie is more of a traditional bakery where breads like baguettes are baked.
Then there is the viennoiserie, which points to somewhere that sells Vienna-style breakfast pastries. They also bridge the gap between patisserie and boulangerie and tend to have items like croissants.
But semantics be damned. These places sell a vast spectrum of French pastries in Singapore from an old-fashioned choux puff to a demi sphere with yuzu and honey. Check them out below.
Where to get the best French pastries in Singapore today:
Jump To / Table of Contents Written By