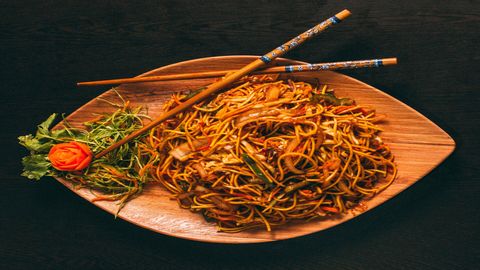 If there's a dish that we can't get enough of (and are especially critical of), it's Char Kway Teow. Typically fried over high heat in a wok for that signature wok hei, flat rice noodles pair up with thick yellow wheat noodles for a contrasting texture. Then there are other ingredients combined to create this tasty medley too, perfect for those into intense and heavy flavours. Hankering after the best plates of char kway teow in Singapore? Read on.
What is Char Kway Teow? A delicious plate of this heritage hawker dish usually consists of Chinese waxed sausage (lap cheong), egg, fishcake, beansprouts, and cockles, all fried with lard, garlic, and both light and dark soy sauce.
As established from its name, Char Kway Teow is colloquially known via its Hokkien vernacular. Meaning stir-fried (Char) flat rice noodles (Kuey Teow), this staple hawker dish has Teochew origins (from Chaozhou region in China's Guangdong province) despite adopting its name from another dialect.
It's safe to say that the essence of char kway teow lies with wok hei. Literally means 'wok's breath' in Cantonese and expression of smoky aroma, this element is essential to invigorate this dish. Wok hei develops from fiery high heat from charcoal flames. Gas flames are more commonly used in recent times than the former as it produces consistent heat. Other wok-fried hawker dishes, such as Hokkien Mee, benefit in taste from having wok hei too.
Another significant ingredient in Char Kway Teow is cockles. Some hawkers in Singapore tend to omit this shellfish due to health concerns like Hepatitis A, and consuming uncooked or improper preparation of cockles may lead to liver infection. But purists debate that cockles play a vital role in contributing to the dish's authenticity and rich flavour.
The presence of lard can also make or break Char Kway Teow, as traditionally prepared. Its fragrant properties and crispy physical texture add an umami dimension and retain an authentic taste. Hence, most diners who aren't as health conscious prefer those fried in lard to the vegetable oil alternative.
Craving the dish already? Us too. Here's where you'll find our favourite takes on this hawker staple.
Where to find the best char kway teow in Singapore:
Jump To / Table of Contents Written By